Shangri-La Al Husn and Shangri-La Barr Al Jissah, located in a secluded and picturesque bay overlooking the Sea of Oman, unveil an exceptional collection of luxury experiences, setting new standards in luxury and personalised service in Muscat. While Shangri-La Barr Al Jissah caters to families and leisure travellers, the neighbouring adults-only Shangri-La Al Husn, perched majestically on the cliff, offers a tranquil atmosphere and luxurious amenities.
With convenient direct flights (average three hours duration) offered by carriers like Oman Air, Air India, and Vistara, accessing Oman is effortless for Indians. Oman also provides a seamless e-Visa application process, ensuring a hassle-free journey.
Scented Memories by Jo Loves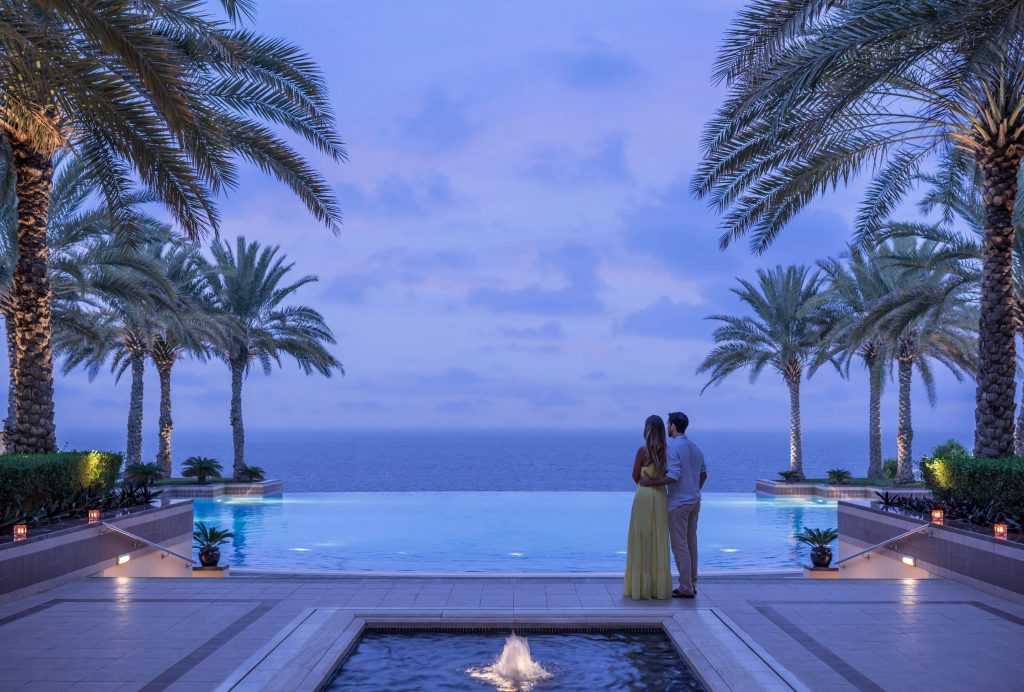 Nothing beats a sensory experience that blends fragrance with luxury. Jo Malone CBE recently collaborated with Shangri-La Al Husn to craft something special. For those staying at the resort, a Jo Loves gift set awaits, which includes a body cream, a scented candle, and the latest Jo Loves Ebony & Cassis perfume. But it is just the beginning. An indulgent couple massage at Luban Spa using Jo Loves scented body cream is also included. Signature Jo Loves cocktails are served in the courtyard at the apéritif hour. As a keepsake, take home a complimentary signed copy of Jo Malone's memoir, My Story.
Innovative Zero-proof Cocktails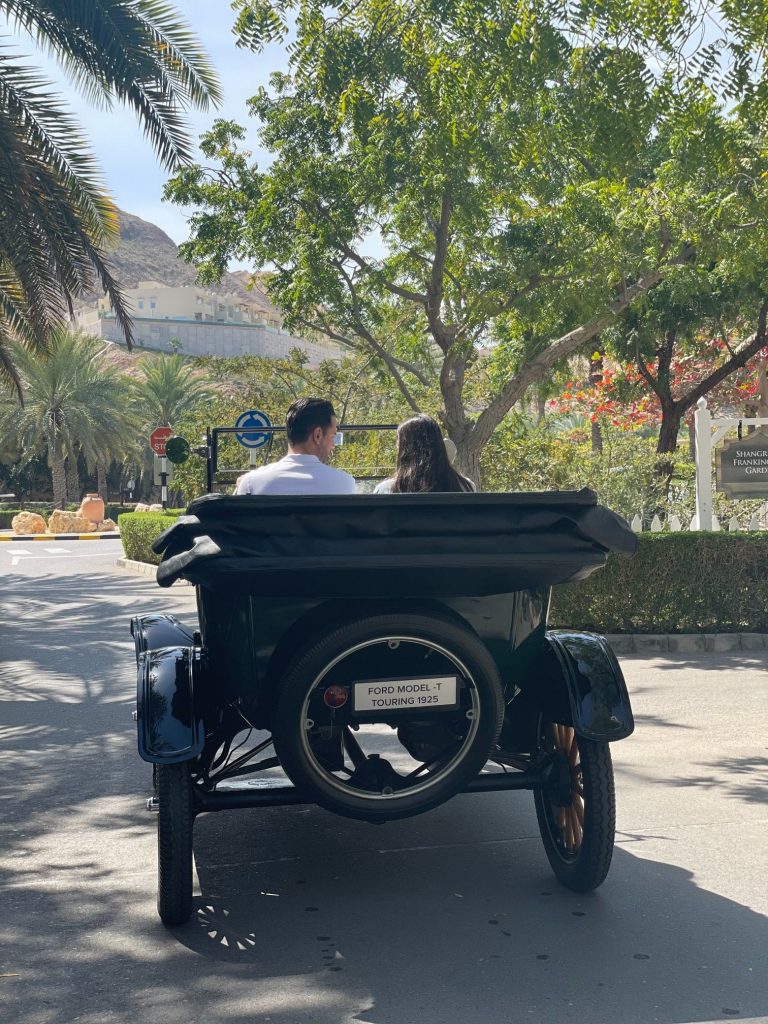 Shangri-La has brought Lyre's non-alcoholic cocktails to Muscat, crafted perfectly for diverse palates. Thanks to natural essences and extracts, they replicate the taste, aroma, and appearance of alcoholic counterparts, avoiding the sugary taste of typical mocktails. One can enjoy the essence of original cocktails without the hangover worries. The innovative cocktails can be infused with locally sourced botanicals, such as bay leaves, lavender syrup, butterfly pea, Frankincense, pistachio orgeat, chai spiced syrup and pomegranate. A heady concoction of Arabian and Asian cultures!
A scented journey in the Frankincense Garden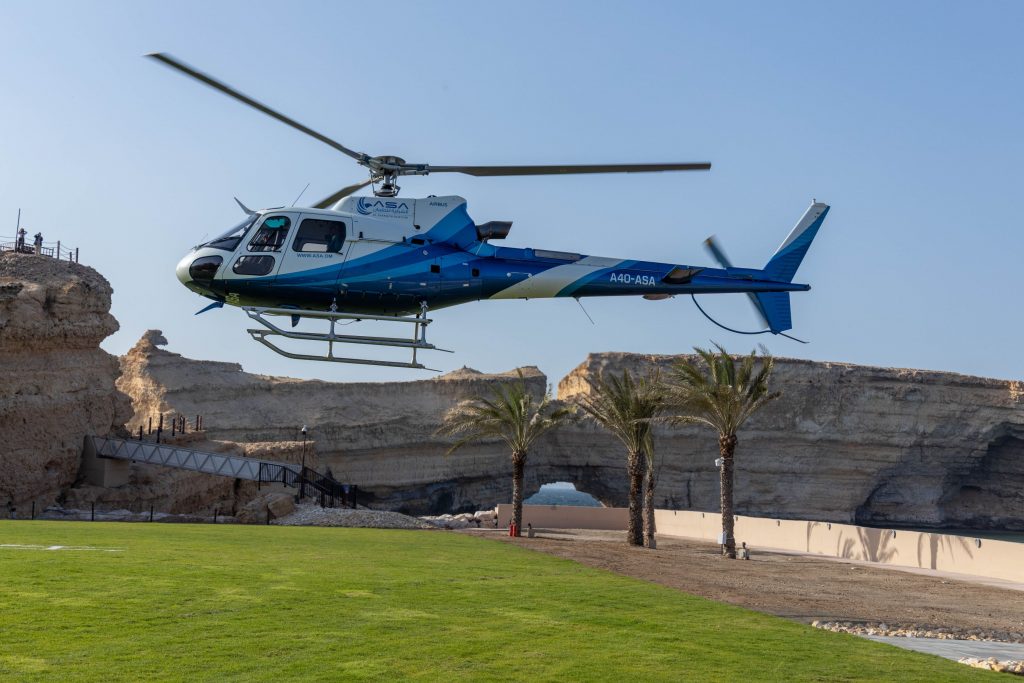 A guided tour, curated for cultural enthusiasts, unveils the art, history, and architecture deeply rooted in the cultural heritage. It is followed by a Frankincense Garden tour led by Khalid Al-Amri, Oman's first accredited Frankincense sommelier. The team has also developed several recipes and beverages infused with Frankincense, such as the smoked chicken on Frankincense and Shangri-La Spritz infused with gin, lavender syrup, pineapple, pink grapefruit, butterfly pea and sparkling wine. It comes in both alcoholic and non-alcoholic versions.
Elevating Culinary Delights to Extraordinary Heights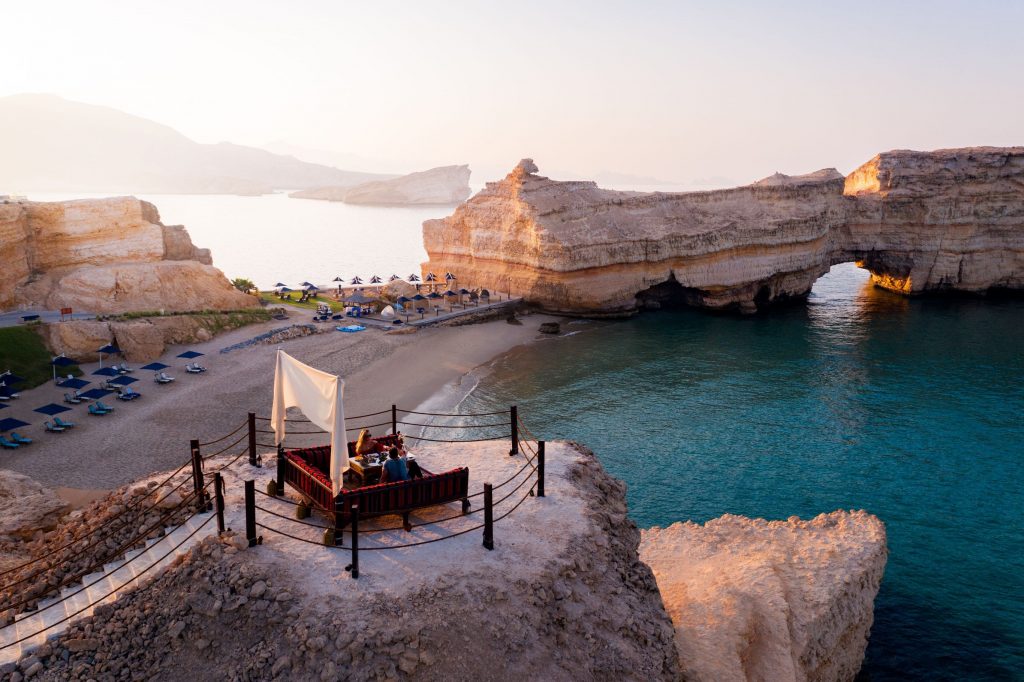 Picture this: A candlelit dinner on a private beach, or clifftop, or an intimate meal under the starry sky in the lush garden. A dinner against the iconic Muscat arch rock formation is an experience of a lifetime. Chefs craft an exclusive menu based on preferences for a truly personalised touch. It is the essence of Dine by Design as culinary experts, hailing from over 20 nationalities, curate bespoke dining in breathtaking ambience.
An Adults Cove for a Luxurious Getaway
Creating an unforgettable romantic escape requires sincere effort, and with an enchanting setting, you can make your special someone feel like the centre of your world. Stroll hand in hand along the private 100-metre beach or unwind in cabanas and private lounges. Immerse yourselves in the infinity pool, taking in the breathtaking view of the Sea of Oman. Exclusively for guests aged 16 and above, Shangri-La Al Husn sets an idyllic stage for couples to treasure moments of pure bliss.
A Haven of Heartfelt Hospitality
Luxury is in detail. Personalised butler service and thoughtful amenities await as one steps in. Enjoy themed afternoon tea on the terrace of Sultanah restaurant, and signature cocktails during aperitif hours in the courtyard amid live music.
Rejuvenate Mind, Body, and Soul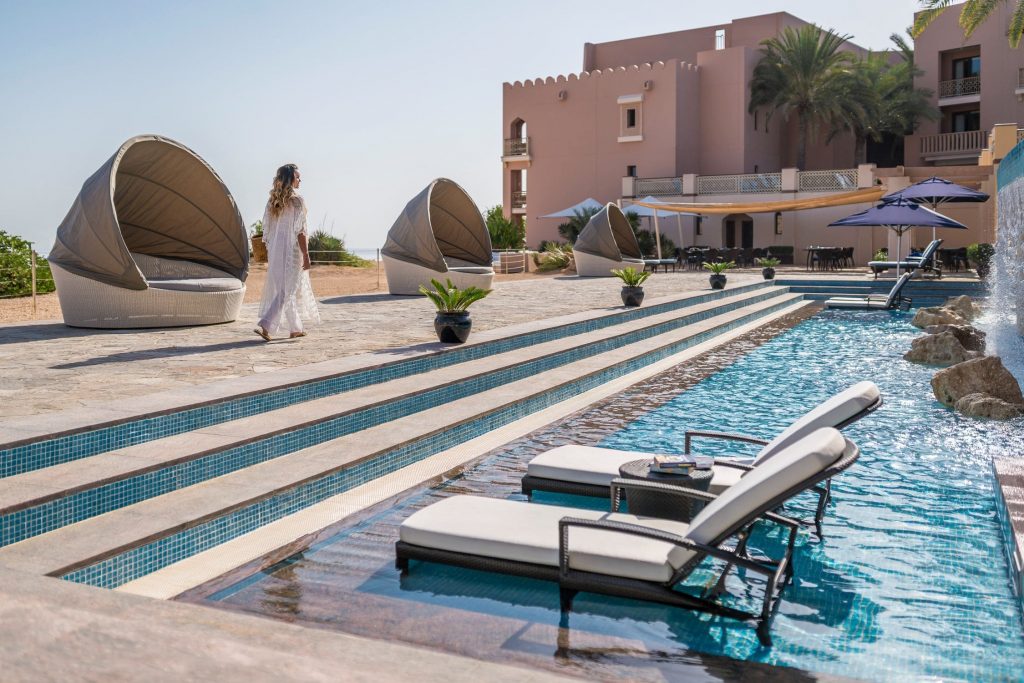 A first in Oman, the resort introduced an aerial yoga class under the supervision of an expert. Practice yoga poses while suspended in nylon-tricot hammocks against the breathtaking backdrop of the Gulf of Oman. One can also choose from yoga classes, including dynamic flow, gentle flow, restorative yoga, vinyasa yoga, aqua yoga, and the signature stand-up paddle board (SUP) yoga. Both resorts offer exceptional spa and wellness services at Chi, The Spa in Shangri-La Barr Al Jissah, and the exclusive Luban Spa at Shangri-La Al Husn.
Live your royal life fantasy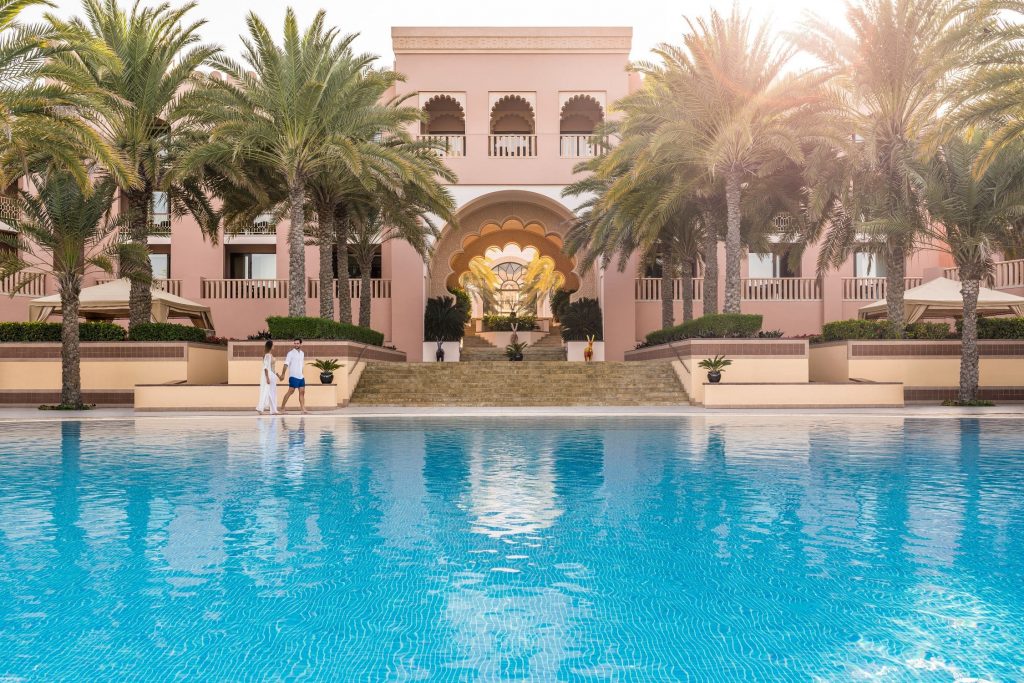 Opting for the exclusive Royal Suite, inspired by the legendary 17th Century Omani castle at Jabreen, grants you the privilege to select a luxurious limousine and enjoy a private helicopter ride, unveiling breathtaking views of the picturesque mountain range and the Gulf coast. As the sun sets, a personalised clifftop dinner awaits, accompanied by live music and a curated menu by the Executive Chef. To add a touch of enchantment, a thoughtful handwritten note, and a voucher from Majliya, a renowned Arabian jewellery brand, will be presented to you, allowing you to create a one-of-a-kind piece that reflects the rich culture and history of Oman. The indulgence continues with an in-room gourmet breakfast and a blissful 90-minute couples massage at Luban Spa.
A Family Seaside Oasis – Shangri-La Barr Al Jissah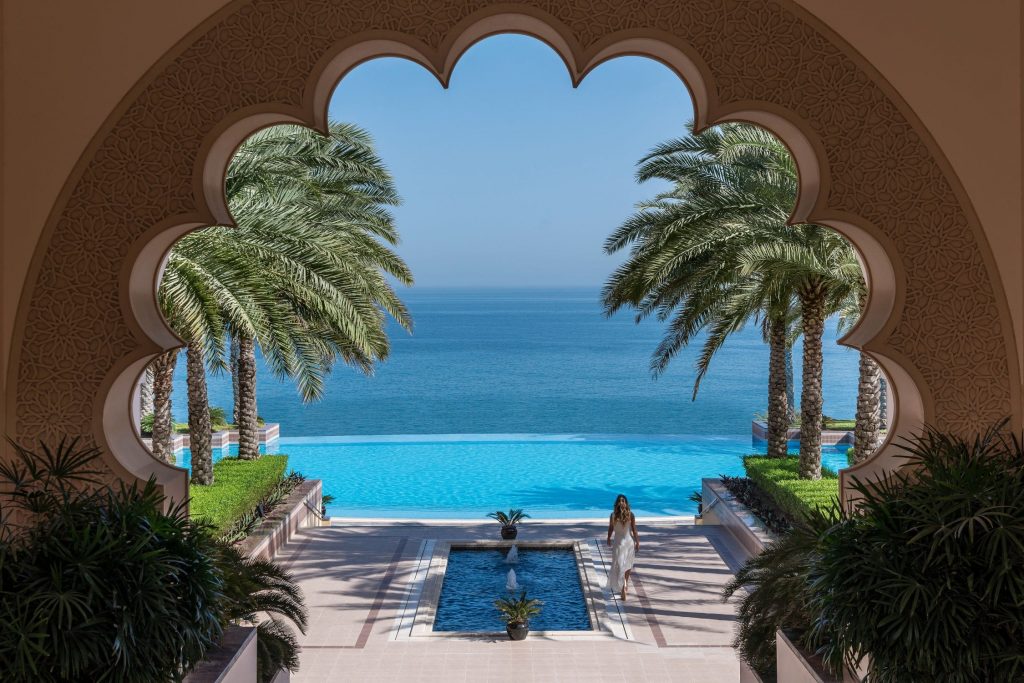 Travelling with children? Shangri-La Barr Al Jissah, nestled along a picturesque coastline, creates an unforgettable family getaway with world-class amenities, activities tailored for kids, and exceptional service. Guests of all ages can enjoy multiple pools, including a kid's pool with slides and fountains. The Adventure Zone offers exciting indoor and outdoor activities, while parents can relax at the spa. The resort caters to diverse palates with a wide range of international cuisines. Water sports and outdoor activities like dolphin-watching, kayaking, and turtle observation are also available.