A name that stands out as the epitome of couture excellence in Indian fashion is Manav Gangwani, popularly known as 'MG' by his friends and clients.
MG is renowned for his flamboyant, exquisitely detailed creations and hence coveted by the fashion elite. A discerning, loyal clientele and special relationships with leading international brands over many years has ensured his presence at many exclusive international events. His unique connections with royalties around the world, as well as Hollywood and Bollywood, have solidified his position as a global fashion icon. Gangwani's designs have graced red carpets and high-profile events, making him a favourite among the elite.
MG's relationship with the prestigious jewellery brand Buccellati found himself yet again on the very select, exclusive invitee list of the prestigious Qatar Goodwood Festival held in England this week, hosted by the Duke and the Duchess of Richmond.
Gangwani's close association with the iconic Italian jewellery brand Buccellati ensured he was the only Indian couturier invited to this prestigious event. Widely respected by global luxury fashion houses from around the world, the couturier's presence alongside the Qatari Royal Family and Buccellati's international team is a reflection of his global reach.
Gangwani was spotted mingling with the royal hosts and Buccellati officials at the elite horse racing event and the grand ball thereafter. His appearance marks his charitable support towards the Markel Magnolia Cup – Education Above All; Educate A Child initiative in order to empower thousands of girls and young women to overcome significant barriers in their lives. A whopping GBP 2.5 bn were raised at the event, towards a project in Malawi providing education and support for children.
As part of his outing, he attended the Regency Ball hosted at Goodwood House, the residence of the Duke and Duchess, and was treated to the new Buccellati Memoire des Marques book edited by Assouline. The exclusive gala was an unparalleled experience, where the couturier witnessed a candlelit horse race which he describes as ''a once in a lifetime experience!''
Reputed to be 'Couturier to the Royals', Manav Gangwani's emphasis on exquisite detailing techniques and a passion for luxurious fabrics has seduced the hearts of fashion enthusiasts worldwide. His designs exude timelessness, making him a favourite amongst royalty, celebrities and prominent personalities such as billionaire philanthropist and business luminary of Hyderabad, Sudha Reddy of the MEIL Group, and Chairperson of the Sudha Reddy Foundation, whom he accompanied to the exclusive event. She donned bespoke ensembles by the Indian couturier. For the races she was a vision in dusty pink, an MG ensemble that referenced vintage British royalty. Her MG gown for the evening ball was a deep navy blue costume with a structured corset. It embraced intricate detailing, luxurious fabrics, and timeless elegance, and ensured the lady was the cynosure of all eyes there!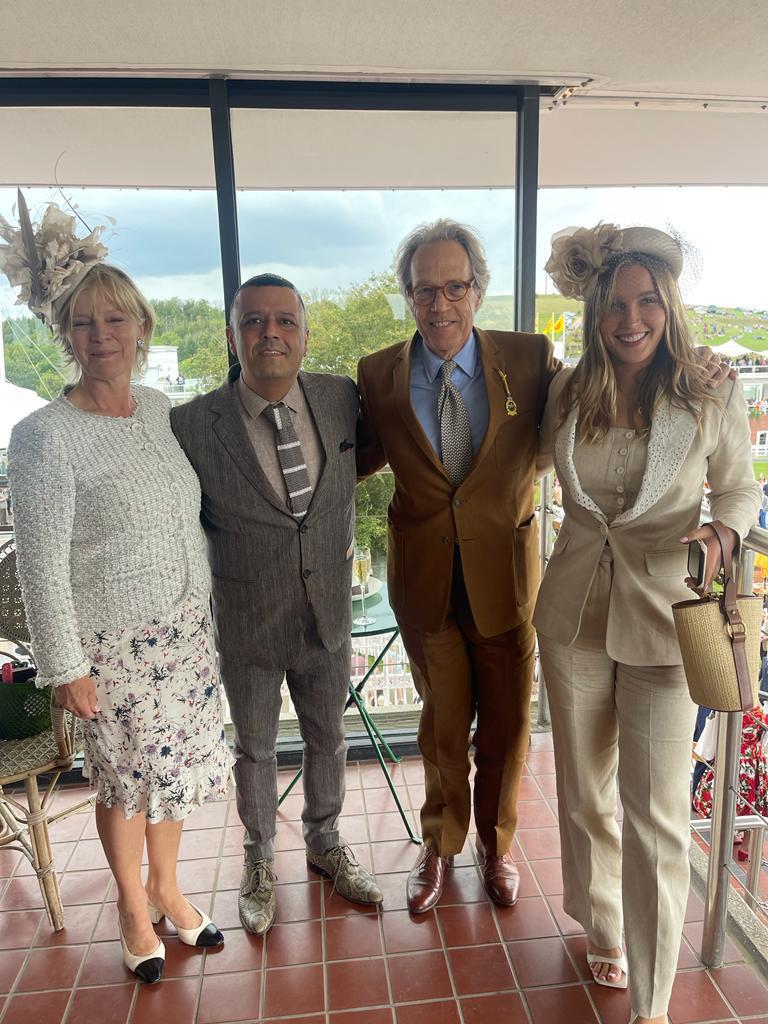 The Qatar Goodwood Festival is one of the undisputed highlights of the British flat racing season. The world famous 5 days festival is a sporting and social occasion like no other, attracting many of the world's elite racehorses who compete for millions of pounds in prize money and group racing accolades. Off the track, unrivalled style, spectacular entertainment and exquisite hospitality experiences that complement the thrilling racing action.
The 2023 event took place from Tuesday 1 August to Saturday 5 August. The week was headed by three Group 1 races, including the £500,000 Qatar Goodwood Cup, the £1 million Qatar Sussex Stakes and the £600,000 Qatar Nassau Stakes.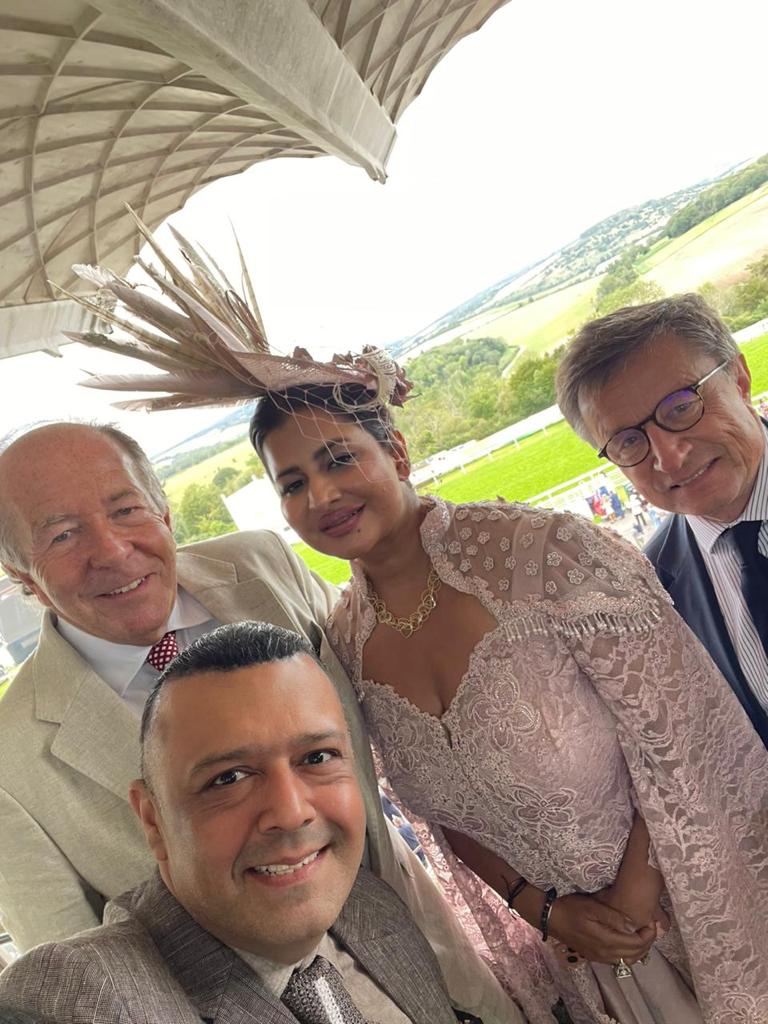 Manav Gangwani's journey as an Indian couturier has been nothing short of remarkable. With his unparalleled craftsmanship, he has become a sought after name in Indian fashion. His special relationships with international brands like Buccellati and his association with royalties and celebrities worldwide have elevated his status to a global fashion icon. Manav Gangwani, or MG as he is fondly known, continues to captivate the fashion world with his timeless designs and unwavering passion for excellence.