Availability: https://www.vilvahstore.com/collections/gifting/products/giftset-for-him

Description:
With Father's Day just around the corner, it's time to honor the amazing dads in our lives and show them our heartfelt appreciation. This year, we have the perfect gift suggestion that will make any father feel truly special -a meticulously curated Father's Day Gift Set focused on top-quality beard care.
Introducing Vilvah store's exclusive Father's Day Gift Set, designed to pamper and enhance your dad's grooming routine. This luxurious set includes a selection of premium products that will help him achieve the perfect beard and maintain healthy skin. Let's take a closer look at the contents of the box: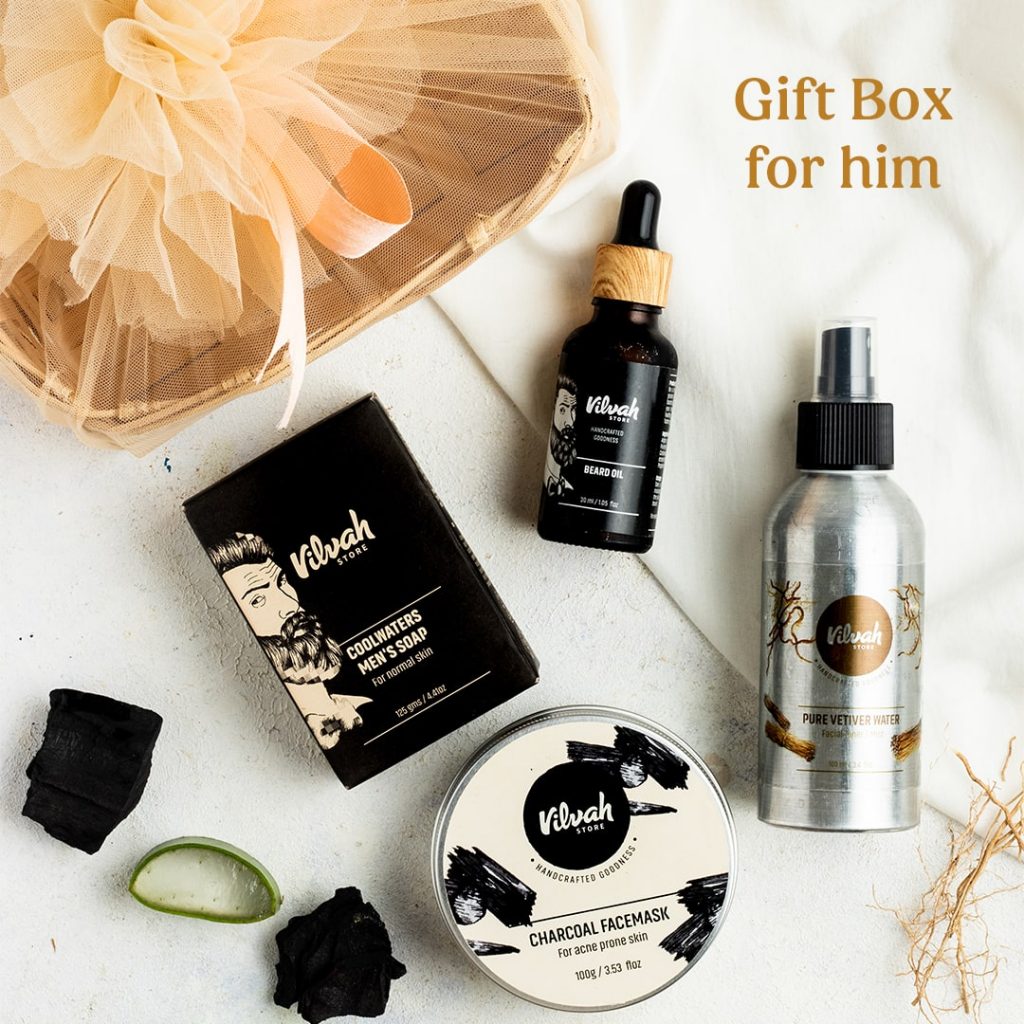 Beard Oil:
Vilvah store's artisanal beard oil is crafted with the finest ingredients, providing deep hydration and nourishment to your dad's facial hair. Its unique blend of natural oils will soften, condition, and add a healthy sheen to his beard, ensuring it looks and feels incredible.
Beard Comb:
Combining a beard is an essential step to maintain its shape and promote even growth.Vilvah's high-quality beard comb is designed to glide effortlessly through facial hair, preventing tangles and keeping the beard neat and well-groomed.
Charcoal Face Mask:
Help your dad achieve a rejuvenated and radiant complexion with our premium charcoal face mask. Packed with detoxifying properties, this mask will draw out impurities, unclog pores, and leave his skin feeling refreshed and revitalized.
Cool Water Men's Soap:
Enhance your dad's daily shower experience with the invigorating scent of our Cool Water Men's Soap. This soap bar, enriched with nourishing ingredients, produces a rich lather that cleanses and moisturizes the skin, leaving it feeling smooth and refreshed.
Vetiver Water Facial Toner:
Our Vetiver Water Facial Toner is the perfect finishing touch to your dad's grooming routine. This alcohol-free toner helps tighten and tone the skin while providing a refreshing and cooling sensation. Its subtle fragrance adds a touch of elegance to the grooming experience.
By presenting your dad with this meticulously curated Father's Day Gift Set, you'll not only show your love and gratitude but also elevate his grooming routine to the next level. It's a gesture that combines practicality, luxury, and thoughtfulness, making it an ideal gift for dads who take pride in their appearance.
Gift Set for HIM : INR 1,999
About Vilvah:
Vilvah Store is a sustainable skincare brand founded by Kruthika Kumaran, which makes skincare goodies with the freshest ingredients and high performance formulation.  The product is obtained in its purest form, without any harsh chemicals, additives, synthetic oils or perfumes and this is the very basis of Vilvah Store.
Using the freshest ingredients and sourced from the local farmers is what they' are all about.
No sulphates, No silicones, No parabens, No artificial fragrance, No harsh chemicals, No Glycols, No GMOs
Farm-to-face. 100% farmed and sourced locally.