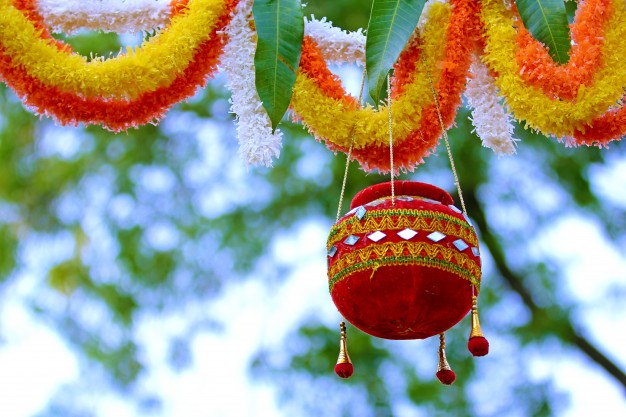 Despite numerous festivals being celebrated every year in India, each one holds a distinct vibe with all the vigor, promise, and fulfillment it carries. Be it the colorfulness and ecstasy surrounding Holi, the lights and grandeur of Diwali, or the deep-rooted emotion that Raksha Bandhan is, it is hard to overlook the significance of every festival in the cultural sphere. As Janmashtami nears and gets people geared up to honor Lord Krishna amidst glory, we bring to you our top Janmashtami looks, in the orange/red and yellow categories, in a bid to add to the zest and spirit of this festive season.

Packing A "Desi" Punch With A Lehenga-Kurta Duo By Global Desi
Global Desi is one of those brands that, aside from nailing casual and street-style clothing, seamlessly transitions into the Indian traditional space with its vibrant and multi-colored prints and designs, which makes the brand a perfect representation of the global culture.
The kurta-skirt combination in this photo is a fine combination of Indian and stylish. The orange kurta with a neutral skirt highlights the appeal of the outfit in a way that accentuates the silhouette and the cuts. On any given day, this pairing is sure to bring the grace of an Indian woman to the fore.
Creating A Timeless Red Appeal With Pink City By Sarika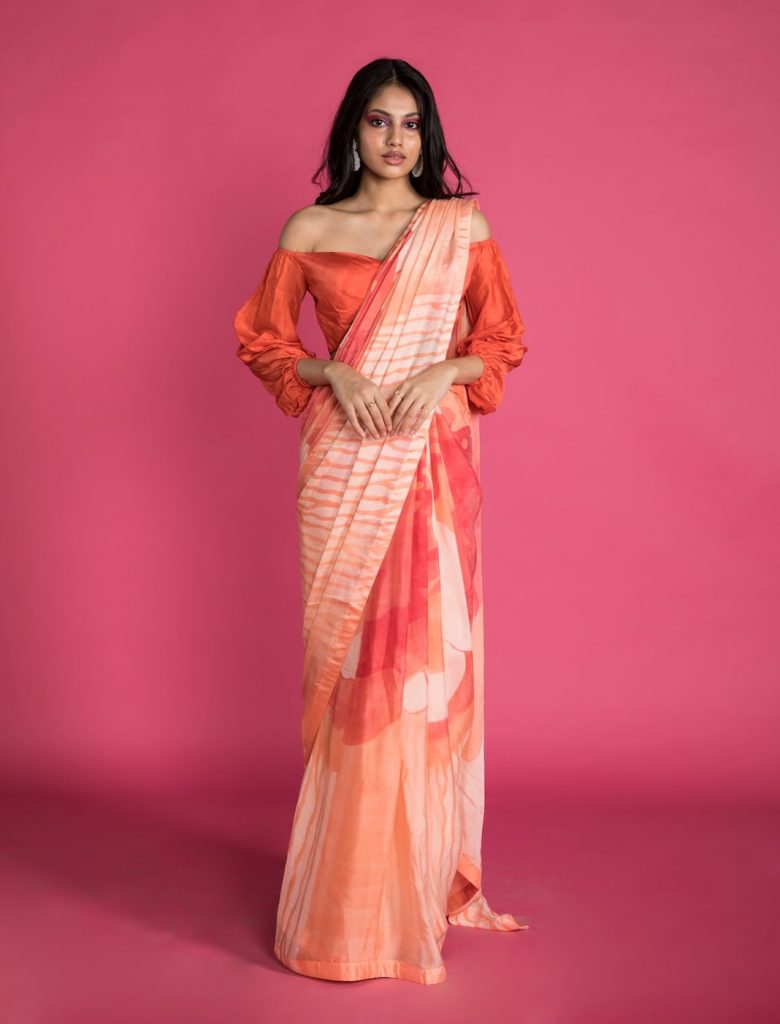 A prêt label, Pink City by Sarika stands out as a brand that redefines handcrafted excellence with its intricate designs and embroidery, to suit modern-day fashion sensibilities.
This festive season brings an opportunity to up your fashion game with Pink City's deep red, Indian traditional ensemble, which boasts of gold, embroidered motifs, and a long, flowy pattern. The garment is a statement piece that is classic and simplistic in equal measure.
Redefining Indian Elegance With Classic Cuts And Quintessential Designs by Vedika M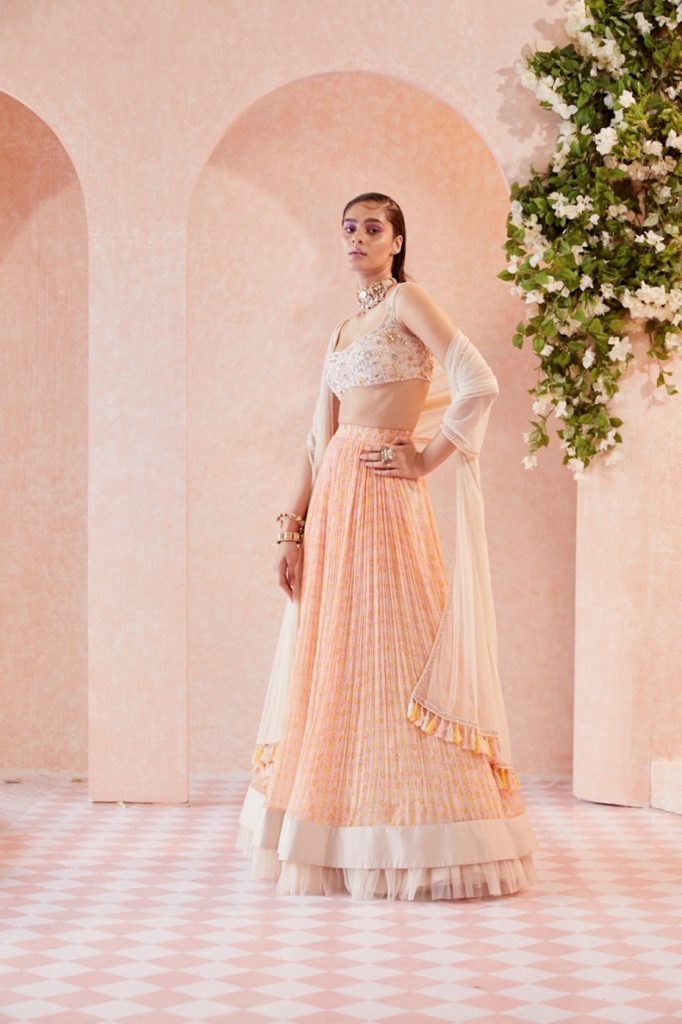 Vedika M draws a colorful landscape with its palette of myriad hues. If that's not enough, the quirky designs and a diverse range of options, so much so that the brand is synonymous with the one-design-per-dress philosophy, puts this prêt label into a league of its own.
Exploring different shades of orange with this saree, while bringing a twist to this Indian attire with an off-shoulder blouse, it is hard to point to the downside of these six yards of elegance.
Adding Contemporary Twists To Indian Attires With Ridhi Mehra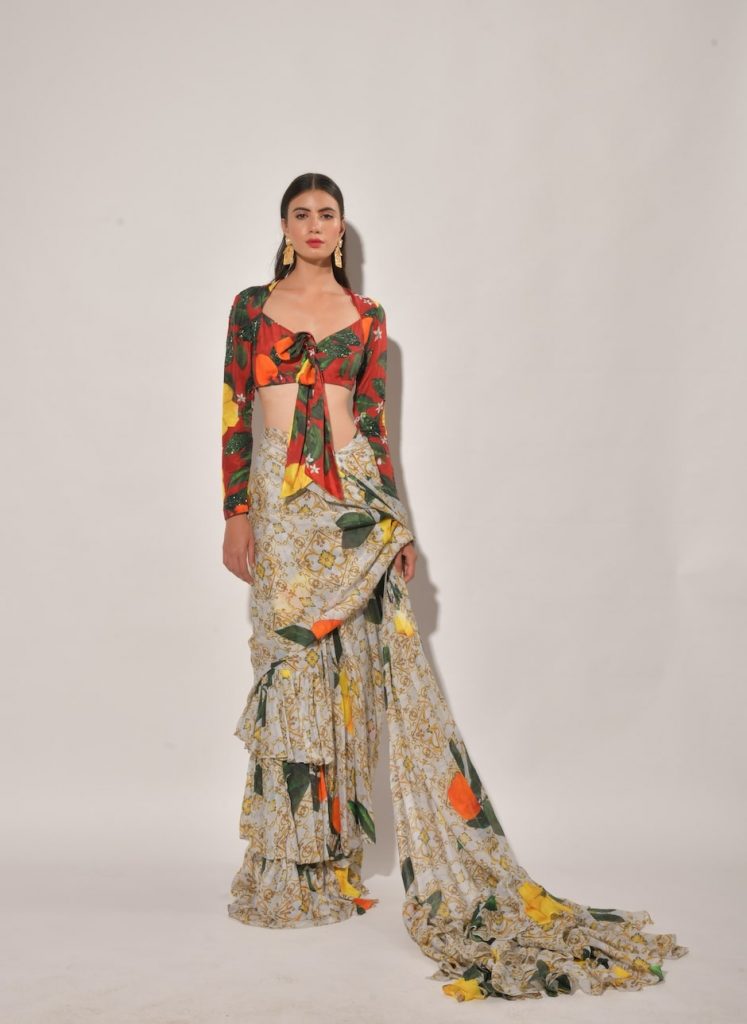 Ridhi Mehra's namesake label lends a contemporary twist to Indian elegance with its avant-garde designs and patterns in the luxury and couture space. With the brand's emphasis on affordable luxury, the collection is a unique blend of luxury and price value.
Staying true to its promise of offering a twist to traditional Indian wear, this ensemble manages to transport one to fairyland with its dreamy hues, pleated skirt patterns, and a chic blouse. It is no wonder the outfit manages to adopt both Indian sass and artisanal contemporaneousness.
Weaving Stories And Meanings Into Quirky Prints And Patterns With Prints By Radhika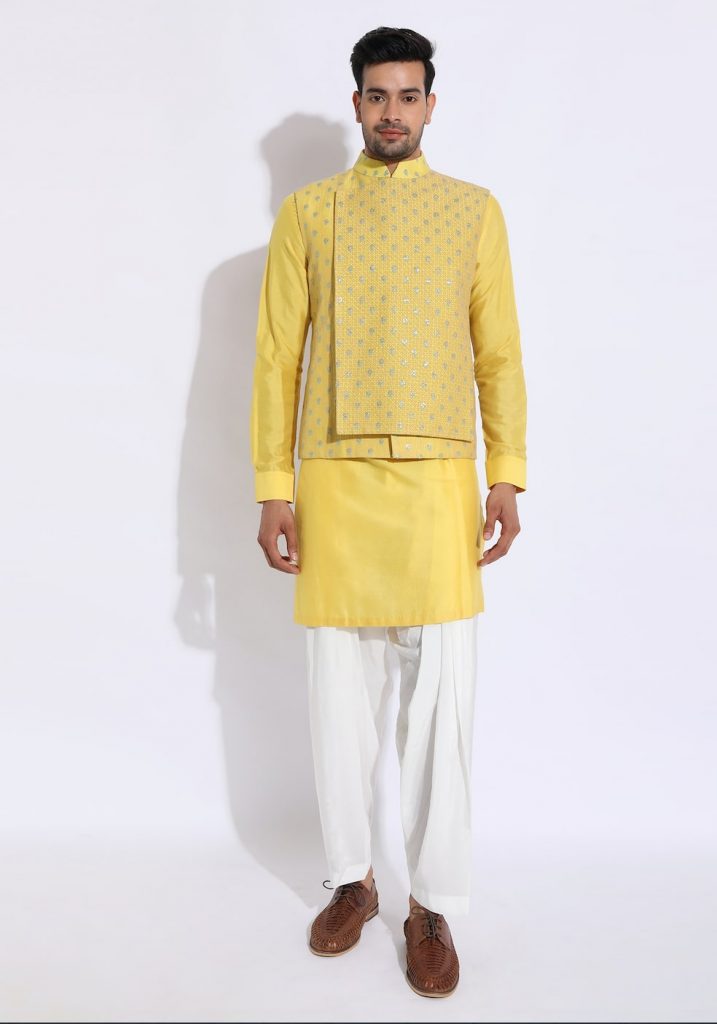 Prints by Radhika, a prêt label backed by the power of originality, portray hand-painted artwork, be it through its prints or designs. The brand incorporates original art in its collection, in an attempt to lend a voice to every ensemble.
The colors used for the prints of this outfit, combined with the choice of the base colors, accentuates the unique silhouette. Whether it is the frill-like pattern along the length of the skirt or the funky knot in the center of the blouse adding to the overall appeal, this attire captures a woman's imagination in just the right ways.
Prêt Mix Of Style And Minimalism By Kunal Anil Tanna
Kunal Anil Tanna's men's prêt wear is all things classic and minimalistic, all while retaining a stylish appeal. With an emphasis on palette innovation, texturing, and articulation, this brand upholds its philosophy with panache.
The lime yellow kurta and white pyjama pairing, along with a yellow jacket, nails the sleek and stylish look all at once. The attire makes the cut for the perfect festive look with the stylish quotient embedded in its minimalism.
Dash Of Elegance And Fantasies By Sana Barreja
Sana Barreja's prêt label is synonymous with Indian craftsmanship, dreamy silhouettes, and a strong sense of individualism. Design intricacy and hand embroidery form the hallmarks of this brand, which is representative of dynamic and fusion elements.
The yellow, body-accentuation gharara by Sana Barreja is a classic, traditional ensemble which incorporates elements of elegance, luxury, and royalty into each of its garments. Boasting a collection that explores bright and bold colors, Sana Barreja aces this Indian traditional outfit with its well-fitted look and a no-nonsense vibe. And it is all things beautiful!
Empowering the Elegance Of Womanhood With Gulabo Jaipur
Gulabo Jaipur offers an unapologetic blend of ethnic and elegant in every garment, with its celebration of womanhood. In keeping with prêt aesthetics, Gulabo Jaipur is a toast to all the shapes and sizes of women through its unique creations and a diverse landscape of colors.
The neck pattern and the length of this traditional dress is everything but boring. The well-fitted chest pattern stands in contrast to the flowy, pleated lower half of the attire. The net dupatta adds to the outfit's traditional vibe with its intricacies, thus making it an ideal fit for Janmashtami, or any festive occasion.
All Things Class and Creativity With Vvani Vats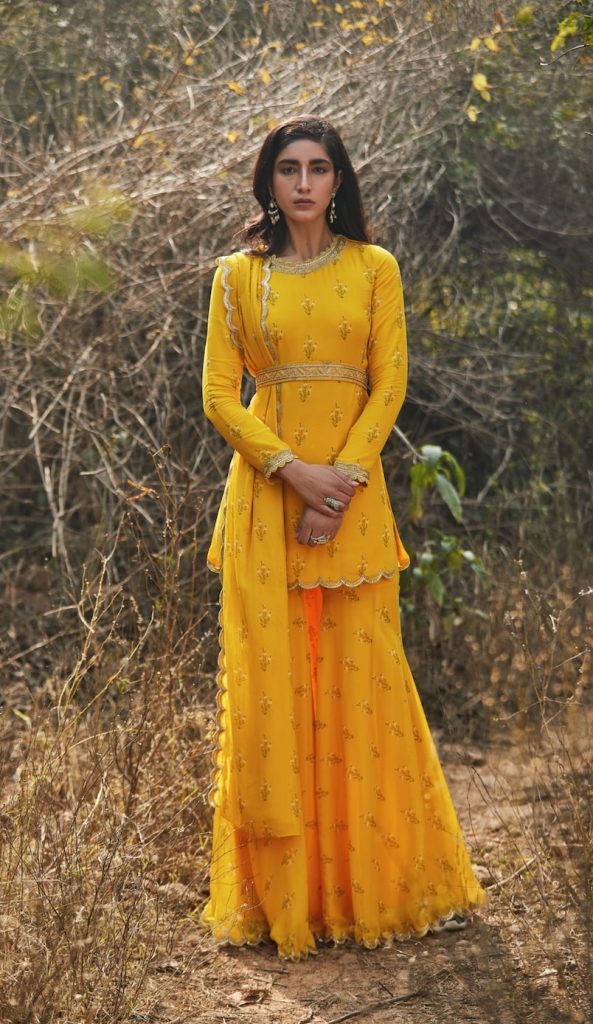 Vvani Vats is an ode to the Indian ethnic scene and incorporates elements of creativity, class, and culture for its luxury and couture garments, whilst adding a contemporary twist.
This pair of ghagra choli is reminiscent of a grand occasion, where the bright color of the ghagra is balanced with a more subdued blouse and dupatta. The round motifs on the net dupatta complete the look while making a statement. The pleats on the skirt lend a contemporary touch to this Indian outfit.
Portraits Of Culture, Craftsmanship, And Cuts With Sukriti Aakriti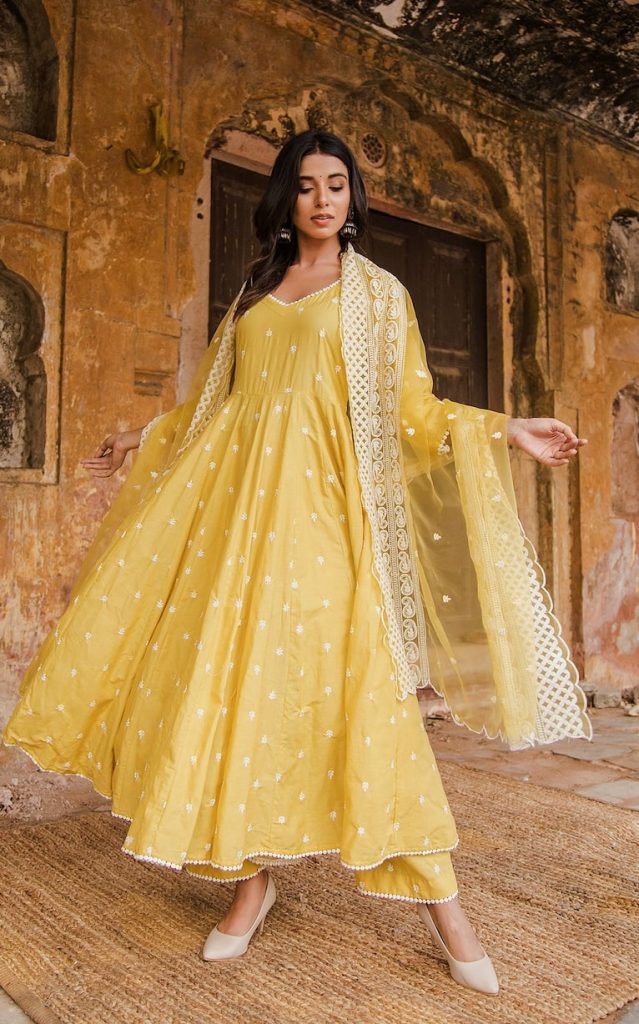 Sukriti Aakriti's luxury and couture label is a reflection of Greece and Parisian cultures while incorporating Indian craftsmanship through its traditional embroideries and sophisticated cuts.
Traditional, colorful embroidery combined with a white backdrop, these garments are a beautiful personification of class, elegance, and minimalism. While the white kurta-pajama pairing incorporates a multi-hued Nehru jacket, the suit, on the other hand, displays embroidered patterns across its length, making it a good fit for a classic, traditional occasion.