The big blue wave is at an all-time high in India. Tanzanite is an extraordinary gemstone that is found exclusively in the foothills of Mount Kilimanjaro in Tanzania. It's mesmerizing blue-violet color is one of its defining features. Tanzanite is now trending in India as the buyers have found, through this stone, a way to fulfil their desire for a deep blue gemstone without worrying about the astrological downsides that sapphires and rubies come along with.
In the ecosystem of gemstones, the big three have always reigned supreme but tanzanite has gained immense popularity over the years. To cater to this growing demand, India's oldest custodians of fine jewelry, Shri Ram Hari Ram Jewelers, Dariba Kalan are delighted to launch their Tanzanite collection as this new gem joins the big league.
The Tanzanite Trend
The three layered diamond necklace with deep blue tanzanite's glistening like the summer sky.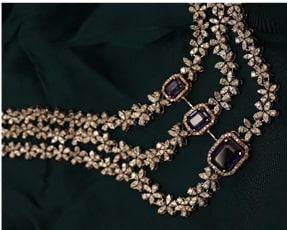 The Blue choker with red rubies blending the magic of colored gemstones is a symphony of pure perfection.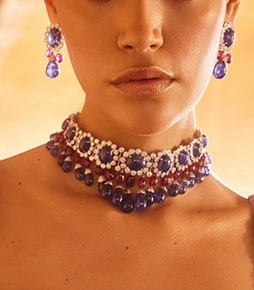 The SRHR Cubano chain provides a classy twist to cable link chain, made with a dreamy blue Tanzanite adorned with white Gold.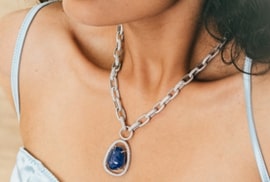 The Tanzanite contemporary ear cuffs adorned with perfection in a modern cut.

About Shri Ram Hari Ram Jewelers, Dariba Kalan
In the heart of the walled city of Old Delhi, lies one of Asia's oldest and largest jewelers markets – Dariba Kalan, where the sparkling Shri Ram Hari Ram (SRHR) jewelers have their iconic store. Established in 1789, SRHR has remained a custodian of fine traditional jewelry in India. Shri Ram Hari Ram Jewelers hail from a time when their forefathers were treasures to Emperor Bahadur Shah Zafar himself. The brand prides itself on being one of the oldest jewelers in Delhi and carries forward an unmatched legacy. For over 220 years and spanning seven generations, in a city that was built, destroyed, and rebuilt over seven times—SRHR has been part of the ever-changing cultural landscape of Delhi which translates through their designs and workmanship.