RECIPE 1
ICED BLUE MINT LATTE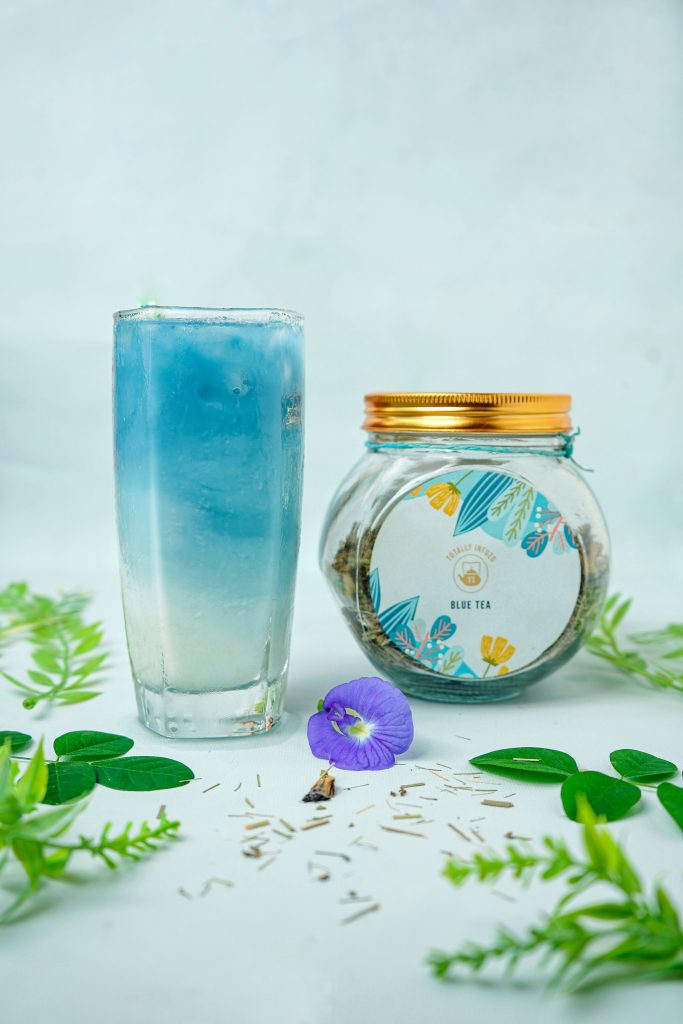 Ingredients:
-Blue Tea from Totally Infuzd  (6 teaspoons – very loosely scooped)
-2 cups of milk or your favorite non-dairy alternative
-2 tsp. honey or your favorite sweetener
Method:
-Add loose blue tea leaves into a teapot with an infuser basket. Pour in a cup of hot water.
-Allow the blue tea to steep for 5 minutes.
-The blue color will get deeper …
-Steam the milk and cool it down.
-Pour 1 part of the ice in a serving glass, 1 part of cold milk, 1 part sweetener of choice, and 1 part blue tea.
-Top it off with some milk froth or whipped cream. Give it a nice stir and enjoy.
RECIPE 2
ICED MATCHA LATTE

Ingredients :
Totally Infuzd Matcha powder
Water
Milk or milk alternative
A sweetener like honey, maple syrup, fine sugar (optional)
Vanilla essence (optional)
Method :
1) Start by placing 2 grams of Totally Infuzd Matcha powder in matcha or a whisking bowl.
2) Then, add the boiling water and stir until there are no clumps to be found. You can even use a milk frother for this process. Whisk until the mixture is super smooth.
3) Wait until the mixture cools down to room temperature and freezes into ice cubes.
4) Flavour the milk with 1 tsp of sweetener of your choice and a few drops of vanilla essence. This step is optional.
5) Crush the matcha ice cubes in a serving glass and pour in the flavoured milk as per your requirement.
6) Give it a nice stir and Voila! it's ready.
About the brand:
Started with a vision to change the way people have been drinking tea, Totally Infuzd is a homegrown brand which is made with a promise to create the perfect environment for your "morning wake-up call" and "afternoon pick-you-up" with a range of teas that are bound to invigorate your tastebuds upon the first sip. Made with the finest ingredients and an exquisite blend that is sourced from skilfully selected tea gardens, our tea range is perfect to complement your life with wellness and happiness. One can discover an unparalleled tea drinking experience with an exceptional taste of finesse that comes together to create a concoction of Totally Infuzd.
USP of the brand:
Totally Infuzd is harvested in the worthiest tea gardens of India with an assurance of quality, taste, and flavour. Meticulously crafted with precision, Totally Infuzd creates the brews by working directly with tea-growers, sommeliers, and connoisseurs to uphold the perfect tea-drinking experience in your everyday life! With a range that is known for wellness and healthy lifestyle, we bring an array of varieties for the customers to choose from! Also, our luxuriant packaging makes our tea ranges perfect for gifting or for surprises too. At Totally Infuzd, we have tea for everyone who loves to sip on the delicacies that make the small moments of life precious!
Collection of the teas and about them:
Our Tea range is the perfect example of a magical array of most treasured blends, each known for its own richness and ingredients. By creating a tea collection for your enjoyment and pleasure, we bring a variety of blends, all selected for the unique characteristics that they lend to each specific type.Our loose tea range includes Oolong Tea, Black Tea, Herbal Tea and Green Tea that are made to elevate your senses and stimulate your mood. Similarly, we bring goodness with our finest tea bags that have some distinctive variants such as Kashmiri Kahwa, Ayurvedic Antistress, Haldi Lemon Moringa, Jade Calm, Hibiscus Rose, Haldi Immunity, Jadibooti Chai and more!