Being only 24 years old, Arushi is one of the youngest art dealers, who has accomplished what she has at such a young age. She is the founder of ARTSop Art Consultancy and the Co-founder & Director of Arushi Arts Galleries, with locations in the UK, US, and India.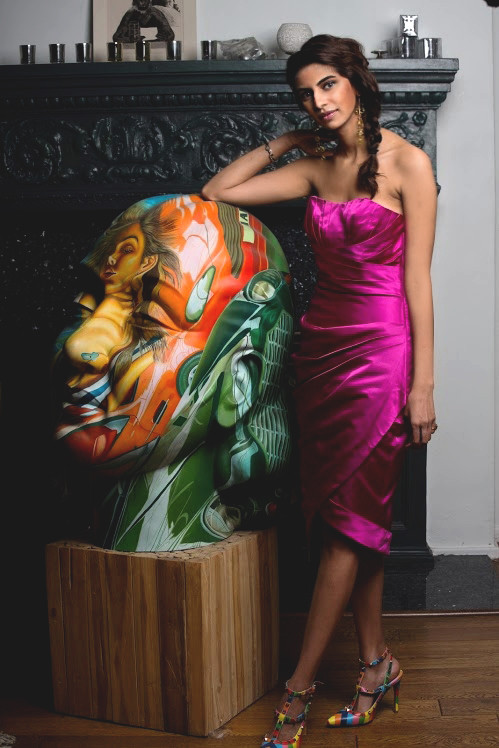 Arushi became an entrepreneur already at the age of 19, when she founded her first business. Right after she published her first book. Arushi comes from one of the top art collecting families in India, so art has been a part of her life before she could even walk. However, she has always wanted to create her own path and build a career separated from her family's business. Growing up in India, Europe, and America, her upbringing has given her a multicultural understanding that enables her to navigate the diverse world of collectors, art institutions, and other clients despite their background. She is furthermore one of the few West Coast living art dealers, who specialize in both Indian art and African Diaspora art.
She was recently invited to join TATE's South Asian Acquisitions Committee and the board of BAFTA. For Arushi this is only the beginning. Being a young, female art dealer of color and at the same time proving to her surroundings that she has built her art business without her family's help, she's on a mission bigger than most people.
Currently, she is working on a new platform to integrate NFT with her art business and the plan is to have it launch by June 2021. Let's have a chat with her:
What were your early experiences with art? Was it something you grew up around?
Art was an important part of my social and cultural upbringing. I grew up knowing the Indian contemporary masters like M.F Husai, Krishen Khanna, S.H Raza, and Paresh Maity. My parents made sure I was surrounded by art and made an effort to send me to museums around the world for education. Art was not limited to just sculptures and paintings. One of the most vivid memories is the Alexander Mcqueen exhibit at the Victoria and Albert Museum in London.
Why and when did you decide to start your own business?
I started my own business while at the University of Southern California. I was studying business at Marshall. California has an entrepreneurial spirit like nowhere else in the world. I absolutely love living in Los Angeles.   It bit me while I was at university. I tried my hand at tech by starting a platform connecting artists to clients. Soon after I was dabbling in the world of consulting and dealing in art. What does art mean to you?
Are you a collector yourself? If yes, what do you collect?
Yes of course. I am always surrounded by art.  I collect a lot of contemporary Indian artworks. I have artworks by Paresh Maity, Valey Shende, Sanjay Bhattacharya, Satish Gupta, Roy Thomas MF Husain, Satish Gupta. I also collect artworks by Vernacular Indian artists like Amit Dhombare and Baua Devi. I'm starting to collect artworks by the African diaspora. My last two acquisitions were Kalejaye Tosin, Idris Black, and Rufai Zakari. During the last year, I started acquiring editions by artists like Damien Hirst, Friends with you, Andy Warhol, Basquiat, Banksy as well.
Your business operates globally, but you yourself are located in Los Angeles. Why did you decide to move there?
I love Los Angeles. It's now home for me. The energy and vibrancy of the city are fuel to creativity and ambition. California landscape has everything from snow-covered mountains to beaches. The LA art scene is different than the New York and London Bullish markets. The LA art dealers tend to work together and there is healthy competition. I would love to see the LA market grow and mature as more and more artists from her get international acclaim.
What's the biggest struggle being a young female entrepreneur in the art world?
I think age has been held against me at times. I often need to prove more than others even though I have spent my whole life immersed in the art market. I think in Los Angeles, being female is now becoming a superpower. And I stand for it. It's amazing to see more and more female entrepreneurs, not only in art but other male-dominated fields.
What's next for you?
This year is very special. We have a big drop at LA Artshow for one of our street artists. We will be opening up a new art Warehouse for people to come to spend hours on just enjoying art in an informal setting on temple street in echo park soon. And a potential fun TV project.