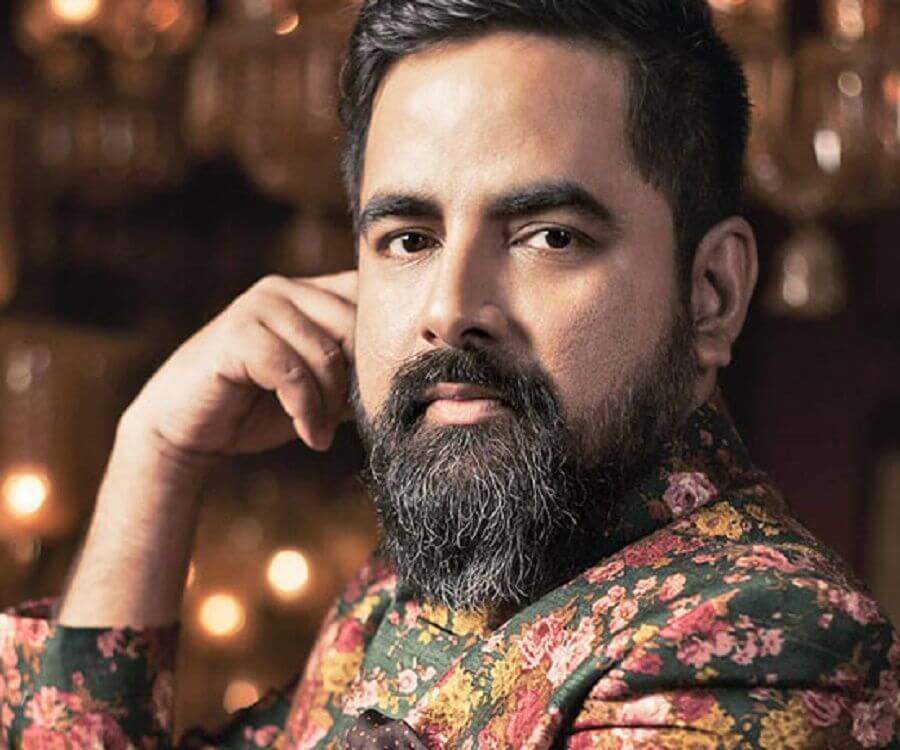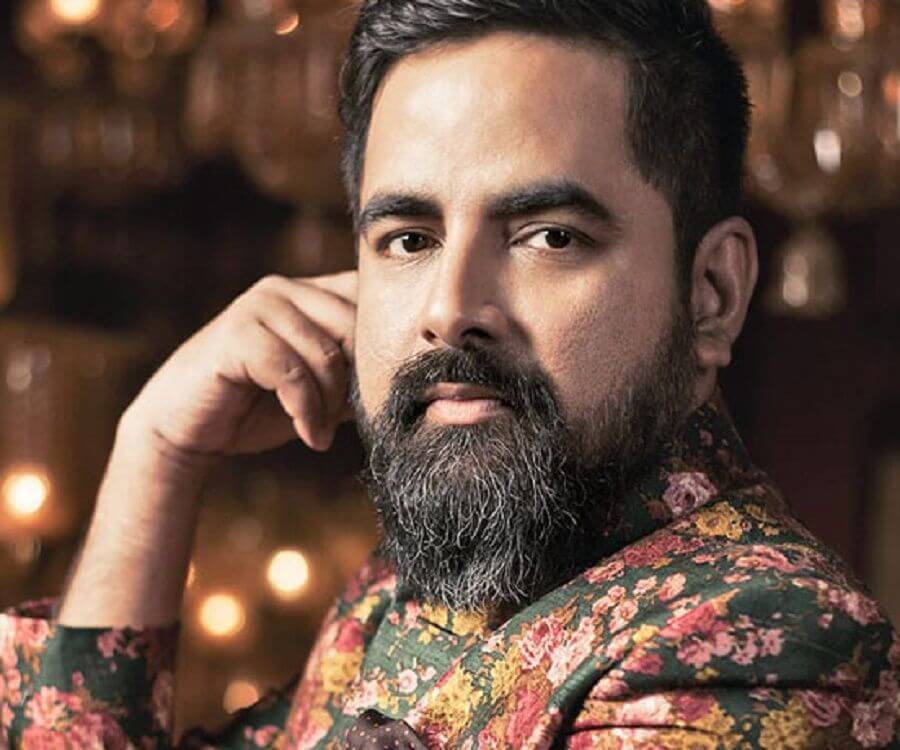 Sabyasachi Mukherjee is one of the most noted Indian designers, and has gained popularity all around the world with his simple design philosophy, from hand-embroidered motifs to flawless lehengas, it seems, Sabyasachi Mukherjee is one designer who can make sartorial dreams come true.
The ace designer, who has brought a lavish home in Kolkata a few weeks ago, designed it with brilliance and fineness. The photos from his luxurious villa have been making rounds on the social media for quite some time now when he invited Architectural Digest for a visit. The 7,250-square-foot home is layered with art, antiques, textiles, furniture and is an ode to style at its finest.
There is a certain league of fashion designers who are defined as much by the way they live, as they are by their air for designing clothes, take Gianni Versace, Giorgio Armani, Tom Ford's  and famous of all for living large- Valentino as an example. Designers have a keen eye and a creative soul, one cannot say what strikes to them at which point in time.
'I've been living in a shoebox of a studio apartment for the last few years, this house is going to change the way I live and, more importantly, change the way I work.' Of immaculate craftsmanship and exquisite clothing, fashion designer Sabyasachi Mukherjee's distinct aesthetic was at work on a different kind of canvas—his two-storey home in a prestigious neighbourhood in Kolkata.
Let's take a small tour around this craftsman's unbelievably beautiful new abode.
Entrance hall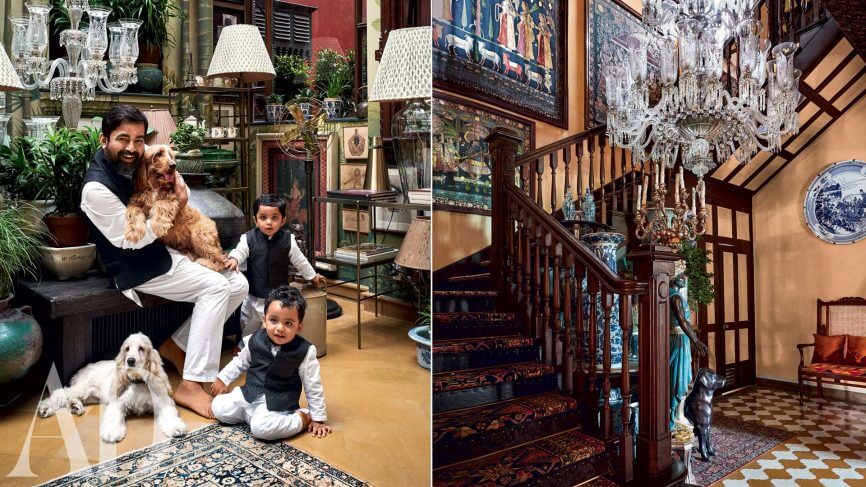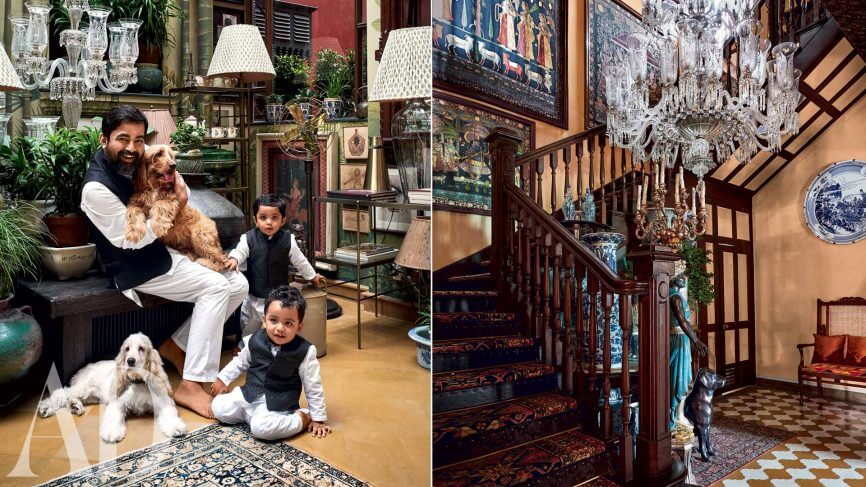 Masterpiece and PAD all put together, walking in this entrance lobby will give you the feeling of walking in a room full of highlights from TEFAF. The moment you will enter your eyes will lay on artful collection of Dutch pottery that surrounds a giant — eight-foot-tall at least — Chinese vase from the Schiraaz M Tanksalwalla antique store in Calcutta, after which you can notice the grand sweeping Burma Teak staircase with Afghan and Turkish runners on the stairs and pichhwai paintings on the walls. A mad candelabrum is even taller, and sits on the head of a handsome chap in porcelain. All this treasure glowing underneath a spectacular hand-cut crystal F&C Osler chandelier that goes up and up and up, the staircase wrapping itself around it, easily making it the tallest chandelier. The flooring pattern has been created using white and Jaisalmer yellow marble; the skirting is in unpolished granite. The corner is decorated with muslin-shaded lamps and plants.
Drawing room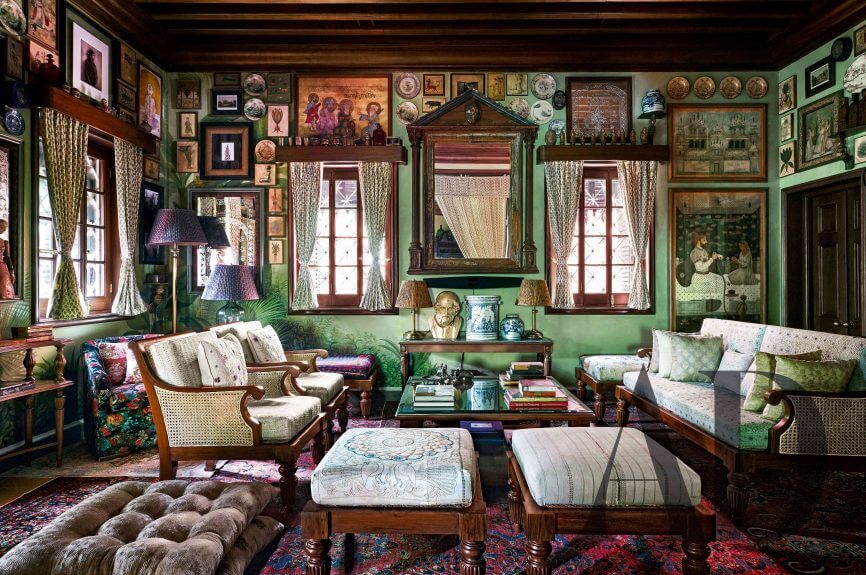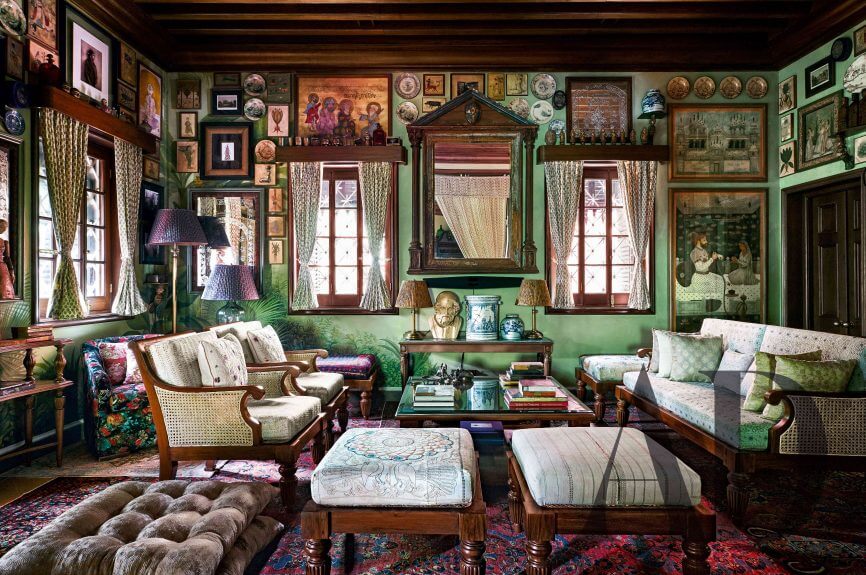 'Though I am a minimalist at heart, my outward physical manifestation is that of a maximalist. One has seen proof enough in all my retail stores. The trick to doing beautiful cluttered homes lies in the art of clever layering—and also stocking up on art, antiques, bric-a-brac, textiles, furniture, and kooky curios that can be gloriously assembled,' believes the designer.
Sabya has worked with the Asian Paints for three years and definitely knows how to get the perfect layers on the walls. 'Being an antique and textile enthusiast, I wanted a cramped living room. The process started with choosing the right colour for the walls. The living room opens out to a lush tropical garden and it was important for me to get the outdoors inside. So the colour of choice was a vintage jade green,' added the perfectionist. 'The walls were first washed in rose-pink, then layered with turquoise, washed out and layered once again with a moss green to give an old fresco feeling.' What do we do to paint our houses again?
Living room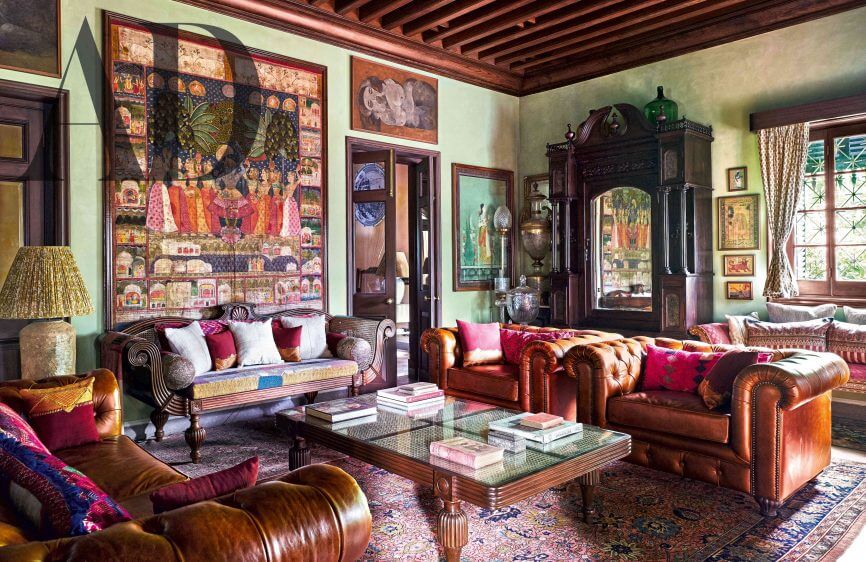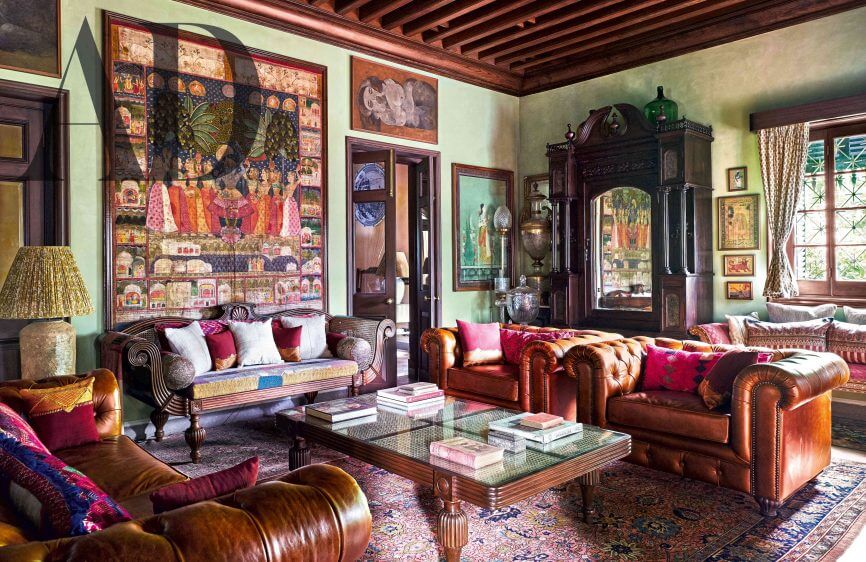 Mukherjee's living room features a set of chesterfields custom-made by Sonal Dhingra, the architect who was commissioned by Sabyasachi Mukherjee, with leather sourced from the Sabyasachi accessory department. The antique rug is from ABC Carpet & Home, New York. A Portuguese mirror, is from The Raj Company (Mumbai), is the focal point for one wall in this space. Wooden pelmets are topped with a mixture of antiques and bric-a-brac the designer collected during his travels. The ceramic bust under the mirror is from a store on King's Road, London; Chinese ginger jars, rice jars and Dutch pottery dot the space. The plantation sofa set is also from The Raj Company, upholstered in a range of fabrics—Bangladeshi nakshi kantha, Varanasi brocade and 18th-century textiles and linens from Guinevere Antiques, also on King's Road. Mukherjee chose the vintage jade green colour for the living-room walls to match the lush garden outside. Forty-three artists from the Sabyasachi Art Foundation then hand-painted the tropical plants on the walls, inspired by the work of French artist Henri Rousseau.
Kitchen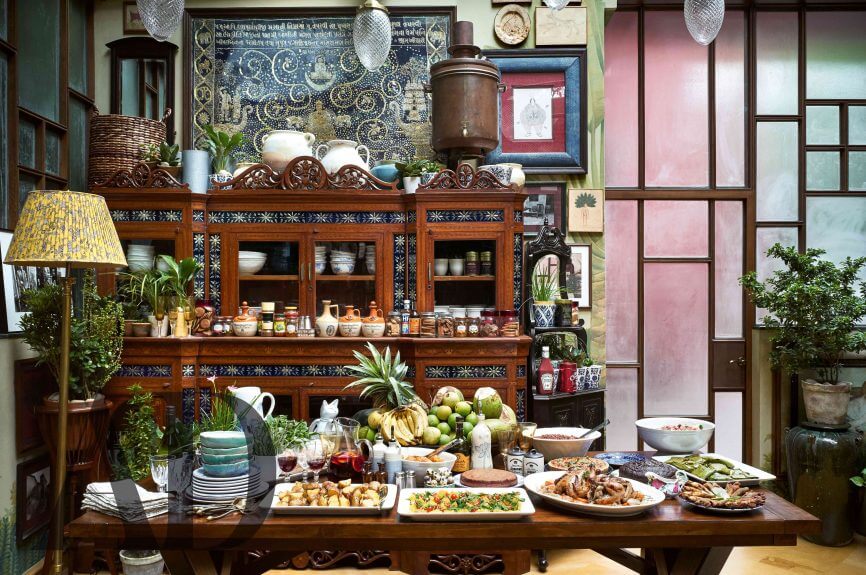 The kitchen is most definitely the heart of any home, and that is exactly the same case at Mukherji's mansion. A breakfast room-cum-conservatory, attached to a kitchen full of staff, it teems with indoor plants, and is flanked by a wall, which, he says, '43 artists from the Sabyasachi Art Foundation hand-painted with tropical vegetation inspired by the paintings of Henri Rousseau'. The breakfast room features a crockery cabinet, an heirloom, stocked with pieces that he himself picked up on trips around the world. Atop the cabinet are a seagrass basket, a range of pottery and a disused samovar and the table is from Pottery Barn. Even the pipes are painted beautifully in a way that looks like the trunks of palm trees to complement the walls.
Workplace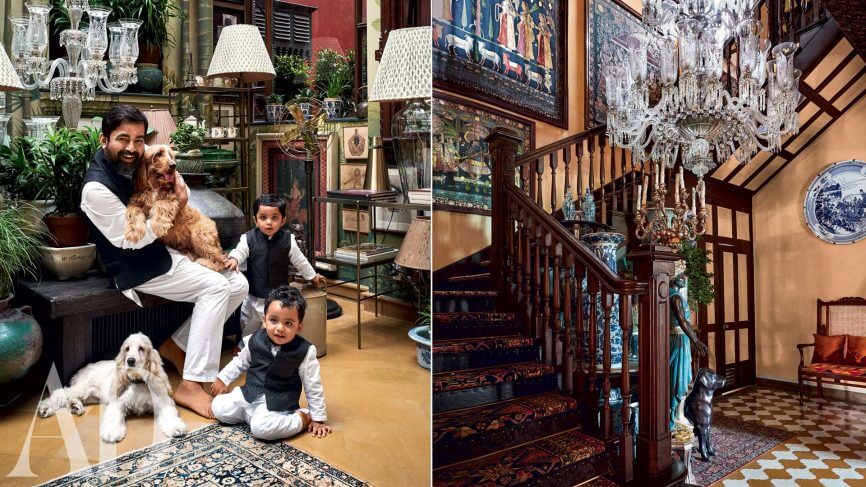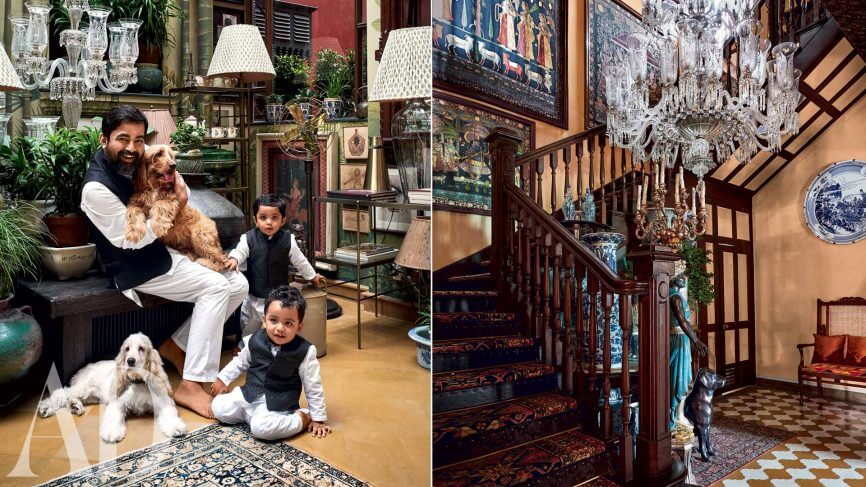 In a corner of the house instead of a swimming pool, he has constructed an outhouse. 'This is what I really wanted,' Sabya believes that to call it an office would be a gross understatement because in all its true senses this is the nerve centre of brand Sabyasachi—and the real heart of the home. 'It's my Instagram studio!' says the Instagram addicted designer who works with his head of social media and art directors who works for the @sabyasachiofficial Instagram handle very seriously, with Instagram grids planned months ahead of their debut on the platform along with Sabya dictating detailed captions, image crops of the new campaign etc.
'I don't believe in catwalk shows anymore. Instagram is so powerful, 65 per cent of my business originates from there, 'he explained. He further added 'In fashion, you have to reinvent yourself every three to five years. You need to be fresh. Right now, I've become tired of gaunt faces and stick-thin models. I'm obsessed by boobs!' well now that's going to stir some controversies for Sabya for sure.
Green space, garden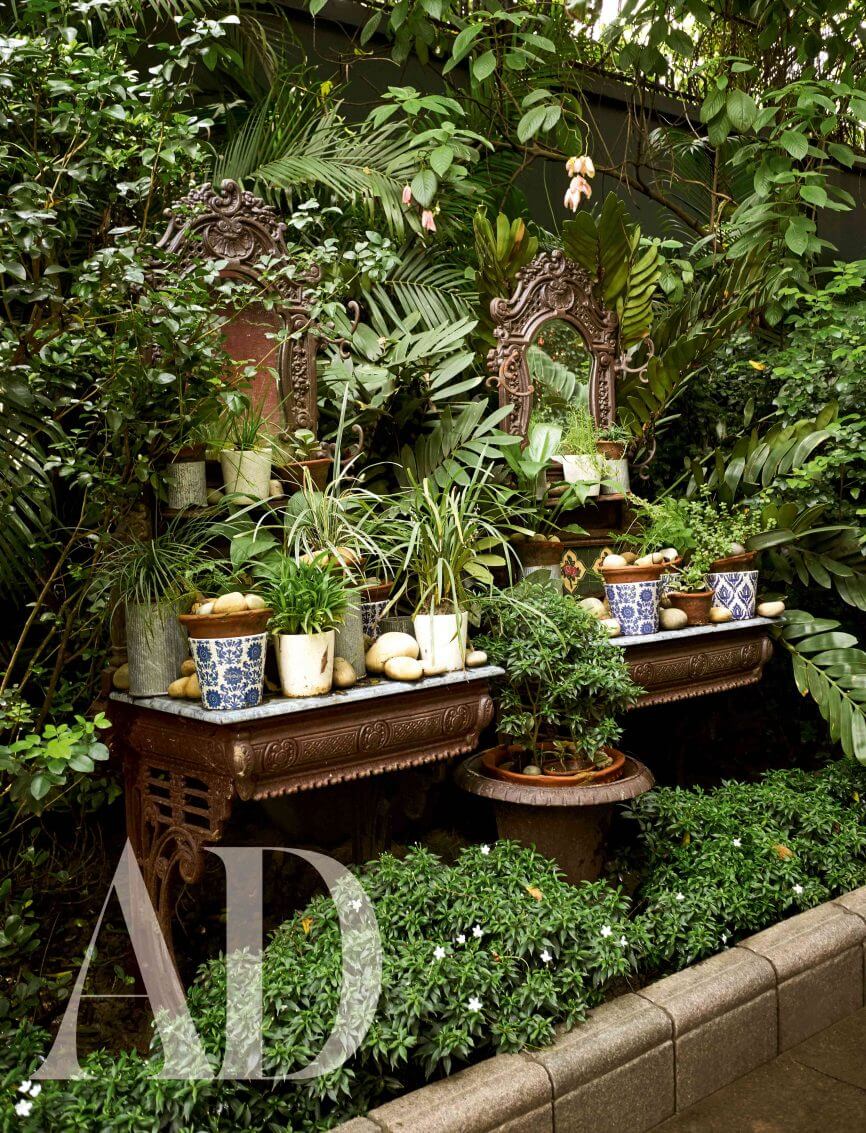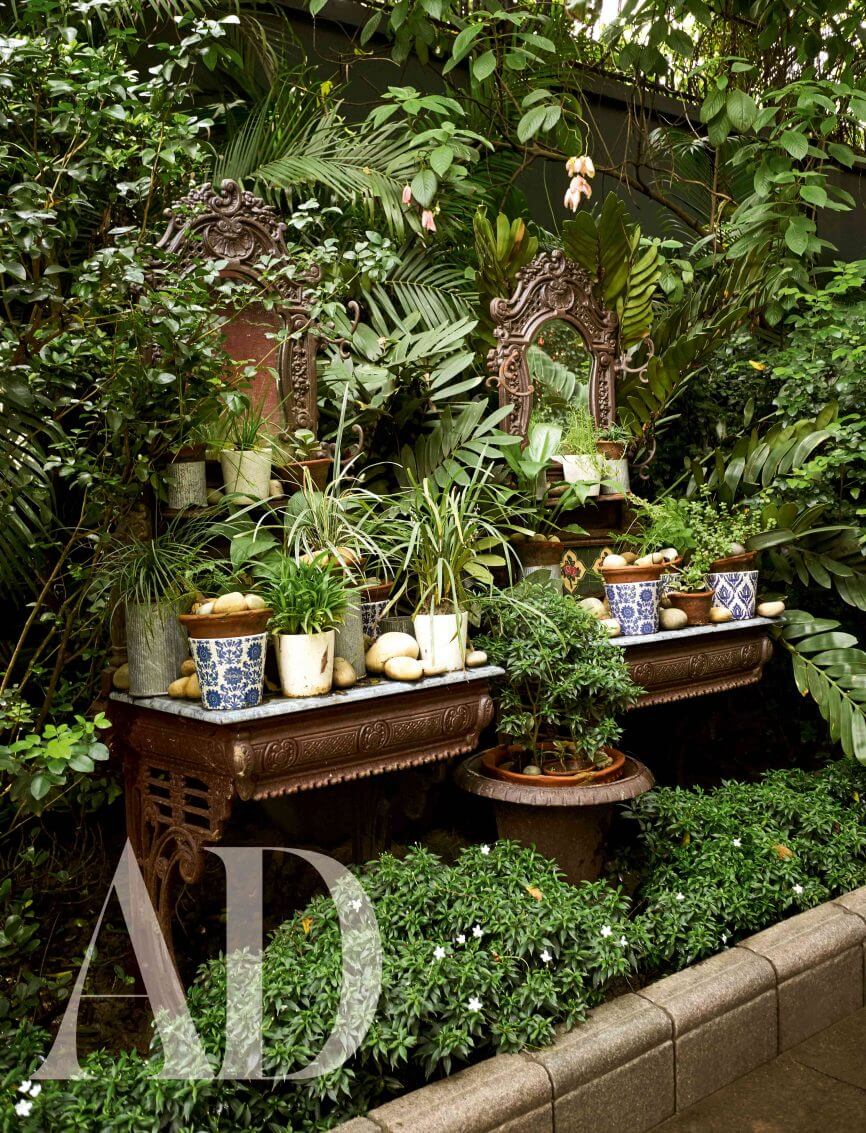 When Sabya wants a break from work, it is his splendid garden he walks towards. The real feat of the restoration of this Calcutta mansion with some 4,000 plants that were sourced to create the lush oasis that looks like it's been there for hundreds of years. There are banana trees that are taller than the two-storey residence itself, thick-trunked palm and Kafir lime trees, and a pristine lawn for Sabya's two cocker spaniels (who share the house with him). Mirrors in wrought-iron frames and a variety of pots decorate this rustic nook in the garden. It's so dense that it won't allow you even to see the deep Calcutta red of the house behind it. Sabya says, 'for an introverted recluse like me, a tropical garden is a perfect getaway.'
Filled with unique and antique pieces and decorated mostly by the designer himself, Sabyasachi Mukherjee's new residence is clearly a place everybody will wish to visit.