Style and clothing are deeply embedded into how one gets perceived. Think back to your most loved characters from your favorite television shows. Chances are that the fashion sensibilities of a character have grown on you just as much as their role. Be it a casual, boy-next-door look, a fashionista air, a grungy, rugged style, or a classic, suave appeal, every look is an extension of a character's vibe and persona, which is hard to ignore.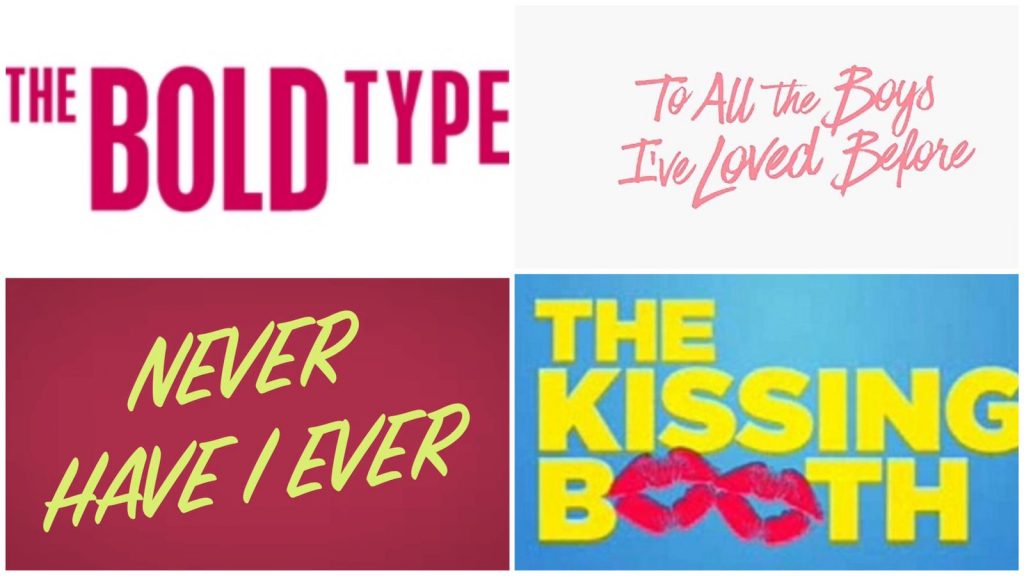 Raising a toast to the style legacy created by television dramas, we have curated some looks from the more popular television shows in recent times, which have been recreated by home-grown labels.
Never Have I Ever
High-school romance, teen drama, casual flings, and one helluva series, Never Have I Ever reeks of pure fun and light-heartedness. The coming-of-age series needs an excuse for being binge-watched (or re-watched), only to enjoy its special vibe and energy.
Character- Paxton Hall-Yoshida from Never Have I Ever is one high-school kid who almost has it all – style, good looks, love, and fame. He is a hot-looking chap with a nonchalant attitude who is always looking to maintain his status quo and who knows how to get everyone's attention.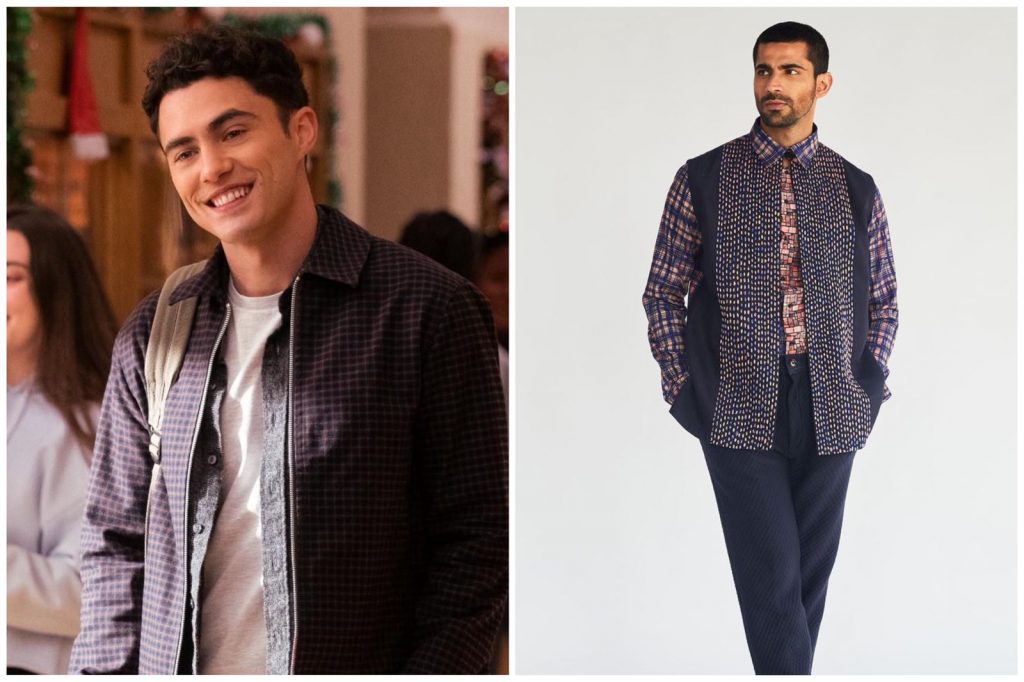 Left to right- Original look & Recreation by Kunal Anil Tanna
Recreation- This casual yet trendy look recreated by Kunal Anil Tanna aptly matches Paxton Hall-Yoshida's cool-looking and six-pack abs vibe. Just like the original look, this one maintains the character's fashion game with a trendy jacket and a contrasting shirt and matches Paxton Hall-Yoshida's high-school avatar.
The Bold Type
The Bold Type chronicles the lives of three best friends, all women, working for the same magazine in New York City, as they navigate the trials and thrills in their careers and personal lives as millennial women.
Character- Living in New York City, Suton Brady is a hard-working, career-driven woman working in the fashion department of a magazine. She is unapologetic in her decision of doing whatever it takes to pursue her passion and live her dream. Her love life goes through several highs and lows before she marries the man of her choice.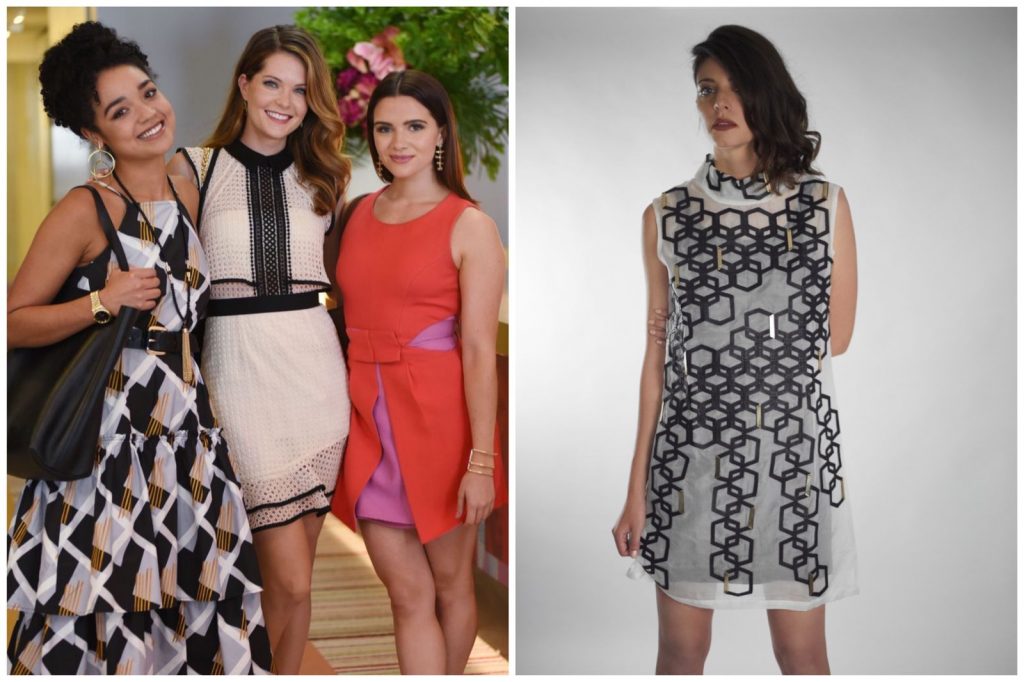 Left to right- Original Look & Recreation by Devina Juneja
Recreation – Fun, fancy, and fashionable, the ensemble recreated by Devina Juneja encapsulate Suton Brady's style and vibe. The style, symmetry, and fabric are an amalgamation of plain and plush, to lend a well-defined character to the outfit, akin to the one embodied by Suton Brady's clothing in The Bold Type.
The Kissing Booth
The Kissing Booth is an American rom-com that revolves around the life of a high-school student who encounters her long-time crush face-to-face when she decides to run a kissing booth during a spring carnival.
Character- Leader of the OMG girls' group, Mia King (in blue) is a Britney Spears-loving, manipulative, mean girl who resorts to plotting and scheming to grow closer to the film's main lead, Noah, by pretending to like someone else.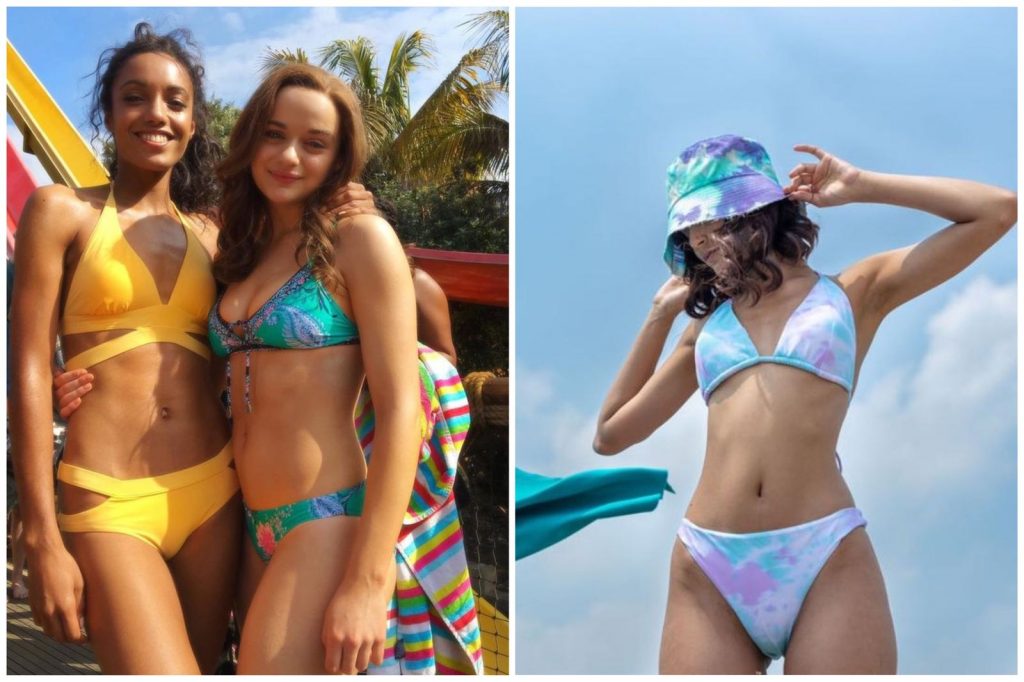 Left to right- Original Look & Recreation by Flirtatious
Recreation- Mia is a teen fashionista with an attitude of her own. The two-piece bikini by Flirtatious embodies all the oomph and sizzle to reflect Mia's chic, sassy and I-don't-care-about-anyone vibe. The recreated look is an ode to Mia's high school, urbane style with a twist.
To All the Boys I've Loved Before
To All the Boys I've Loved Before is a romantic film based on the life of a high-school teenager who writes secret, passionate letters to her crushes, until the letters mysteriously go public, leading to a series of unforeseen events, which summarize the film's plot.
Character- Lara Jean is a half-white and half-Korean high-school teenager who is sweet, shy, and awkward. She shares a strong bond with her family, mainly her sisters, and displays a strong liking for baking, fashion, and crafting.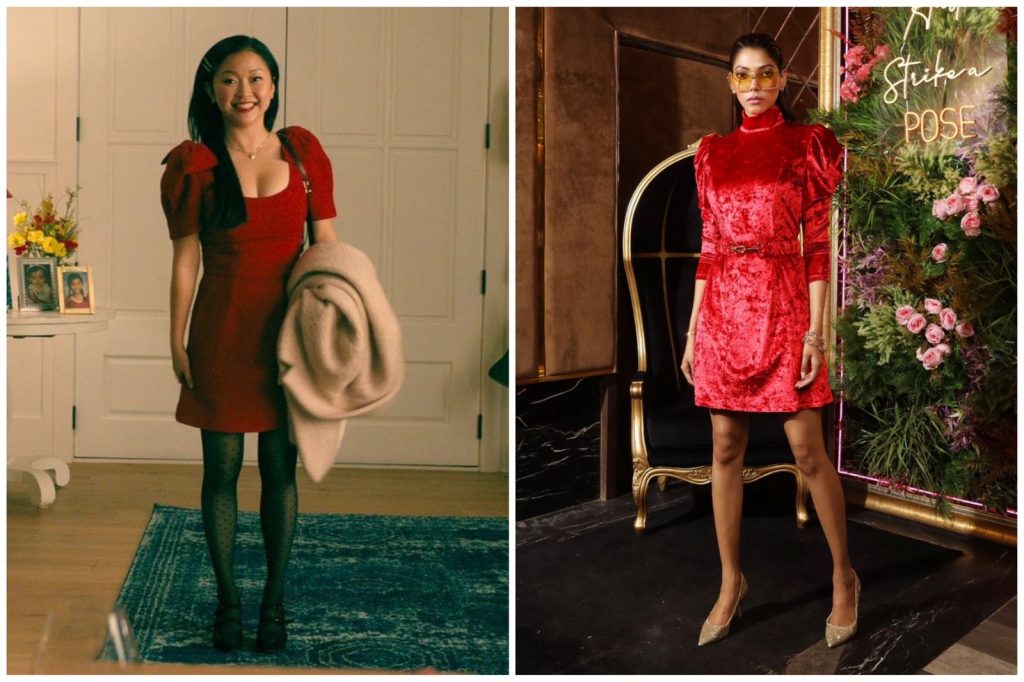 Left to right- Original Look & Recreation by House of Fett
Recreation- Lara Jean's cute, soft and trendsetting fashion sense, with hints of her Korean culture, has been recreated by House of Fett with just the right elements. The statement, red dress is super cool and dressy with a vintage vibe. Just like the original outfit, it is a fine blend of soft and sexy, which is an ode to Lara Jean's style.