As per the guidelines of Airport Authority, no sharp object, industrial tools, defense items, guns, firearms and explosive or replica of explosives are allowed and the passenger can face heavy charges, if found carrying it. Moreover, we all know never to make jokes about bombs, weapons or other security threats. We all learnt our lesson from one of our all-time favourite shows 'Friends' when the most sarcastic and funny man, Chandler gets detained after cracking a joke regarding it. After knowing all these guidelines and the consequences that follows it, Coca Cola took a huge risk.
Earlier this year before the opening 'Star Wars: Galaxy's Edge' within Disneyland Park in Anaheim, California and Walt Disney World in Orlando, Disney approached the giant beverage company to bring their products in innovative form in their Star Wars themed parks.
Before the opening of the themed parks, Coca Cola raised the excitement by introducing their specially designed coke bottles which are exclusive to the park. The spherical 'orb' shaped bottles representing the 'Globe of Peace' given to Boss Rugor Nass by Queen Padme Amidala, were made to perfection with the name of the product etched on it in 'Aurebesh' language that is featured in the film franchise. The company also released a small ad, promoting their new product which was well received by the audience.
From enjoying your rides in the park and experiencing the aura of another galaxy, visitors were allowed to take the bottles as a cool souvenir but unfortunately according to a recent statement released by Transportation Security Administration (TSA), the spherical bottles, appearing like grenade, are banned to be carried in the luggage, due to their appearance.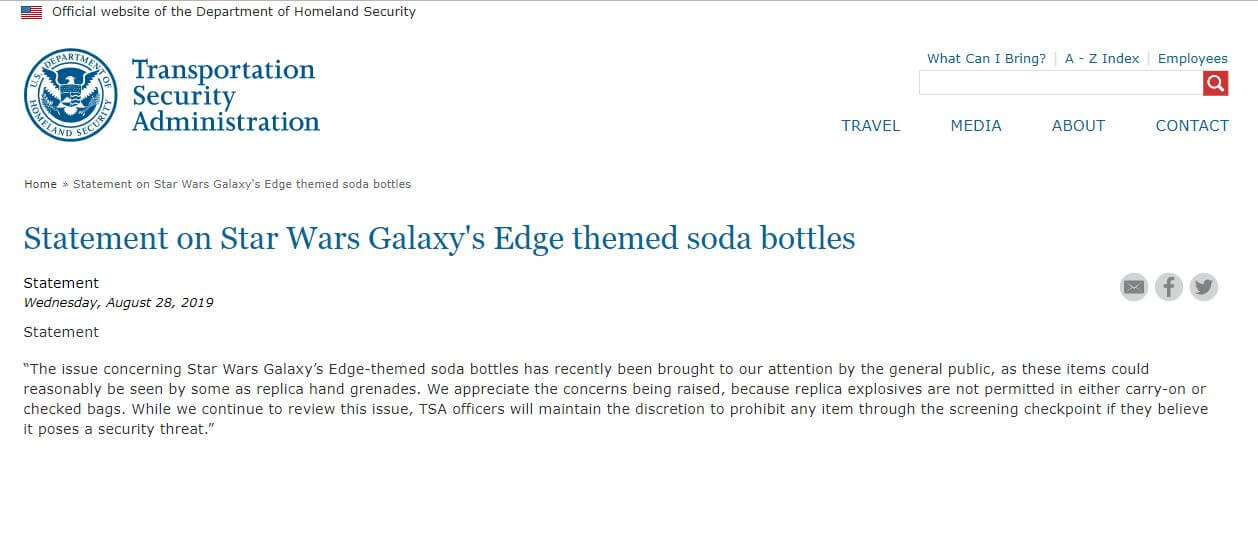 The issue was brought to the notice by few netizens who raised the question, whether they could take the coke bottles with them, to which official social media handle of TSA wrote, "Thanks for asking! Replica and inert explosives aren't allowed in either carry-on or checked bags."
@AskTSA I know these look dodgy, but can they be packed in suitcase? Thanks pic.twitter.com/4uILLMX3eL

— Ash (@DarkAshNet) August 13, 2019
Sorry to all Star Wars fans, no souvenir from Queen Amidala !