The US National Women's Football Team, attended the Victory Parade in Manhattan, New York, yesterday. Meghan Rapinoe, US Soccer Captain, entered the parade, dancing to the song 'All I do is win'. Meghan has scored six goals and claimed the Golden Ball as the top player of this year's FIFA World Cup Tournament. She has been an open critic of Trump's administration.
US women's soccer star Megan Rapinoe just danced out on stage to "All I Do Is Win," joining the rest of the team for a ceremony in New York City to celebrate their World Cup championship https://t.co/zzXBncsI44 pic.twitter.com/N5nbnhchDQ

— CNN (@CNN) July 10, 2019
The purple haired Captain, gave a hard-hitting speech, thanking all the coordinators for their support and making things easy for the team. Rapinoe asked everyone to take responsibility to make the world a better place.
"It's my absolute honor to lead this team out on the field," Megan Rapinoe says. "There's no other place that I would rather be. Even in the presidential race. I'm busy, sorry." https://t.co/7LJHPDVRm9 pic.twitter.com/ADUGFuRluW

— CBS News (@CBSNews) July 10, 2019
'This is my charge to everyone. We have to be better. We have to love more, hate less. We've got to listen more and talk less.' As she continues, 'I think this team does an incredible job of taking that on our shoulders. And understanding the position that we have and the platform that we have within this world. Yes, we play sports. Yes, we play soccer. Yes, we're female athletes, but we're so much more than that'.
Fans and followers arrived in red, blue and white jersey, celebrating the second consecutive victory of the team in the Women's Football World Cup. As the players entered the parade, in black T-Shirts, crowd started chanting, 'U-S-A! Equal Pay'. Pay disparity is an important agenda of US Women Soccer Team, for which lawsuit has been filed.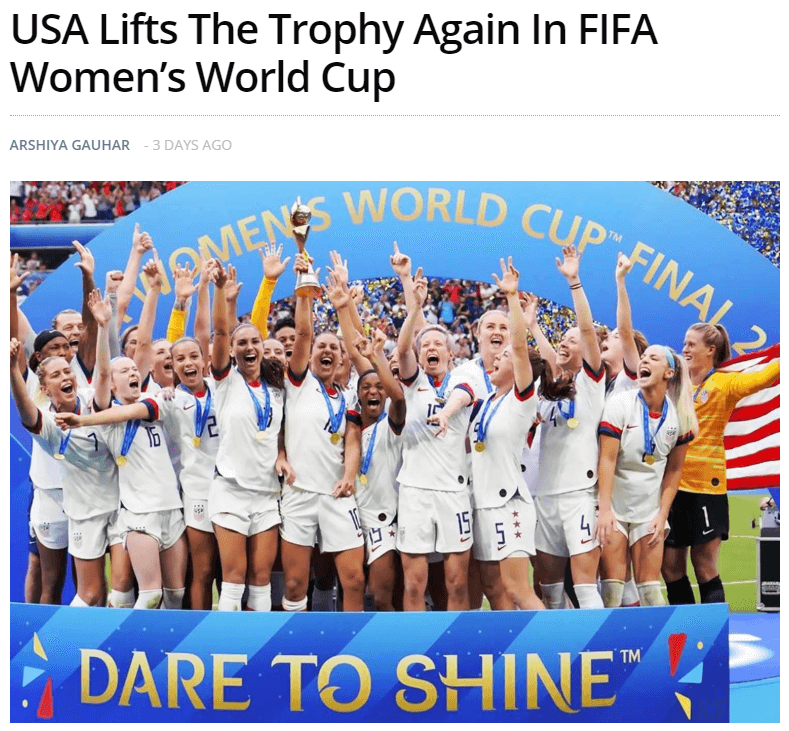 "Parades are cool. Equal pay is cooler" #USWNTParade https://t.co/XqF9U8zvDT pic.twitter.com/R9pJ21WcWP

— Planet Fútbol (@si_soccer) July 10, 2019
Earlier Wednesday, the team joined New York's Governor, Andrew Cuomo, as he signed a law expanding gender pay equality in the state.
#BREAKING: I just signed new pay equity legislation at the #USWNTParade.

The women's soccer team plays the same game that the men's soccer players play — only better. If anything, the men should get paid less.

Thank you @USWNT for helping lead this movement for change! pic.twitter.com/qHy2aYs2Tl

— Andrew Cuomo (@NYGovCuomo) July 10, 2019