INATUR offers you a 100% water-based and non-alcoholic body mist, a soft, stimulating, purifying, sympathetic and awakening scent inspired by the lavender essential oil. Stimulates and detoxifies the body and mind. Moreover, Sports Shower Gel is also a high-performance product that keeps the body and mind active and fresh at the beginning of the day and relaxes the body and mind after strenuous sports activities.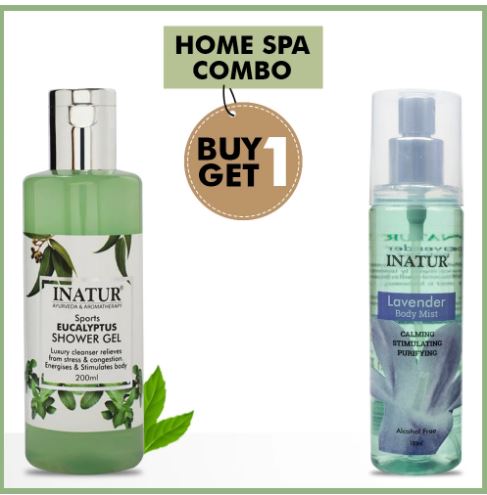 There is a fair possibility that, if you engage in self-care, you have heard about Lavender & Eucalyptus' peaceful power. Even if you are not a relaxation savant, it will undoubtedly aid you to relax your mind and soul from the fast life of both these plants. These plants have many different aspects and have several applications, from the capacity to minimize acne, to aid in lightening the skin and to diminish wrinkles. It can even be utilised for other purposes, such as hair health and improve digestion.
If you want a spa ambiance in your house, then this home spa combo kit in your bathroom is a fantastic place to start with. Apart from encouraging super-relaxation vibes, its chemical ingredients can also clearly aid to lessen acne, regardless if you want to produce a high atmosphere or just feel better and relaxed.
(Caption for photo: There is an offer at the moment on this combo, buy 1 get 1 free. Go get yours!)