From military veterans to starters in the EV segment, Evolet is writing their own rules in the game
Evolet is the fastest growing EV startup with a wide product spectrum
Swiftly shifting from military veterans to beginners in a new domain of Electric Vehicles, Evolet is ready to write their own preset rules in the business. Starting out in September 2019, Evolet is a one stop product by three defense officers who wanted to build a mobility solution and showcase a wider range of products than just focusing on a particular segment.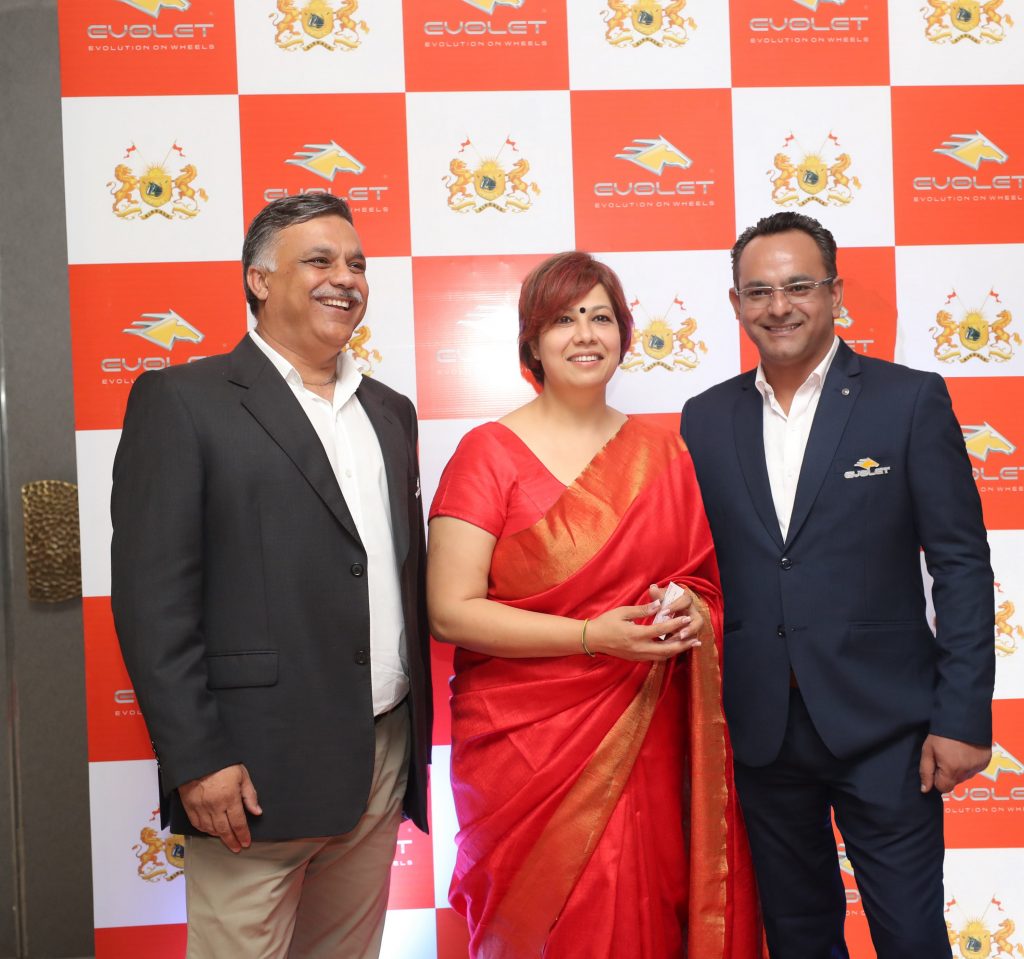 Giving an insight about the transition, USP and what the future looks like, Evolet's Director and CEO Prerana Chaturvedi takes us through the not so smooth ride of the startup. Excerpts:
 1.Being a military veteran, what propelled you to move into the automobile industry? How was the transition from defense to e-mobility?
Being a military veteran, I had operations to bring technologies, brands and products into the country and handle them. This is an advantage from the defense and aerospace domain, and gets the opportunity to handle new technology. The first hand is given to the defense and only after it is approved by various heads, the technology is available and customized to the needs of the civilian requirements. So, we were comfortable with the use of EV, battery and its technology which can bring a dramatic change in mobility. Although, this wasn't available initially globally but now, it's achieved a fantastic cost to benefit ratio. With our experience, we are able to translate and scale down the pricing and benefits which can be used by retailers and get access to high end technology, win-win on both the sides.
 2.What were the major hurdles that you faced during this journey?
It's a new industry and there are no predefined rules, the supply chain never works on a copy paste mechanism. Every startup in this domain has to write their own set of templates, that's the first hurdle. Second, the supply chain activation is a different ball game in various geographical territories regarding customer segmentation and product range changes. With this, the logistics cost differs and also, in few countries, the government supports the vision. They work on economy upscale and get raw materials for the next ten years on their own terms. But we are dependent on other countries for the same. We can build the supply chain, it's a process of evolution and challenge but will help us become self-sustainable. Also, everyone in EV focuses on an individual segment like only scooters. But we tried to pick many segments and provide products to everyone in the broadband spectrum by fulfilling everyone's needs. In this measure, we can save raw materials and target more people. I think we are the only ones in the country who provide all EV solutions under one roof.
 3.Starting out in September 2019, Evolet made its debut in Noida's Auto Expo. How was your experience?
We had a different kind of launch, all our products were dropped on one day. On the same day, we announced the price, made them available for sale, went full-scale pan India and opened our showrooms. It was fantastic with collateral awareness and collaborative launch. In Auto Expo, the experience was phenomenal as we could place ourselves out there and one could compare us to the industry's standards. With this launch, we showed everyone that we have a 0 to 100 product range spectrum. This gave us a 300% boost of confidence on our work. After this, Evolet as a brand has been labeled as the fastest growing startup.
 4.How does Evolet include sustainability in electric vehicles?
The business model and product has to be sustainable for the customer. Like the business model works only when the cost to benefit ratio has been achieved. If the capex and opex is giving benefits by buying an EV, the customer will make an instant shift. This not only makes the model sustainable but also operation cost is reduced by 95%. While a regular bike runs for three rupees per kilometer, for EV's it's reduced to four paise. The question is sustainability comes in terms of recurring expenses, like how 25 years back we bought a phone and wondered what if it got spoiled. But now, the product has evolved, we don't doubt it anymore. We have kept the pricing transparent and listed down the 22 EV parts which can be fixed. In this also, the 3-4 expensive parts come under a three year warranty.
 5.Future technology is the key for growing in the EV segment. How does Evolet provide this to customers?
It is easier to provide the latest technology we offer to the highest premium segment by virtue of leveraging on the economy at scale. Let's take mobile apps, rather than limiting the high end use, the app comes with geotagging and IOC connectivity which is available globally. If someone wants to buy a plain model and later upgrade it, they can do it with the same dealership without opening many parts. All the options are available to the customers at their own comfort zone and we're trying to get the best global technology, be it Japanese or German. With new products evolving, we will have the most efficient batteries, motors and controllers in our products.
 6.What makes Evolet different from the other Electric Vehicle startups?
First, we didn't start with heavy investment in marketing and minimized our cost operations till the economy of stability is reached. We have cracked the code of cost benefit for the customers and it's working well for us. Rather than marketing, we saved that money and passed it to the customer so that they have increased capex which builds their faith in our products. Second, we are fulfilling end to end needs of the customer by providing a wide product range, be it a cycle, scooter, motorcycle, bike, off-roader and loader. We are working on the autos and e-rickshaws segment. Lastly, we will produce 1200 e-buses every year that are fully functional, approved and available in the market for sale across all dealerships. Fourth, we focus on servicing and making the customers self-dependent by providing DIY services. An aware and fully informed customer is going to be our biggest asset.
 7.Shed some light on Evolet's 'Go Green Campaign'.
Because of COVID-19, it's not going on but yes, we are doing it to educate people. As we sell each EV, we will plant a tree at our own cost for the sound and air emission to be made zero. Also, we are increasing oxygen level by growing it on our procured 100 acres of fertile land which is a personal investment. We will nurture it so that it adds more oxygen to our environment and reduces pollution.
8.What are the signature features that's offered only by Evolet produced vehicles?
I can't say just by Evolet because high end features like mobile apps are used by the other players too. But the fact that we have made it accessible to the smallest and economic segment is a unique thing. Also, we are working on air purified helmets which stay connected to the scooters, all about smart technology being made available that'll go a long way with COVID-19. They are built with special hepa filters that can filter 97% of contagion and the rider can breathe fresh air. The helmet will also have Bluetooth, connected to the e-bikes and have upgrade functions.
 9.Tell us about the future endeavors of Evolet?
As of now, our product line is almost complete and we have filled all the gaps that were needed in the market. There might be niche designs and models that might come up, sometime closer to quarter three and four of this financial year. Now, we are focusing on our dealership across the country and to support our customers by educating and making them self-reliant.
 10.Finally, how has the global outbreak of coronavirus affected Indian EV segment?
It has affected us in many ways just like others. Supply chains have been stopped, impacted dealers and slow sales. We have high momentum and aggression but it'll be a challenge to start again. We have to make sure our business associates and dealers are back on the grid as soon as possible, only then the system becomes viable for each other. Our dealers have started operations, our plant is back in action and we have started fulfilling their needs. We'll wait for them to streamline operations and meanwhile, have framed strict SOPs for every customer and business associate to stay away from the contagion. We have a sanitizing spray which is distributed to everyone. From machines to scooters, the sanitizing spray will not have any contagion for three months if used. We have worked to pick the best of things to develop this so even when we dispatch a product, it will be sanitized in such a way that even after touching it, the product will not have any contagion on it. A breakthrough for everyone!