Serendipity has always been underrated and tagged off as a lucky coincidence. However, on a metaphysical note, they say that if there is true passion and talent in you, and you aspire to cherish it, the whole universe conspires to make your endeavours successful.
One of the leading bridal designer boutiques in Kochi, T&M started off as an instance of serendipity, seven years ago. Tiya Neil was on a quest for the perfect dress for her baby girl's first birthday. Not satisfied with the dresses that were available at the textile stores, she opted to purchase materials, created a rough design, and got a tailor to stitch it. Thanks to her degree in Fine Arts, the dress turned out beautiful, with an element of divinity. She continued to design dresses for her child. Later, the dress she created for her second baby's baptism ceremony wowed everyone, and this sparked off the idea to start a designer boutique.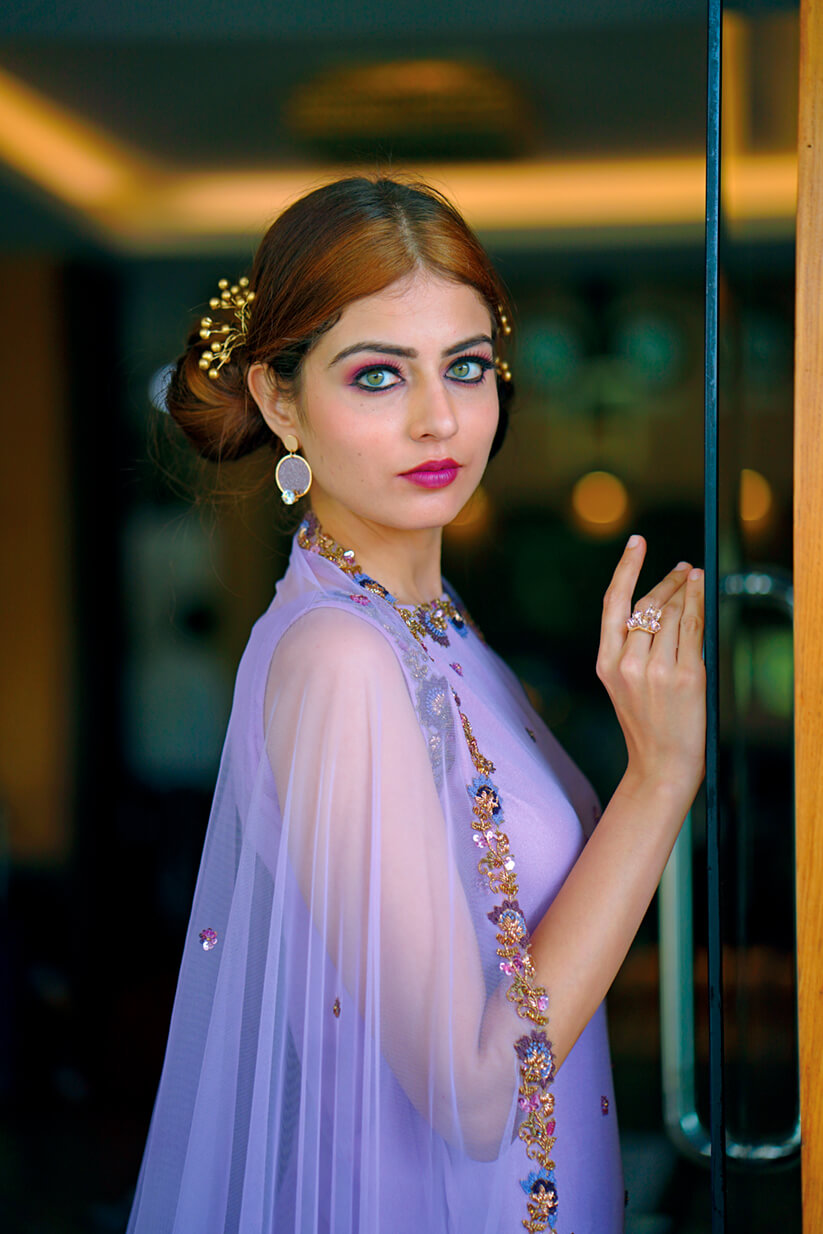 And as luck favours the prepared, she was joined by her sister-in-law Maria, who is a fashion designer, and her cousin Maria, and the bridal designer boutique T&M By Maria.Tiya.Maria was born as an expression of this joyful connection among the trio.
The brand became acclaimed for their wedding couture that struck a perfect balance of traditional and contemporary designs, finished with fine craftsmanship. Their collections showcased different ethnic styles of the country, from tie-dyeing to block printing, Kalamkari works to temple borders, and from Gara embroidery to Phulkari. The brand has made use the country's glorious ethnic heritage, as well as the luxuriance of Indian handicrafts and skilled workmanship. Yet the silhouettes, cut and construction assume a modern outlook.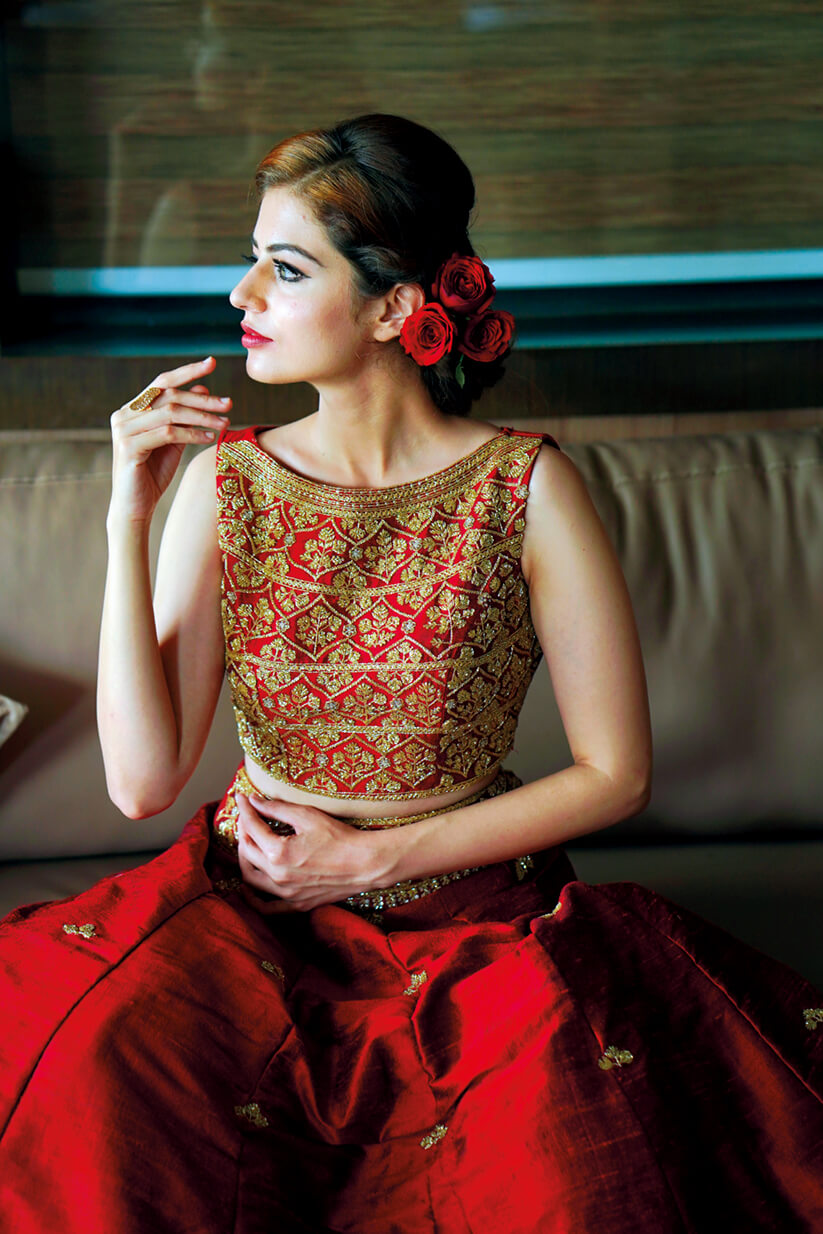 The expansive collections ranging from sarees, lehengas, lehenga-sarees, and even saree-gowns create an opulent aesthetic; that celebrities like Bhavana and Meghna Raj wore and appreciated them, not only at events and ceremonies, but also for their own weddings.
T&M By Maria.Tiya.Maria understands that once a woman has found the man of her life, the next quest will be the for the perfect attire for the big day when she moves on to the next phase of her life. She is modern, sensual, confident, yet traditional, and believes in heritage. To sum it up, she is sensible, she has a clear idea of what she wants and what complements her, and she is a woman who believes less is more. The Autumn-Winter Bridal Collection of the brand reflects these values, refined and luxurious without being heavy and pretentious. The focus is on bridal lehengas and the creations are inspired by several ideas and styles – avant-garde, clean, structured, romantic or streamlined.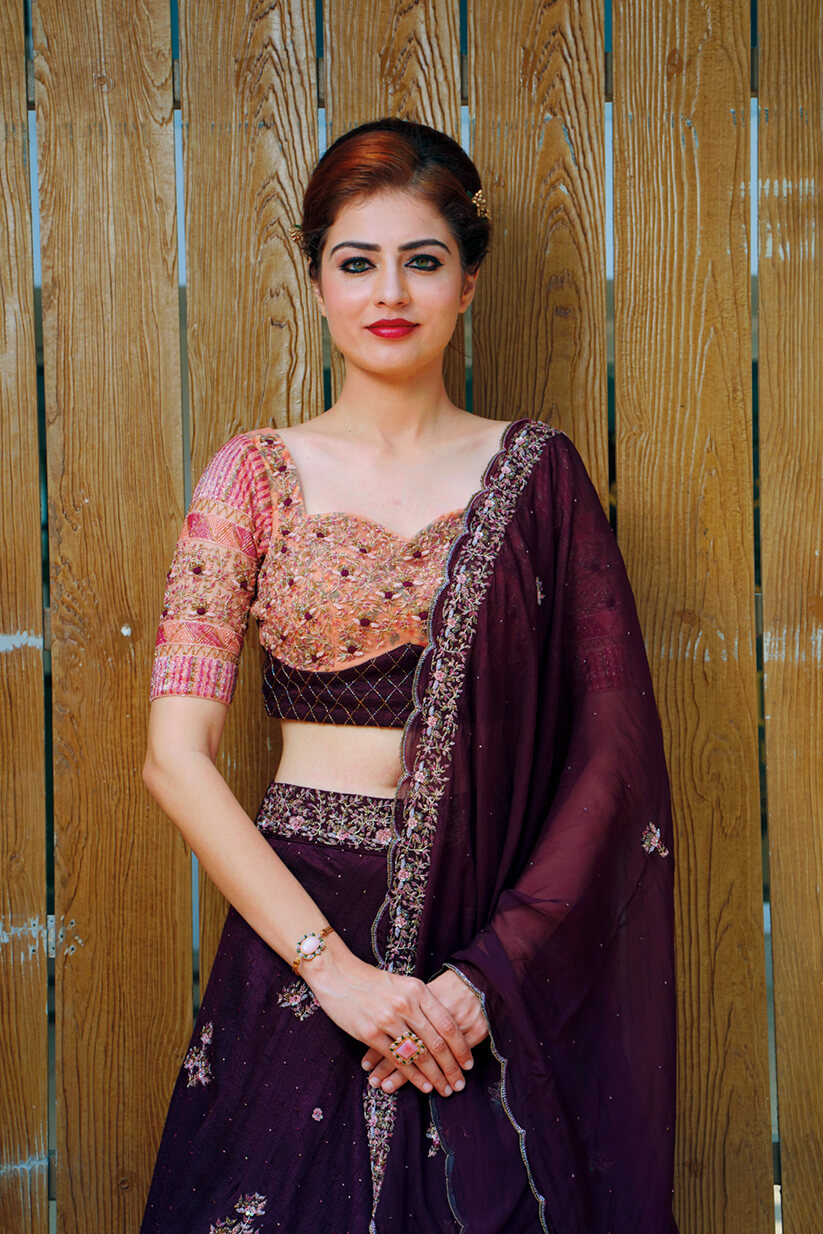 The brand is famous for its signature creations in soft powder-blush pastels, corals, ivories, and off-whites, but this time, they have also incorporated a sophisticated palette with deeper shades of maroon, crimson, wine-red, sangria, mulberry purple, Prussian and royal blues, and Brunswick and emerald greens. But the brand believes that the bride should opt for the colour that suits her, and feel confident in carrying it off.
They have used a lot of self-printed materials and appliqued them with contrasting colours and textures. The applique is highlighted with the famous chikankari work from Lucknow, featuring indigenous embroideries in floral and paisley motif patterns, using semi-glossy threads. Then there are the beadwork, sequins, stones and Shisha mirror work to add a finishing touch.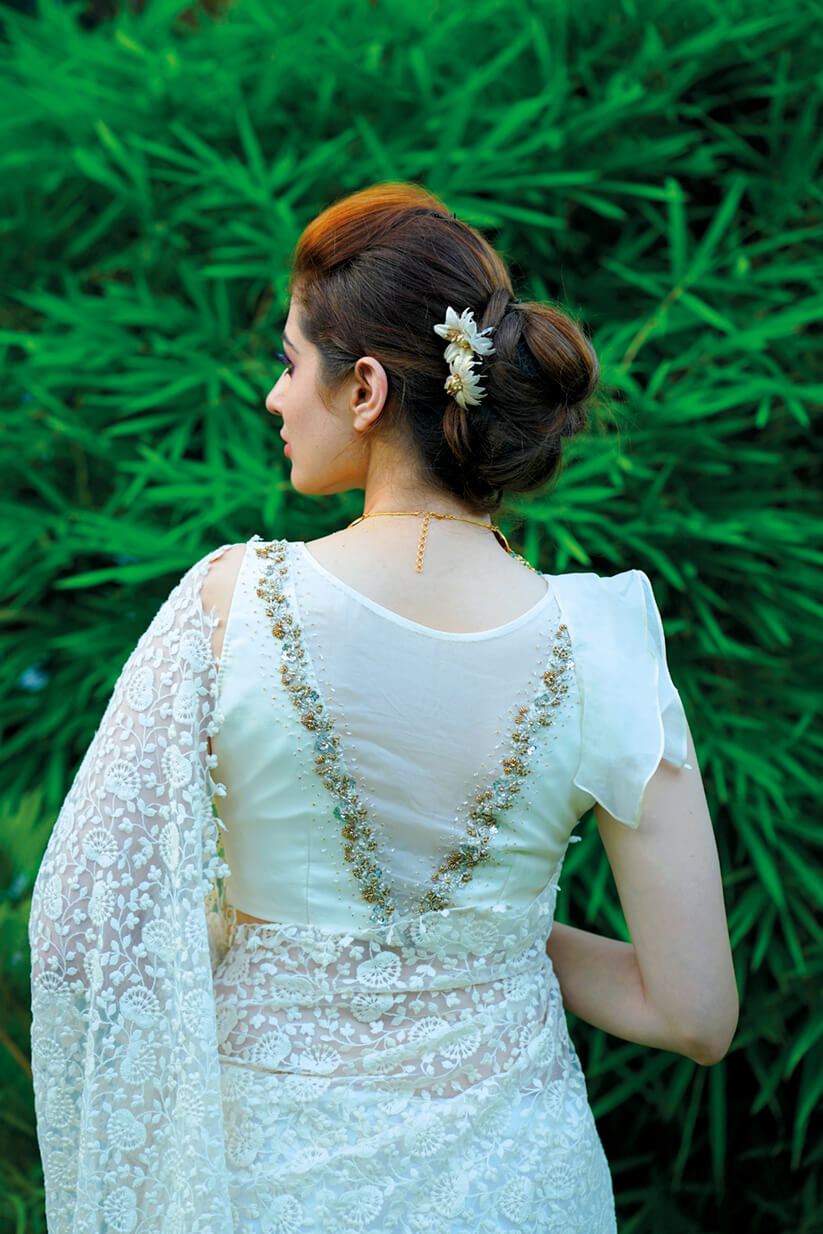 The vibrant collection is subtle, light-weight, and comfortable, especially when the brides are expected to stand for long stretches. The crinolines under the skirt give it volume, bounce, and the ease to move around or even dance without getting stuck. Plus, there is nothing prettier than a watching a lehenga twirl in a circular motion at the wedding, Sangeet or reception.
Apart from the usual white and off-white sarees, T&M features muted down shades like soft pastels, baby pink, ivory, and mint into the Christian bridal sarees, as the brides these days are ready to experiment with a little bit of colour. Not all sarees and lehengas are monochromatic; you can see few ombre and contrasting colour flow as well.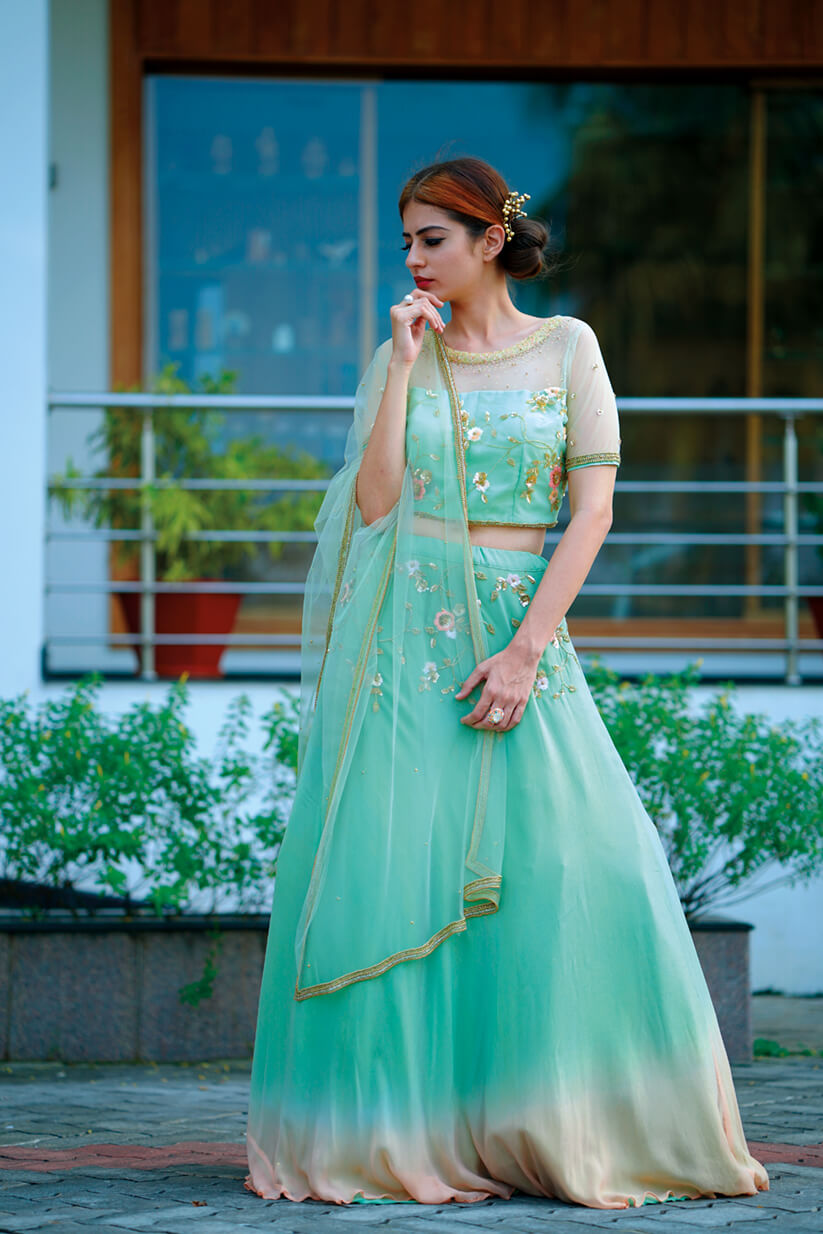 T&M has also introduced a new concept the gown-saree, fusing the skirt part of the gown with a delicate, diaphanous saree pallu that extends over the shoulders. The attire releases a fairy-tale princess within every woman with billowing layers of silk, an overlay of tulle or chiffon, embellished with lavish embroidery, lace applique, pearl and rhinestone work. The brand has experimented with different types of fabrics, like satin, silk, lace, fine net, raw silk, shimmer georgette and high-quality chiffon.
The Autumn-Winter wedding trousseau collection also features Kanchipuram silk sarees embellished with handwork, adopting a contemporary language where you can see lots of floral, temple architectural elements, as well as geometrical patterns. T&M offers options for bespoke customisation where the Zari borders and the embellishment will base on the jewellery the bride will be wearing. A few years ago, brides opted for golden sarees with heavy, ornate embroidery; the scenario has changed, they now opt for vibrant colours, beautiful textures and minimal embellishments, to highlight their jewellery.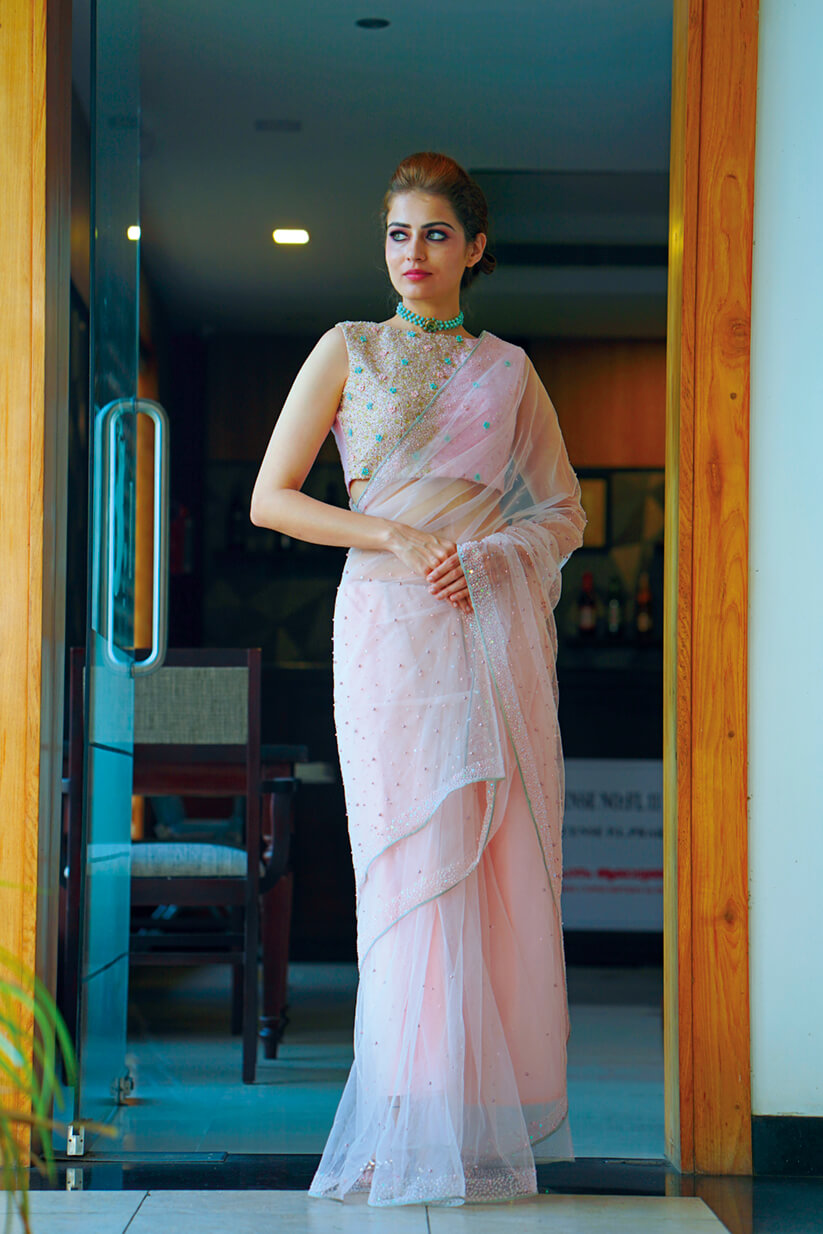 The Muslim bridal collection features Arabic lehengas with woven brocade floor-length skirts and long-line cholis in stylish silhouette and cut. The handwork on the blouses are minimal, while the dupatta and the voluminous skirt are harnessed and highlighted by heavy Zardozi embellishment work. The garments feature a rich patchwork of flowing design patterns, all created by hand, using crusted golden and silver threads, and finished with stones and golden and glass beads. The colours are deep and vibrant, and the brocade, velvet, silk, and satin materials used are rich in texture and luxuriant to touch.
Each time the brand brings out a new collection; there is always an element that has never been seen before, a different floral pattern, a new colour combination, a new fabric, or anything that imbibes an essence of royalty into the bride's spirit.