By: Jasmeet Bhatia
HappyShappy recently launched a new feature on its mobile app. Among other things, this is helping people dress well for any occasion, whether it's meeting the CEO, a night out with friends or attending a festive ceremony. Here's the complete scoop!
That mobile phone you keep by your side 24×7 can already handle a lot – messaging, browsing, gaming, social networking, and more. But did you know it can also serve as your personal stylist? Yes, it can help you pick the ideal choice, give you the best dressing ideas & dress appropriately for a wide variety of occasions.
The HappyShappy mobile app's Daily Horoscopes bring these style hacks to your fingertips by combining curated outfit suggestions with your zodiac's lucky colour for the day. This is enabling users to put together stylish ensembles from their existing wardrobes and shop from curated brands — keeping each person's horoscope in view.
It's no secret that the right outfit enhances your mood by boosting your confidence. But finding something unique to wear every day can be stressful for many people. From casual tees & jeans, to elegant ensembles for festive occasions and professional blazers & trousers, HappyShappy's horoscope based 'Colour Of The Day' feature is making fashion easy and accessible for its users. Beyond clothing, the app also suggests ideas for beauty, makeup, accessories, jewellery, footwear and gifts in lucky colour. The result is an immersive experience that's helping young men and women all across the country.
HappyShappy is a discovery platform that offers users with the best ideas, products and creative inspiration, across a range of categories. Fashion and beauty being some of the most popular, the app has a wide array of suggestions for the discerning eye. Besides the abundance of fashionspiration available on the web, which the app absorbs via a team of style-savvy professionals, it has influencers, bloggers, designers, stylists, artists, and 850+ homegrown labels from the country hooked on. All of them bolstering HappyShappy's suggestions to include styles that are on trend and in budget. Additionally, the community of 6,00,000+ monthly users share their favourite ideas and products with each other.
Launched in September 2019, the Horoscope feature has since garnered rave reviews for helping hone the fashion sense of thousands of users who're on an outfit-pairing spree. For people like Nimisha Zaveri, who embrace fashion as an art form, every day is a chance to create a unique masterpiece! "It's a must-have for fashion-lovers who're often one the fence about what to wear" reviews Nimisha Zaveri, one of the early adopters of the HappyShappy app and an Aries. "It helps me carefully curate my wardrobe so I can look effortlessly chic every day."
People can create a cohesive look easily when they own things that coordinate, but to match things that don't, means ruffling one's feathers. "The HappyShappy Horoscope guides me to get the most out of what I already have in my closet and choose new pieces that will integrate well into my wardrobe as a whole." She is referring to the vast variety of choices that the app offers.
           People appear to be embracing this feature for two reasons. First is the lucky colour inspired outfits that act as a good luck charm. Wearing certain colours not only plays a huge role in making a fashion statement; it also sets the tone for the energy you wish to attract. Most of us know we could stand to win a few style points by giving hues outside our comfort zone a go, but — like finding the perfect haircut— selecting hues that accentuate your personality is often easier said than done. With such a kaleidoscopic spectrum of shades on offer, choosing the right colour is no mean feat. Thankfully, HappyShappy takes that problem away. Samiksha Trivedi, shares, "The app seems to understand that as a Sagittarian, I'm a creature of comfort with a calm and cheerful personality." Whether it's boho, retro, grunge, or vintage, every piece, the lady says she discovers, is a bright, subtle, free-flowing ensemble that blends cosiness with style.
         Secondly, it's the feeling of positivity and earnestness via the interaction. The cheerful, quirky and engaging tone of the predictions ensures you don't experience any stress or FOMO. Even if the stars have decided you're going to have a bad day, it steps in to reveal ways to stand your ground.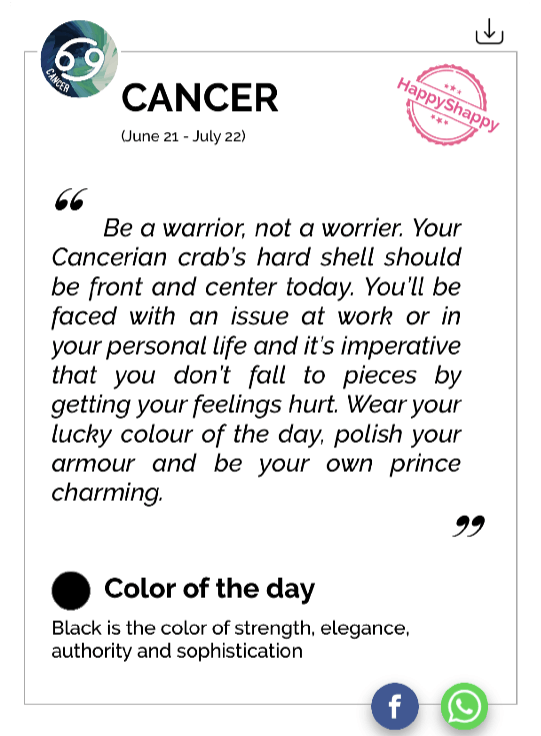 HappyShappy's team tells us they are committed to celebrating a wide array of fashion which appeals to all body types. As such, the app embraces all shapes, sizes, skin tones and lifestyles. As Mahima Chandra, a confident Capricornian puts it, "You can actually explore for the body you actually have instead of the body you wish you had. It's just you and thousands of ideas, so you can have an honest conversation about what you want, without any judgment."
Fashion always had an on-again, off-again affair with astrology, and they have many things in common. They're both recurrent — fashion changes based on the season of the year, zodiac signs change based on the movement of the planets. Both worship the beauty of symbols and allude to the past. They both attempt to predict the future. And now with the HappyShappy Horoscopes, we can add suggesting stylish outfits that fit one's personality to the list.