A dramatic and complicated Aragon GP saw Marc Marquez's first race back cut short after a promising start while Pol Espargaro worked hard to overcome adversity and end in the points.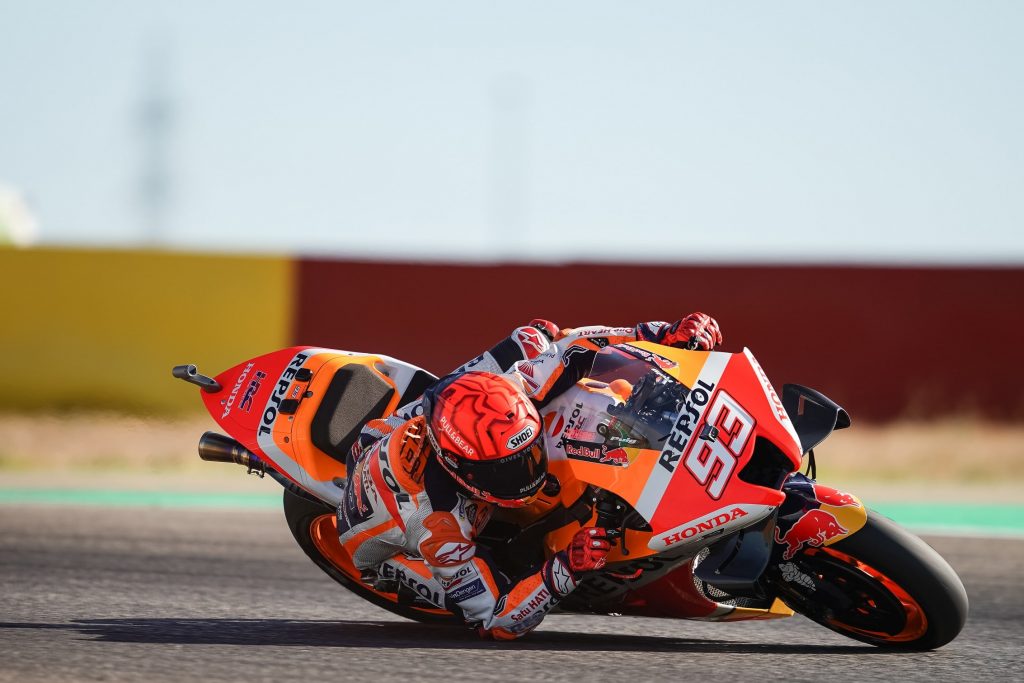 A lightning start from Marc Marquez saw the Repsol Honda Team rider jump from 13th on the grid to sixth within the opening corners. His race would sadly not go much further as a rear end slide at Turn 3 caused contact with Fabio Quartararo. This in turn left a piece of Quartararo's bike lodged in the rear end of Marquez's Honda which caused a subsequent mechanical issue and contact with LCR Honda's Takaaki Nakagami. As a result, Marquez pulled into the pits at the end of the first lap – ending his return race early.
Pol Espargaro walked away from a complicated weekend in Aragon with a single point for 15th place. Taking evasive action to avoid Nakagami on the first lap left the Repsol Honda Team rider playing catchup for the rest of the race. Working to set a steady and consistent pace, Espargaro battled inside the group and reclaimed 15th place with just a few laps to go. Now that the Aragon weekend behind him, Espargaro is aiming to rally at Honda's home race in Motegi.
For the first time since 2019, the MotoGP World Championship is set to race at the Japanese Grand Prix. It is a welcome return to home turf for the Repsol Honda Team as the Honda RC213V gets ready to delight Honda's home crowd. The MotoGP paddock will immediately head for Japan, the middle race in this triple-header as they power towards the end of the season.
Marc Marquez (DNF)
"I got a really good start to the race and found myself fighting for the top five, instincts took over when the lights went out. But then in Turn 3, I lost the rear a little bit so I closed the gas and the problem was then that Fabio was super close to me. This is normal, it's racing to be close in the first laps and to try a move in the change of direction, we were just unlucky to have this contact with Fabio. Then everything started, in Turn 5 I felt something strange, and I didn't really know what was going on fully. In Turn 7 Nakagami overtook me and went wide but when I went to engage the rear device, I felt like the rear was locking. Then everything happened at once as the bike was moving to the left with this locking and I found myself touching with Taka. After this I retired. I went to apologies to Taka and his team because his race was ended by the situation we had. My apologies to him and Fabio."
Pol Espargaro (15th)
"It was a really tough race today and we didn't have the speed we needed to do something more. I haven't felt comfortable on the bike all weekend and we had a lot of distance to try and recover today. The first lap was very complicated, there was carbon fibre everywhere and I had to stand up to avoid Taka. Tonight I go home and then tomorrow we get on the plane to Japan so we will switch our mind to Japan mode, I'm looking forward to looking seeing all the Japanese fan again."
Aragon Grand Prix – Race Results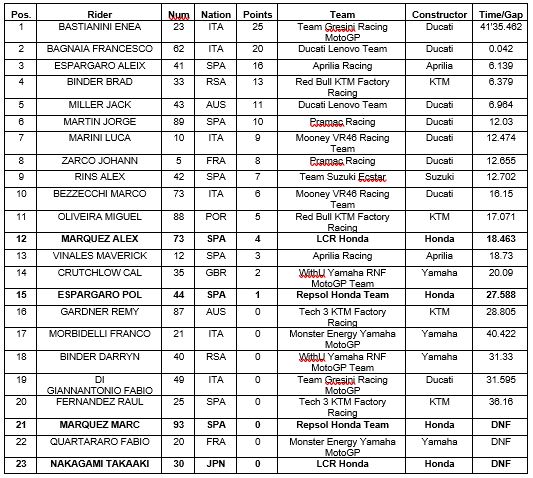 Rider Standings