Business Excellence & Research Group Pte Ltd (BERG) hosted and presented the 3rd edition of Women Icons Asia Summit & Award in Singapore sponsored by Women Icons Network to give gratitude to women achievers & leaders representing a varied category of professions & areas across South & South East Asia. At a sparkling function, Dr. Ponni Concessao who is a top architect from India of Oscar and Ponni Architects was honored with the 2019 Women Icons Asia Award. She was among a total of 12 Women Achievers from across India, Malaysia, Indonesia & Singapore representing a diverse category of professions & sectors who were recognized at the 3rd edition of the Women Icons Asia Summit & Awards.
Apart from awarding the achievements & accomplishments of women, the forum also conversed about the challenges towards attaining gender assortment and addition in workrooms. The conference deliberations were focussed around the theme Achieving Gender Diversity at Workplace – Is Enough being done to create a robust talent pipeline. The panelists involved Ms. Christina Teo, Chief Builder-she1K; Founder – Start-up Asia Women; Ms. Kathryn Woof, MD, 33 Talent; Ms. Been Natarajan, Head of Talent & Vibe, Zeemart Asia Pte Ltd, Ms. Victoria Murphy, VP, Randstad Sourceright and Mr. Karthik Tirupathi, CEO, Napier Healthcare Pte Ltd. The sitting was moderated by Mr. Vishwesh Iyer, Founder & Managing Partner, BERG Singapore.
He said in a statement, 'Achieving gender diversity & inclusiveness at the workplace and in social environments is much more than getting certain numbers. Till organizations do not make it a business imperative and start measuring outcomes, it is going to remain a challenge. The Women Icons initiative has been making steady progress in getting a dialogue going in this regard and we hope to expand it further in the coming days.'
The event was held on May 31 in which recipients Gillian Chee, Senior Fund Manager, AEW Asia, Singapore; Hetal Doshi, CEO, O Psych, Co-Founder, NextUpAsia, Malaysia; Mette Johansson, Founder & Owner, MetaMind Training, Singapore; Stacey Hermijanto, CEO, PT Shinta Indah Jaya, Indonesia; Dr Ponni M. Concessao, Architect, Oscar & Ponni Architects, India; Grace Park, Co-Founder & President, DocDoc, Singapore; Larissa Tan, CEO, Vanda Electrics, Singapore; Shanti Shamdasani, President, ASEAN International Advocacy, Indonesia; Jael Chng, Co-Founder & Chief Problem Solver, My Working Title, Singapore; Deepshikha Kumar, Founder & Managing Partner, SpeakIn, India; Jas Ng CL, Senior Director, SRI Pte Ltd, Singapore and Priya Daniel, Founder & Creative Director, Five Scale Design & Darlinks, Singapore were in attendance.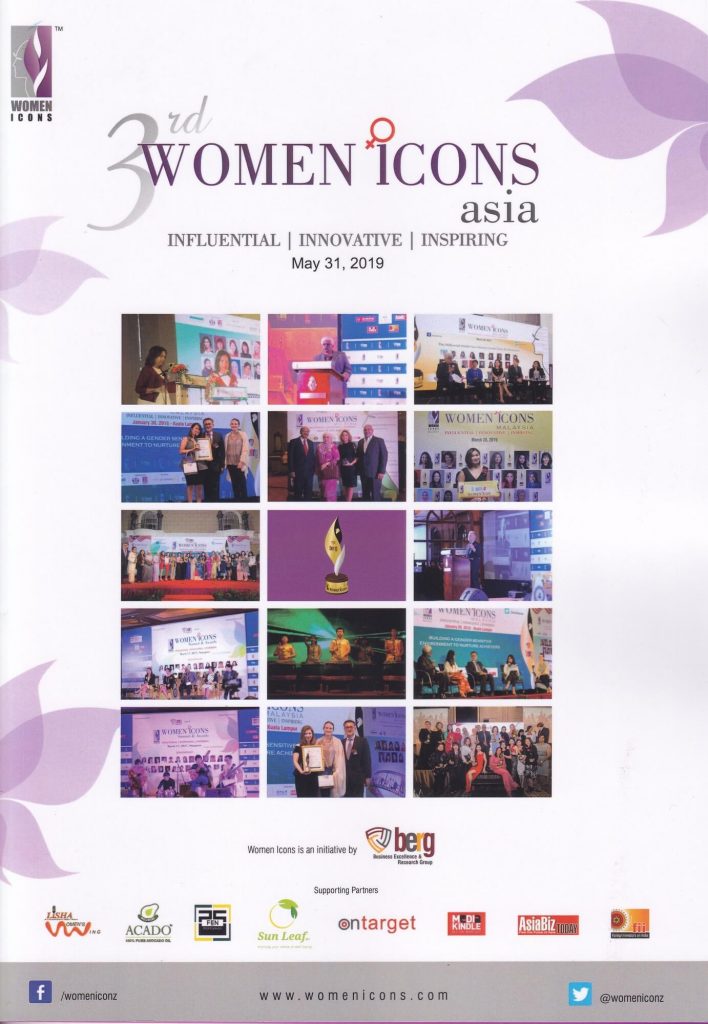 Ponni Concessao
Ponni Concessao is a reputed architect whose career has crossed years dedicated to designing and has undertaken award-winning works that have covered all large archetypes of town planning, buildings, and interiors in all parts of India. She has given her full contribution in creating award-winning designs, authoring and publishing technical papers, architectural education, conservation, women's rights, and nation-building. She has also devoted herself for quite a lot of social causes and charity projects including building Noon-Meal Centers, Schools for the deprived and Tsunami Housing.
The Women Icons Summit
The Women Icons Summit is a thought management, interacting and recognition platform that revels and honors the achievements & contributions of women who have outshined in diverse scopes of life. It is significant that victory stories of Women Icons should be widely recognized so that such women not only become an inspiration for upcoming generations but also help in changing the mindsets of people. Apart from recognizing women achievers' tenant in Malaysia, its objective is to involve public, organizations, and administrations in the celebration of women's achievements. For more information, log on to www.womenicons.com.
BERG
Business Excellence & Research Group Pte Ltd (BERG), is a Singapore-headquartered entity committed to the development and encouraging commercial brilliance across varied sectors. The manifestation of the numerous initiatives has been in the form of meetings, sessions, business networking sessions, and recognition through awards. BERG's Advisory Board & Executive Team bring together people with varied global experience & skill. BERG finds representation in some of the important developing markets of Middle East, India, Sri Lanka, Philippines, Thailand, Indonesia & Vietnam.