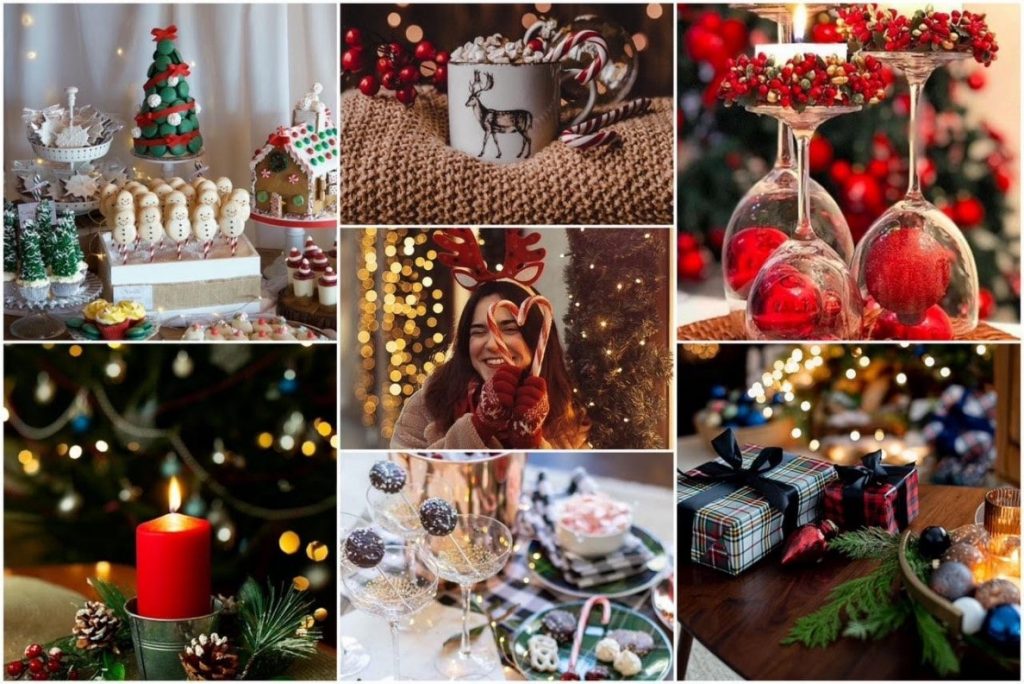 Image Source: Pinterest
Are you ecstatic about Xmas? Ring in the Christmas cheer in glamorous and chic looks curated by the best in the fashion industry including Anmol Jewellers, ANI Clothing, Zabella, Gaia Tree, Nautanky, Eurumme, Vidhi Wadhwani, Joolry by Karishma, House of Fett, and Twyla. It's time to mix and match and revel in radiance as you channel your inner diva in opulent designer outfits and statement jewellery pieces.
BLING IT ON!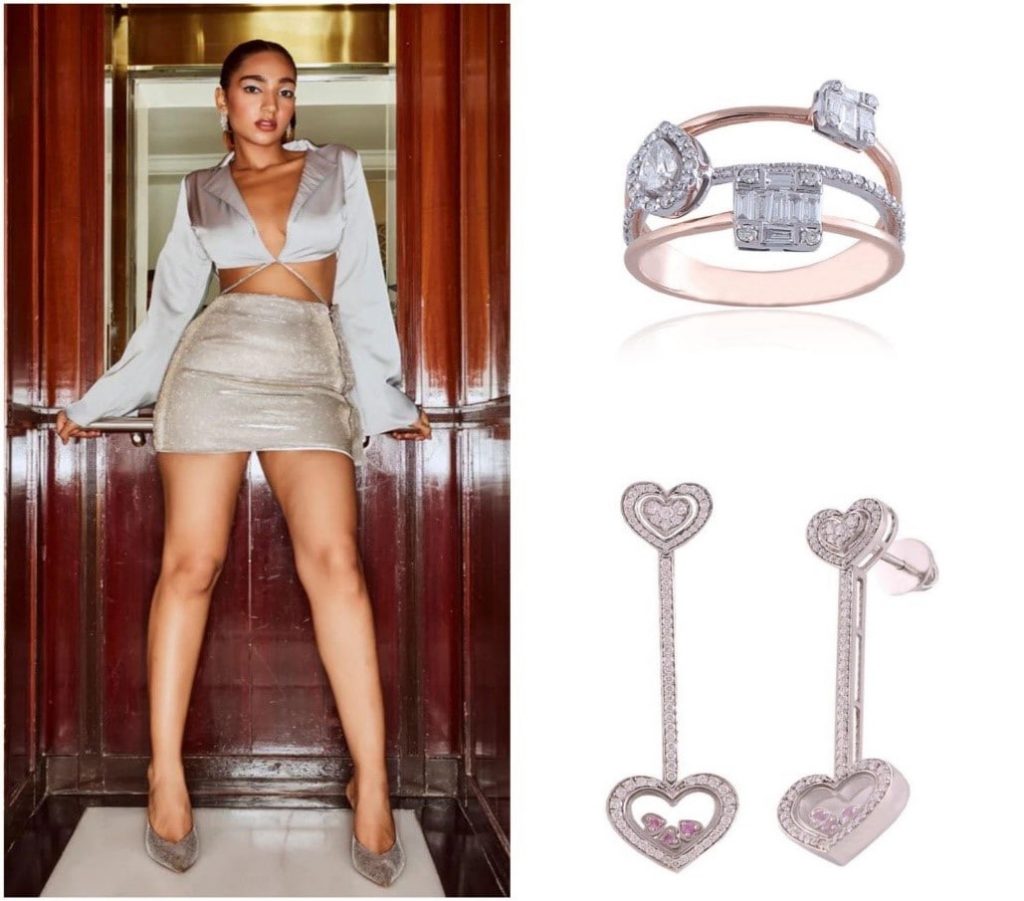 You can never go wrong with a li'l extra bling at a Christmas party. If the theme is glamorous and shimmery, then this silver bling dress from ANI Clothing is an obvious choice. The chic yet bold cutout dress comes in satin top with a blingy skirt silhouette. A perfect blend of sheen and oomph, the dress is tailored to match your diva status. Adorn this stylish dress with Anmol Jewellers' Heart to Heart Dancing Diamond Earrings, crafted beautifully in 14kt white gold and features fine diamonds along with pink hearty sapphires. Complete this bling look with a Teardrop Baguette Statement Ring from Anmol Jewellers crafted in 18kt rose gold and accentuated with fine drop shaped and princess cut diamonds.
GREEN GRINCH NOT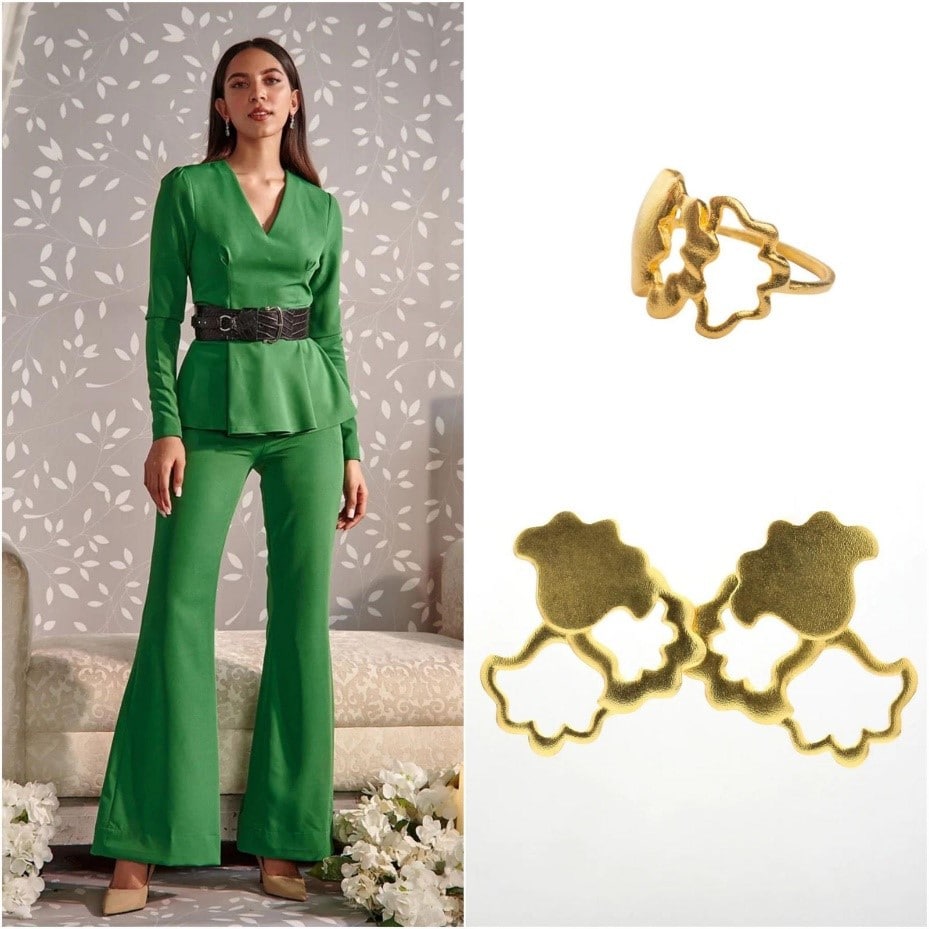 Christmas party theme? You could either go as a xmas tree or the good ol' grinch. Whatever you choose, do it in style. This powerhouse forest green peplum co-ord set from Zabella is perfect for any theme party. The set comes with a stretchable green peplum top and fit and flared pants. You can style it with a broad black belt. Keep the styling minimal and enhance your party look with a pair of pretty She Sells Sea Shells Bunch Earrings and She Sells Ring from Gaia Tree Label. The 18kt gold plated brass jewellery pieces are inspired by the organic form of the sea shells and will make any outfit standout.
BOSS LADY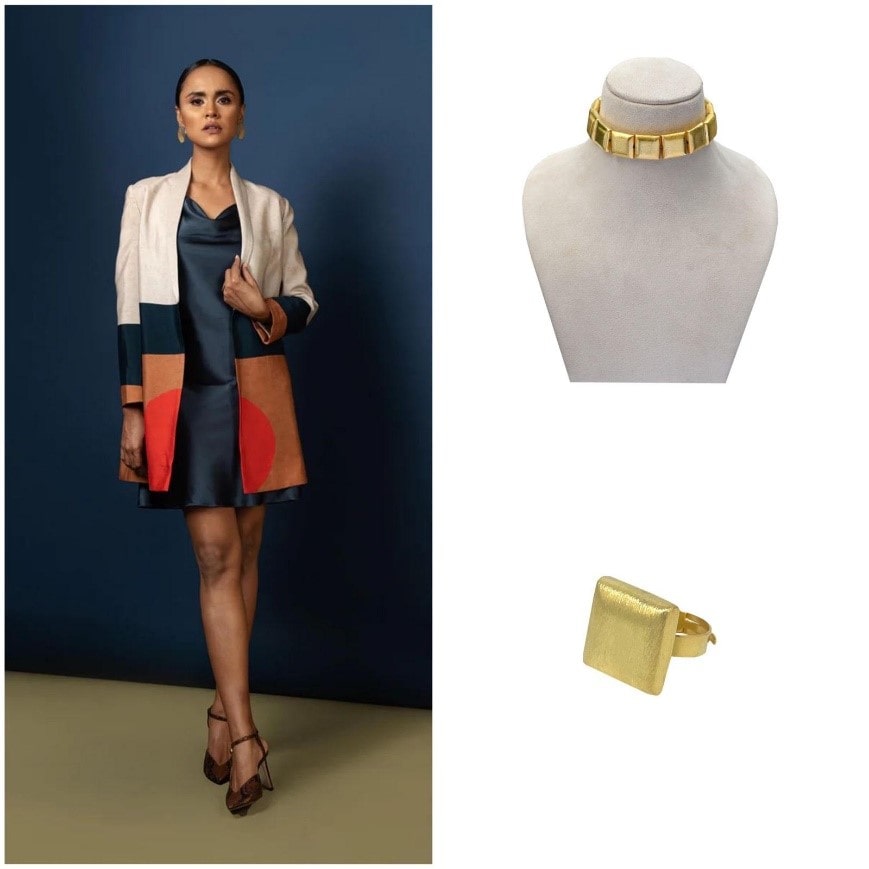 If you are throwing a Christmas get-together at work, then keep your style chic yet sassy. Pick the Seat At The Table ensemble from Nautanky, and own that table! The outfit comes with a sexy slip dress in navy blue and a blazer with colour blocking. The shades of deep orange, navy blue and beige on the blazer add character to the overall look. Add a hint of quirky glam with Eurumme's Cobble Choker and Solo Cobble Ring. Handcrafted in gold tone units, the pieces are adjustable and blend perfectly with any outfit.
MRS. CLAUS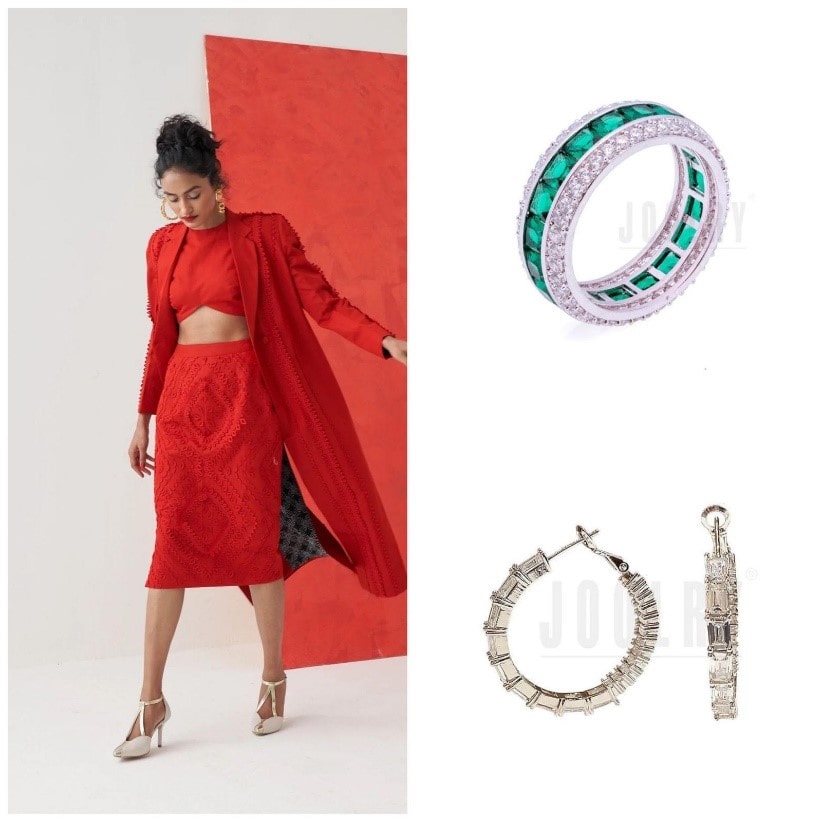 Channel your inner Mrs. Claus this Christmas in this vibrant Alba Applique Blazer with a Top and Skirt designed by Vidhi Wadhwani. The blazer and skirt features signature handcrafted, geometric-appliqué laces and is paired with a crop top. You can accessorise this scarlet red ensemble with a pair of Baguette Hoops and Colors Band Ring from Joolry by Karishma. While the silver with alloy and electro rhodium plating hoops has a classy vibe to it, the green cubic zirconia ring will add a hint of contrast to the overall look.
HEART OF GOLD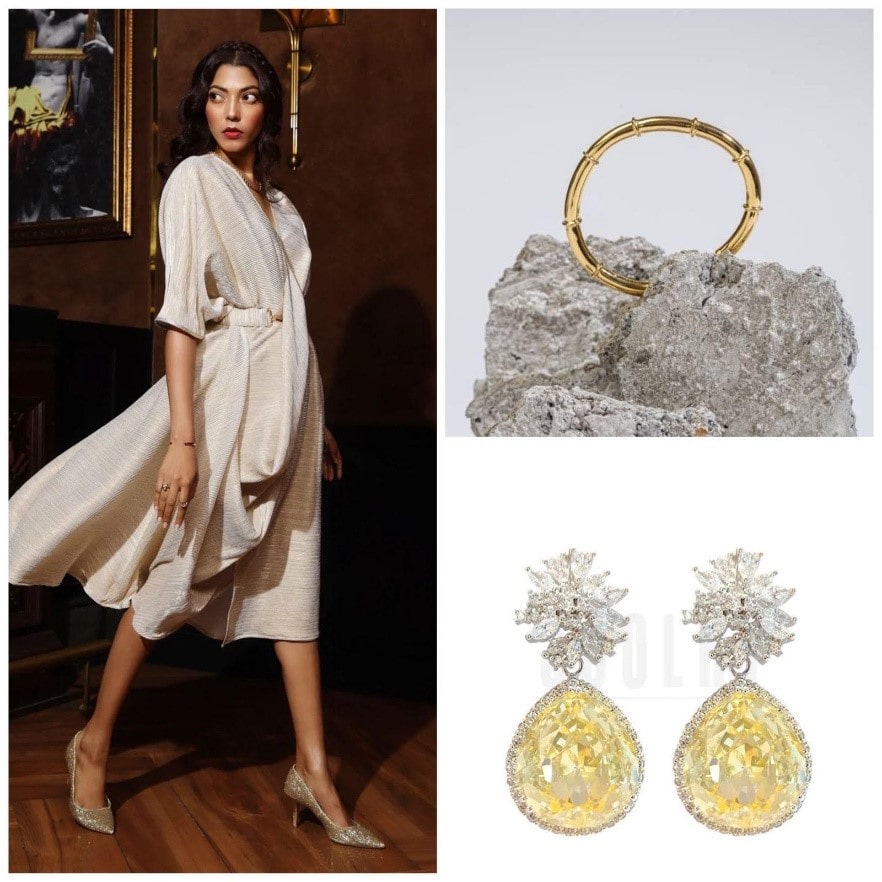 Christmas is all about giving. So why not treat yourself with a li'l sparkle. The Cannes Gold Gown from House of Fett, is what festive cheer is made of. With a subtle hint of shimmer, this ivory and gold dress features cowls, and is adorned with a gold buckle belt.Style it up with jewellery pieces such as the Amour Rope Cuff from Twyla and the Canary Marquise Cluster Yellow Earrings from Joolry by Karishma. The 18kt gold polish brass metal cuff is a gender-fluid statement piece. The diamante earrings are set on silver alloy with electro rhodium plating and beautifully set with white and cubic zirconia stones that look similar to a snowflake.
SHINING STAR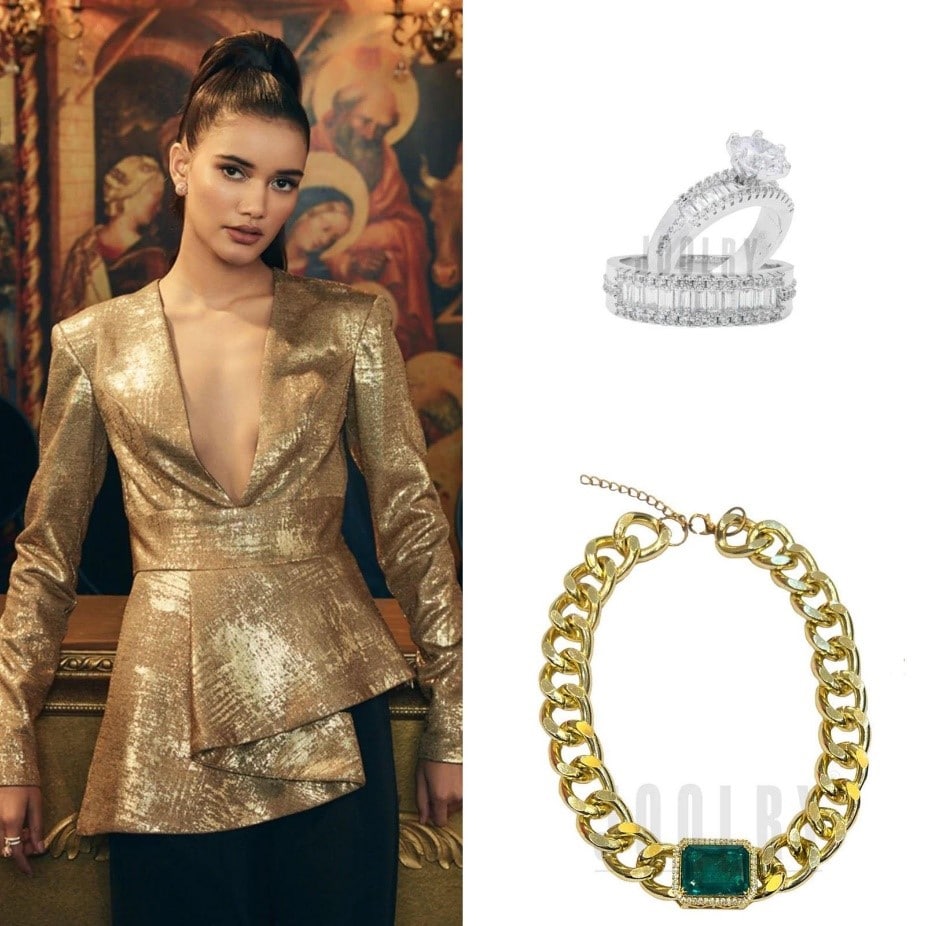 Make a shining statement just like the Christmas star in Zabella's Gold Foil Peplum Top. Pair the structured top which comes with a plunging V neck, with Giza Semi-Precious Doublet Choker from Joolry by Karishma. Pair it with a set of trousers or a skirt. Handmade with perfection, you can complete the look with a Solitaire Set of Two Rings from Joolry by Karishma. It's time to shine bright like a star and make a grand entrance when you walk into your Christmas party!