If there is one thing that is popular amongst the street food scene of any city, it is the love for Kebabs and Biriyani. The dish is so versatile that it has been adapted and en-riched by the cuisines of many regions across the country.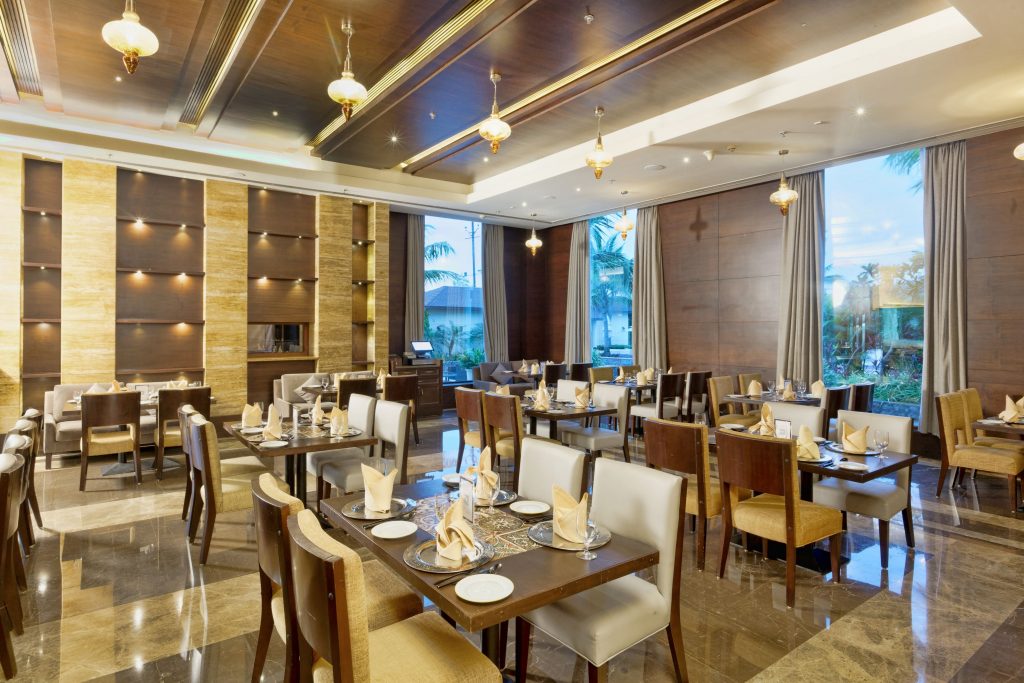 Giving in to your cravings, Sheraton Grand Palace Indore is hosting a one-of-a-kind vegetarian Kebabs and Biriyani Feast that is set to satiate your desire for these lus-cious dishes. The 13-day feast starting from 1st February 2022 will showcase the best of these delicacies that will be prepared using the finest of ingredients. The menu cu-rated by the chefs at the property comprises a variety of meat-free kebabs like Lashooni Chulai ke Saag ki Tikki, Dilli 6 ki Tawa fried Soya Chaap, Adhra ki Mutter aur Bajre ki Seekh and different styles of Biriyani ranging from Hyderabadi to Lucknowi, all meat-free.
Speaking on the occasion, Gurneet Singh Grover, Executive chef, Sheraton Grand Pal-ace Indore said, "We at Sheraton Grand Palace Indore are thrilled to bring the best of vegetarian Kebabs and Biriyanis to Indore – the city of Poha and jalebis. Bringing to-gether different varieties of sizzling Kebabs and Biriyani under one roof, we look for-ward to hosting our guests to an extravagant feast that will satisfy their cravings for these dishes."
Kebabs and Biriyani Feast details:
Venue: Araana, Sheraton Grand Palace Indore
Date: 1st February – 13th February 2022
The property will be following all the Covid mandates and protocols to ensure that the guests have a safe and healthy experience.
About Sheraton Grand Palace Indore:
Located across a lush expanse of 8.62 acres with striking gardens, Sheraton Grand Palace Indore houses 115 rooms & suites and is near both the airport and railway sta-tion and city's business and commercial centers. Experience the touch of royalty in this palatial hotel which is well-equipped with state-of-the-art conference and meeting ven-ues that span over 1,25,000 square feet.
Additionally, the hotel features 65,000 square feet of outdoor lawn space and makes it perfect for large weddings and social functions. Food and beverage offerings include the 'S Café' – all-day dining offering an extensive menu and an array of international cuisines; 'Araana' – a signature Indian Specialty restaurant; 'Malt' – an upbeat and styl-ish bar and 'Infuse' – offering freshly baked delicacies and handcrafted cakes.
About Sheraton Hotels and Resorts:
Sheraton Hotels & Resorts, part of Marriott International, Inc., makes it easy for guests to explore, relax and enjoy the possibilities of travel at nearly 450 hotels in over 70 countries and territories around the world. Sheraton continues to enhance the brand through innovative guest experience, differentiating design, multi-channel marketing and a sharp focus on service.
Marriott International, Inc. (NASDAQ: MAR) is based in Bethesda, Maryland, USA, and encompasses a portfolio of more than 7,200 properties under 30 leading brands spanning 134 countries and territories. Marriott operates and franchises hotels and licenses vacation ownership resorts all around the world. The company now offers one travel program, Marriott Bonvoy™, replacing Marriott Rewards®, The Ritz-Carlton Rewards®, and Starwood Preferred Guest®(SPG).