Radhika to champion giving women a choice and voice for their intimate skincare, health, and hygiene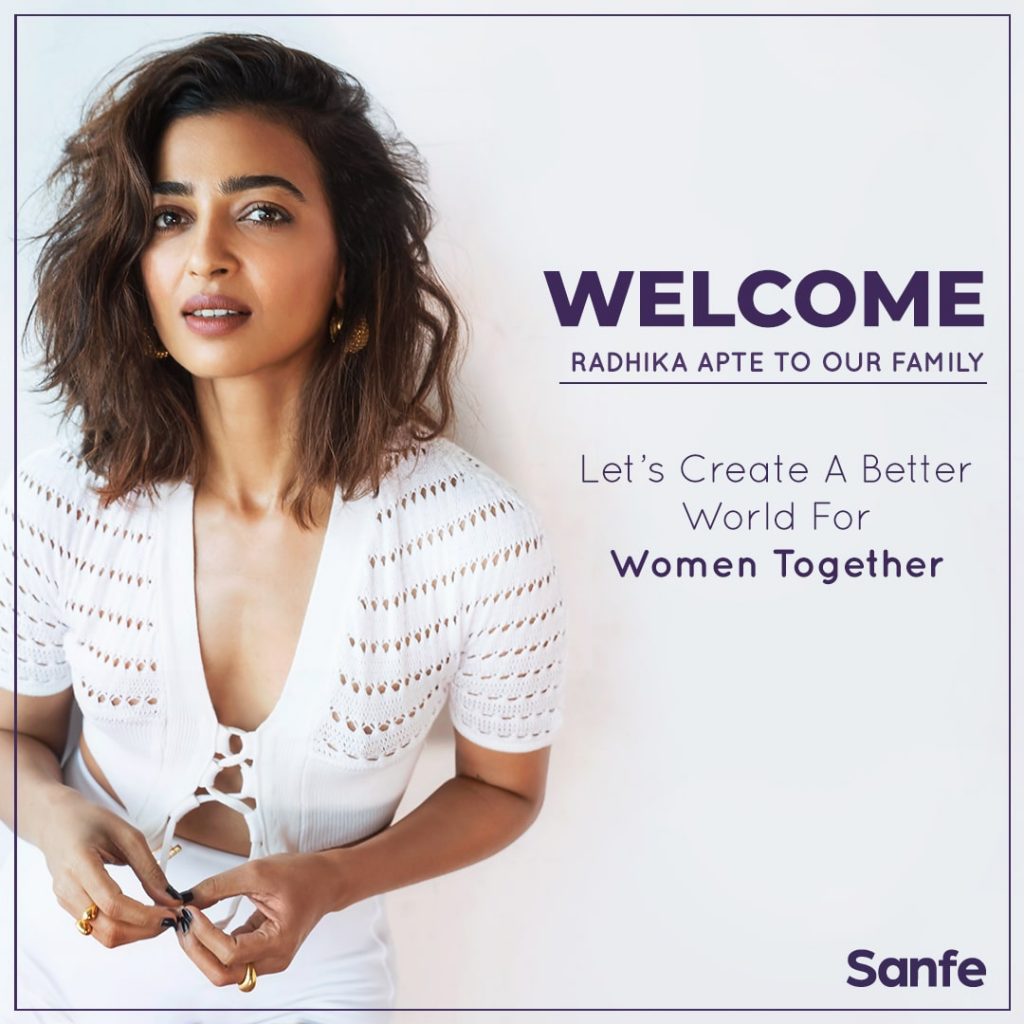 Sanfe, India's revolutionary feminine hygiene, and intimate skincare brand has recently signed on celebrated actor Radhika Apte to join them to be the voice for women to be able to make a choice for their intimate and hygiene care.
Being unapologetically vocal for the right issues and causes as well as her bold outlook makes Radhika Apte a perfect fit for being the face and voice for Sanfe. Since its evolution, Sanfe as a brand strives to encourage women to own their feminine form with pride and take good care of it inside and out. An encouraging voice like Radhika's will help women choose Sanfe for their various silent and unnoticed, often unserved concerns.
This collaboration will allow Sanfe to relate and connect to women as their 'All-time companion' for their different body needs without hesitation. The true purpose is to love yourself and take good care of your body without compromise and lack of choice.
Speaking on the association, Radhika Apte said, "Women today are openly acknowledging body positivity and confidence. This change is further fuelled by Sanfewhich offers the choice of quality products and solutions across a women's body cycle. I applaud the insight and resulting range of products Sanfe has to offer which provide solutions to what we all needed but never thought to demand."
Excited about bringing Radhika on board, Sanfe co-founder Harry Sehrawat said, "Having Radhika Apte on board gives us a sense of great confidence that we are on the right path towards being that solution to several silent needs of women. We visualize a modern world where women can openly choose to take care of their needs themselves and Radhika embodies that woman who our community of women can take inspiration from."
With Radhika, Sanfe will be focusing on raising awareness on the importance of feminine intimate skincare, health, and sexual hygiene; empowering millions of women to break barriers and fiercely share their voice and find an array of choices for their intimate health, menstrual hygiene & care while breaking away from any taboos.
About Sanfe
A digital-first brand, Sanfe is a brainchild of two engineering students out to resolve intimate wellness and hygiene concerns for women. Today, Sanfe is a nationwide brand with its direct-to-consumer approach and growing access across its range of products including premium intimate skincare, menstrual hygiene, and body grooming specially made for women. Even today there is a big gap in acceptance and information about choices women can have in these areas of self-care. Sanfe aspires to be that choice women can make to take care of and nurture their bodies based on what they really want and need. Sanfe has an active community of over 5 million users with over twenty-five percent growth on a month-on-month basis.
Currently, Sanfe's portfolio has a wide range of products which includes categories like Intimate Skincare, Body Grooming, and Period Care & Daily Hygiene. Intimate Skincare is a leading category that is enabling women to share intimate skin needs which most women were reluctant to express. Body Grooming products like Facial razors, Body razors, and trimmers are helping in making hair removal pain-free and easy. Whereas, the intimate hygiene and period care category is loved by a majority of women who are taking steps towards sustainable period and healthy hygiene.
The products are available online, premium Feminine Hygiene Brand – Sanfe, and leading e-commerce platforms like Nykaa, Amazon, and Flipkart.