4th Nov. 2023, Jaipur: Set against the iconic City Palace in her home city and eternal muse Jaipur, Anita Dongre presented her craft-led couture show, Rewild'23 to help raise funds and awareness towards nature and elephant conservation. A landmark weekend full of glamour, royalty and fashion, guests were treated to an immersive cultural experience that embodied the ethos of the designer and will be remembered and spoken about for years to come. A pioneer and proponent of purpose-driven fashion, sustainability and women empowerment has always been at the forefront for Anita Dongre. The debut chapter of Rewild was co-hosted by Princess Gauravi Kumari of the royal family of Jaipur. Supported by Kartiki Gonsalves, the Academy award-winning documentary maker and photographer who stepped in as the advisory partner, the funds raised went to the Nature Conservation Foundation (NCF) to amplify their project in South India addressing human-elephant conflict and promoting peaceful coexistence.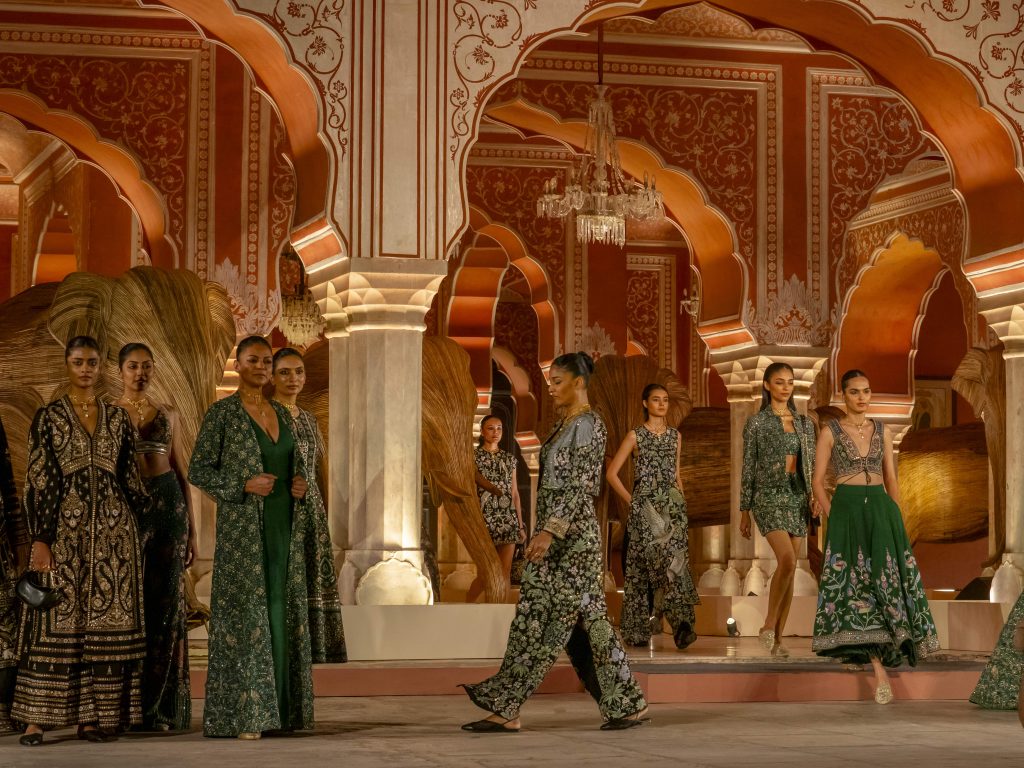 Rewild'23 intertwined fashion with a crucial call to preserve our planet's extraordinary wildlife and pristine habitats. While the show itself was the crown jewel, the weekend of events also moved the gaze towards the Princess Diya Kumari Foundation (PDKF), a collective focused on the economic independence of the women of Rajasthan. The organisation promotes social entrepreneurship working with women to provide training in stitching and handicrafts, facilitating health initiatives, promoting education for girls and skill building to create sustainable livelihoods. An exclusive visit to the foundation was arranged for select media that were taken in pink e-rickshaws driven by women to interact with the artisans and the hosts. Anita and Gauravi also announced their new collaboration to launch Grassroot Home with the women artisans of PDKF.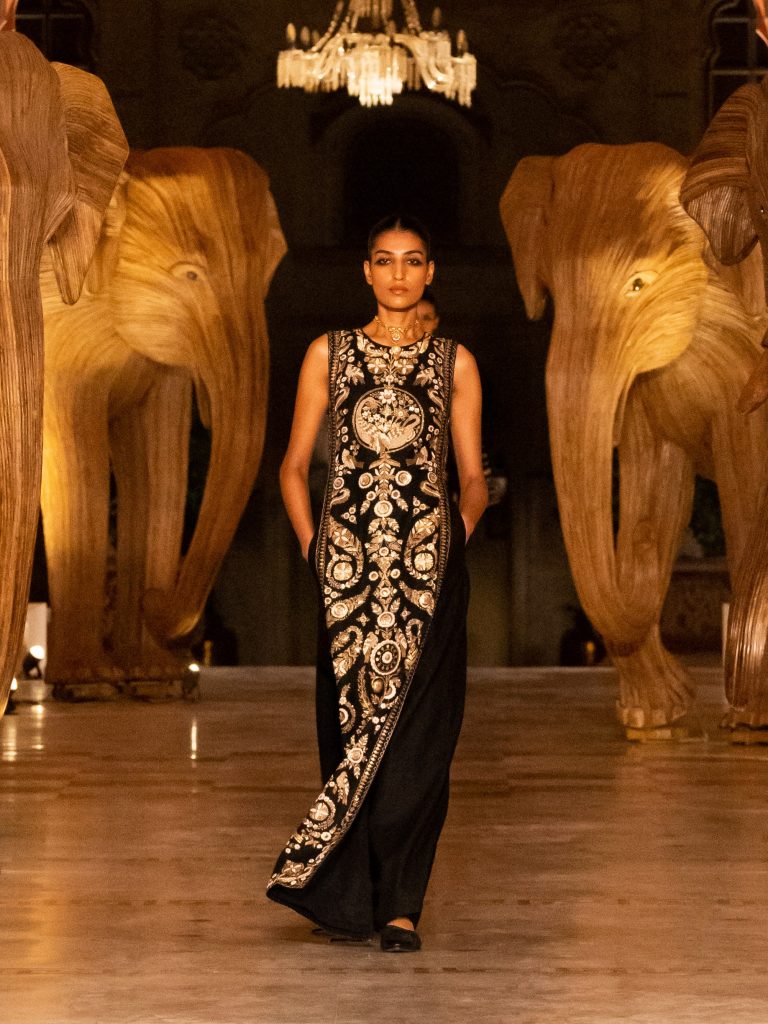 In her choice of venue, Anita Dongre says, "The exquisite art and cultural chaos of Jaipur is my inherited legacy and inspiration. Rewild has been a passion project years in the making, and it was a dream come true to showcase it at City Palace where I have so many fond memories." It was here the designer first met Lekhraj-ji, a Pichhwai artist who was restoring the fading ceilings of the palace. As they got talking, Anita realised the only way to keep his intricate craft alive was by creating work beyond restoration. Since then, the designer and artisan, have collaborated to bring the hand-painted craft of Pichhwai to couture pieces that are widely regarded as art collectables and have gone to become a signature of the brand. She continues, "This show is a way for me to put the spotlight on India's craft heritage and India's threatened wildlife. I'm thrilled to have Princess Gauravi Kumari by my side on this journey to revive and rewild."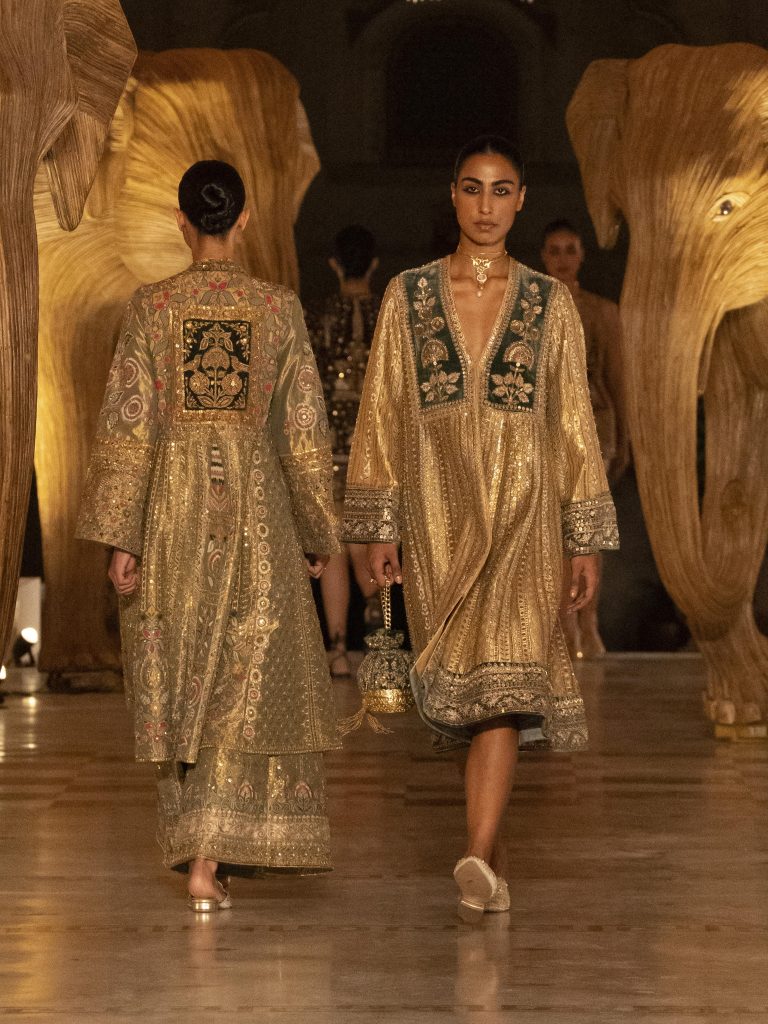 In speaking about the collaboration, Princess Gauravi Kumari says, "When Anita first approached us we were thrilled with the idea of opening our 300-year-old home and the hospitality of Jaipur City to an Indian designer dedicated to putting Indian crafts and design on the global map. What truly lends credence to this partnership however is our shared vision for an equitable world."
Philanthropists and corporate donors from across the world flew into Jaipur to celebrate this cause and donate towards NCF's efforts. The Foundation provides real-time elephant tracking and technology solutions to minimise the impact of India's shrinking forests on the communities that live with these majestic animals. The event also drew attention to The Real Elephant Collective's gorgeous life-size elephants sculpted from Lantana – a toxic invasive weed destroying India's forests. Each sculpture is handmade by indigenous communities and modelled after real-life elephant herds coexisting with people in the Nilgiri Hills. The sale from the Lantana elephants goes towards removing Lantana from the forests to create better habitat for elephants, and also to promote more peaceful human-wildlife coexistence.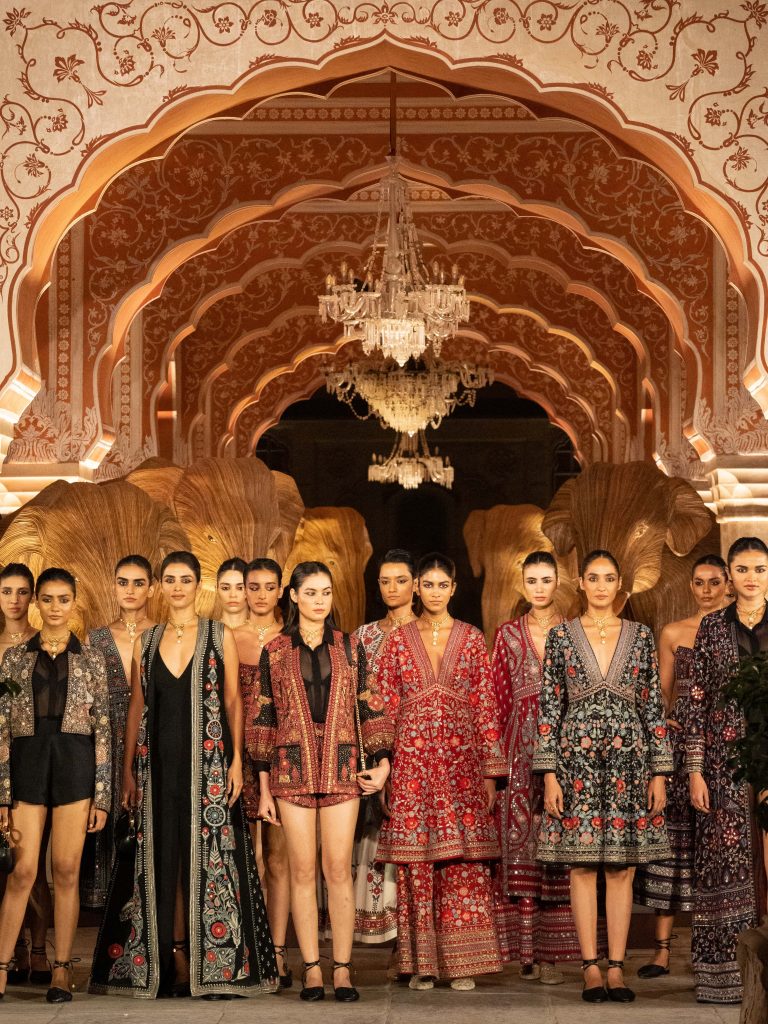 Yash Dongre, President Business Operations, who led in bringing the vision of the fundraiser to life says, "The idea was to inspire people across interest groups to join hands in making a positive impact. We are grateful to have received so much love and support from our partners and donors."
The couture collection showcased, brought this conversation to the ramp featuring global contemporary silhouettes that encourage you to wear crafts beyond traditional settings of weddings – whether on a red carpet, a cocktail party or a celebratory brunch – thus bringing the old into the new. The collection features embroideries by the women artisans of SEWA, Rajasthan's own Gota-patti and hand-painted Pichhwai. Every garment features abundant foliage and exuberant wildlife of Indian forests. Intricately embroidered and hand-painted elephants and birds interspersed with trees and florals dance harmoniously across the entire collection, bringing to life the message of co-existing peacefully with nature.
The music for the show was a stand-out experience featuring the powerful voice of the iconic Bhawari Devi jamming with the contemporary Komorebi against stalwart percussionist Nathulal-ji and his troupe of nagada players. The weekend was a curation of hand-picked homegrown artists that celebrate Rajasthan and the entire project was thoughtfully women-led. The table florals conceptualised by Claire Deroo was punctuated with vibrant bougainvillea florals grown locally in the palace grounds. An unforgettable night of fashion and music, supported by the delectable Rajasthani thali curated by The Leela Palace Jaipur, the official hospitality partner, the guests experienced Rajasthan in its full glory. In choosing a hospitality partner Anita Dongre says, "I wanted every part of the Rewild experience to reflect the warmth and grandeur of India while being mindful. I couldn't think of a better partner than Leela for this occasion with their stunning palace properties, decades of celebrating Indian cuisine, and putting the Indian spirit of hospitality at the centre of their approach to guests". The celebration partner Glenlivet Glassware added to the evening's festivities with specially crafted cocktails. The after-party was headlined by the Midival Punditz and featured a modern Indian dessert grazing table by homegrown talent and Chef Tejasvi Chandela.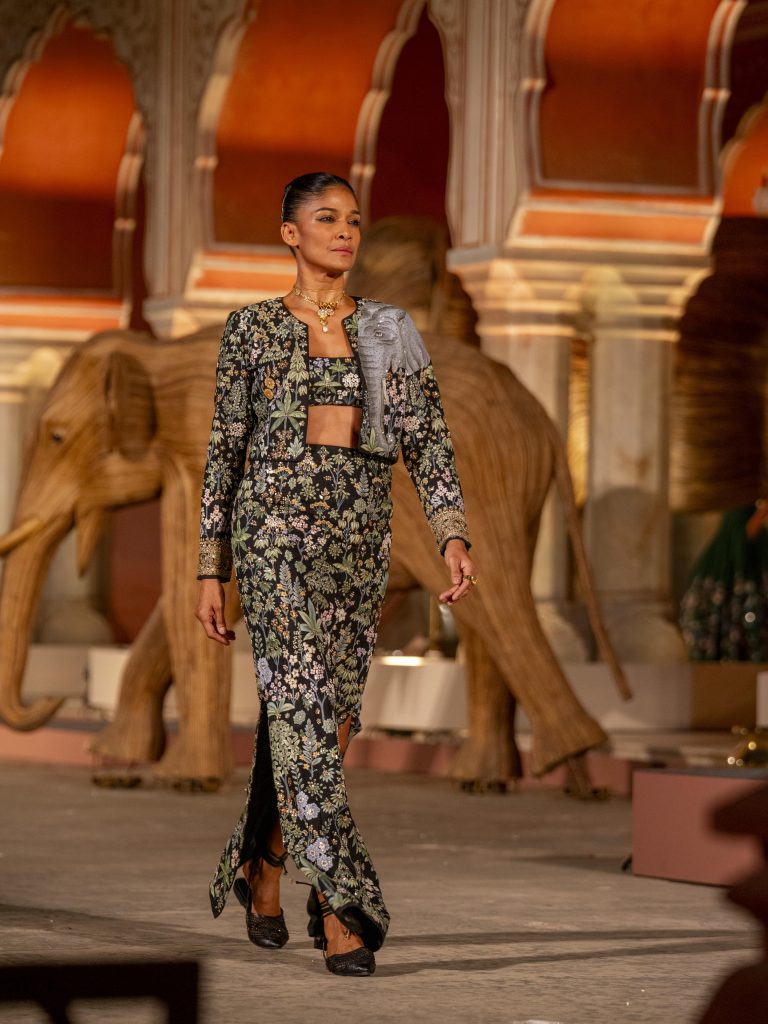 Notable attendees and friends of the wild that flew in to support the cause were eminent philanthropist Roshni Nadar, Madhuri Dixit, Kajal Aggarwal, Bhumi Pednekar, Manushi Chillar, Prajakta Koli, Sara Tendulkar, Tania Shroff, Raja Kumari, Karan Deol, Pragya Kapoor, Ayesha Kanga, Shreya Chaudhary, and Sharvari among others.
The show was followed by a raging after-party headlined by Midival Punditz that saw the models and guests party till the early hours. In addition to the penultimate couture show, the weekend also included a relaxed Middle-Eastern brunch with a select guestlist that allowed for an intimate interaction with Anita Dongre and Princess Gauravi Kumari. A memorable one-of-a-kind initiative, Rewild hopes to inspire a culture of society coming together for collective good for years to come.