The Grace Homecare Bedlaunched by Godrej Interioenables families to care for their loved ones in the comfort of their home, offering all the conveniences of a hospital bed.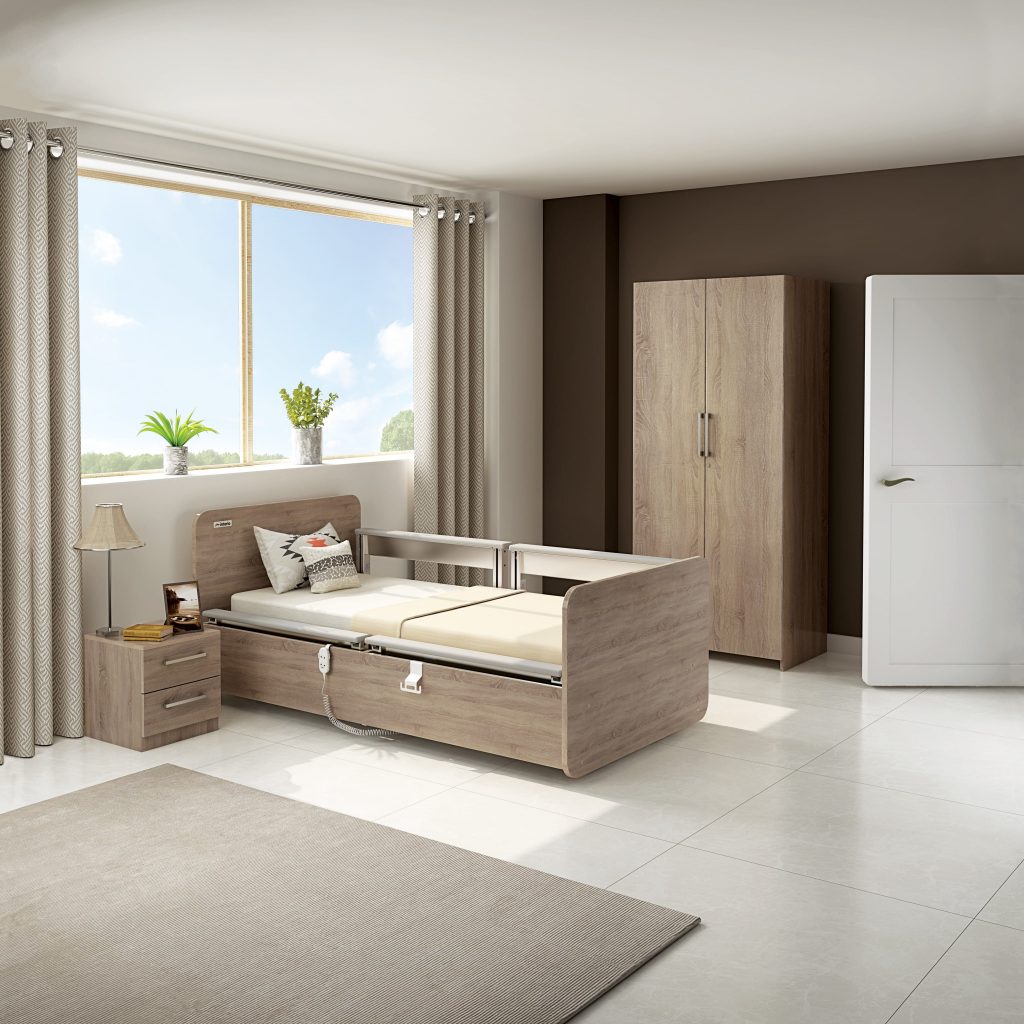 Godrej & Boyce, the flagship company of the Godrej Group, announced that its business Godrej Interio, India's leading furniture solutions brand, in-home, and institutional segments, today launched a unique range of homecare beds. The Grace Homecare Bed is a unique concept wherein the back rest and leg rest can be electronically adjusted with the hand control device, facilitating ease of movement and enable alternating between sitting and lying down postures. With the new range, Godrej Interio is addressing the need for making homecare safe and convenient for the patient and caregiver.
The ongoing pandemic with its newer strains has introduced a further nuance to the growing preference for home care. At its peak, hospitals ran at full capacity, compelling patients to recuperate at home. It became ideal for hospitals to discharge patients for whom observation will suffice, so that they can admit patients who need critical care or extensive procedures.
According to a recent report 'The Essential Guide for Providing Medical Care at Home' by Godrej Interio's Workplace and Ergonomics Research Cell, the growth of urbanization and nuclear family structures make constant vigilance at hospitals difficult.The desire to recuperate in familiar home surroundings has also resulted in patients and their families choosing home care over hospitals. This situation prevails not only in older people but also in the youth who find it neither economically feasible nor practically possible to stay in the hospital for the entire duration of their recovery.Additionally, it is important to realise that with growing years, our loved ones will need hospital-like care even at home although our healthcare services today are well advanced.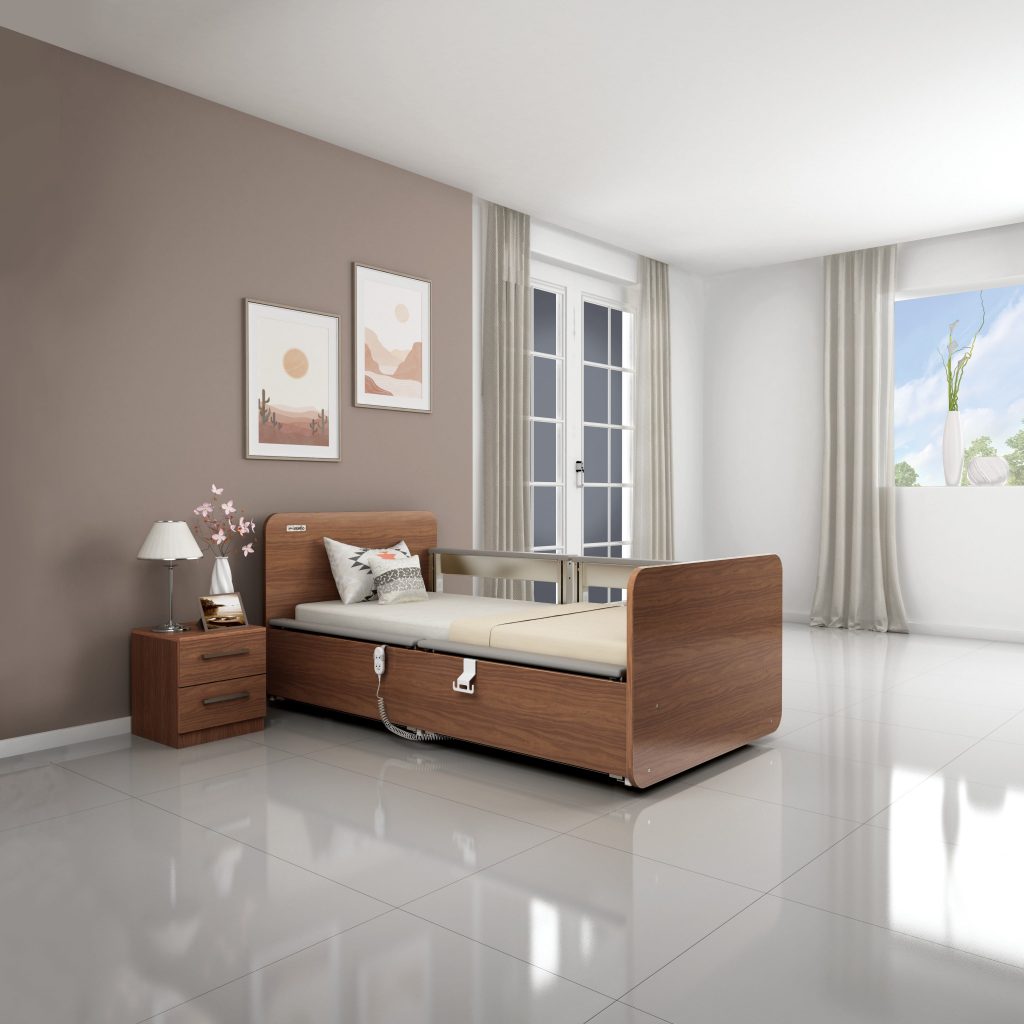 As a solution, Godrej Interio's feature-loaded Grace Homecare Bedis designed to make homecare safe and convenient for not only the patient but also the caregiver. Considering the varying levels of patient mobility, the bed has been designed to deliver utmost safety and stability in all positions. The key safety features include full length telescopic side railings to prevent falls, ergonomic design and DVT (Deep Vein Thrombosis) position wherein the elevation of a patient's legs aids in better blood circulation, preventing clots and swelling. It also comes with a 100 mm gap between the edges of the side rails to provide better visibility and to avoid claustrophobic feeling so that the recuperating loved one can interact with their environment.Its motorized features aid the caregiver in providing better care to the patient while safeguarding their physical wellbeing. Grace Homecare Bed's elegant aesthetics of the bed minimise the 'hospital feel' and blend in seamlessly with contemporary and classic home decor.
On the new product launch, Anil Mathur, Chief Operating Officer Godrej Interio said, "At Godrej Interio, it has been our mission to enrich the quality of life every day everywhere. While the pandemic triggered the need of remote home health solutions, the governments along with the private sector are increasingly working towards the need to establish the role of home care. Considering the perks and the potential of India's home health care market, leading health care organisations are coming forward to expand their reach in this sector. However, the lack of sufficient medical facilities is a key factor that has caused the growth of this trend. According to ICMR, India shares about 20% of the global disease load, with about 6% of hospital resources and 8% of professional medical staff. At Godrej Interio, we continue to work on innovations that address the unique challenges faced by the home healthcare industry and the Grace Homecare Bed is testament to it. This bed is designed to make space for healing as it keeps the patient safe during caregiver interactions and allow for uninterrupted, peaceful periods of rest. We take great pride in continuously innovating to uplift the quality of experience in healthcare across India."
Sameer Joshi, Associate Vice President, Godrej Interio said, "Healthcare facilities in India are often incompatible with the changing needs and lack of awareness is a major contributor with our study revealing that only 18% of patients being guided by hospitals to opt for homecare. Godrej Interio's Healthcare business focuses on creating environments that support patients and families in process of healing. These ergonomically designed healing environments focus on the efficiency, empathy, and wellbeing of all stakeholders including patients and caregivers. The newly launched Grace Homecare bed highlights our design philosophy which is based on adopting a human-centric approach and using adaptive space solutions for improved patient-doctor interaction."
In India, home health care is relatively new and according to industry sources, it is expected to grow at a CAGR of 19.2% by 2025. Urbanisation, the trend of nuclear families, advanced technology and increased awareness along with the lowered mortality rate and an increased life expectancy of the elderly by approximately 68.7 years (2012-2016) from 49.7 years (1975) has stimulated the expansion of this sector.
About Godrej Interio:
Godrej Interio (GI) is India's premium furniture brand in both home and institutional segments with a strong commitment to sustainability and centers of excellence in design, manufacturing, and retail.
Led by the largest in-house design team in the country in the furniture category and awarded with 37 India Design Mark Awards to date, GI aims to transform spaces with its thoughtfully designed furniture to create brighter homes and offices with products that have the highest design quotient in aesthetics, functionality, and technology. With a consistent pursuit of excellence and a special focus on health and ergonomics, GI's product portfolio comprises a massive range.
Today, we design and manufacture furniture for office spaces, homes, educational institutes, healthcare facilities, laboratories, and more. Along with furniture, we offer Audio Visual, and 360 Degree Turnkey solutions. Each of our product range revolves around comfort and aesthetics while delivering well-designed, fun, and functional furniture solutions. Briefly, Godrej Interio transforms dream spaces to life!
Godrej Interio has 7 manufacturing facilities situated at Mumbai, Khalapur, Haridwar, Shirwal, and Bhagwanpur. GI's Shirwal Plant is Green Co Platinum Certified, and Mumbai Plants are Green Co Gold Certified. GI is widely known for its comprehensive sustainability certifications for its products in the furniture category.
GI's commitment to the environment has resulted in manufacturing products with a lesser environmental footprint. Our pioneering efforts include designing less environment burdening products, usage of eco-friendly materials and setting up less polluting and consuming processes, ensuring eco-friendly packaging and transportation, and finally the extended responsibility of recycling/reuse of used furniture and scrap, thus ensuring a lifecycle approach to the green. GI has the widest range of green choices for our customers which not only includes products but also services such as green interiors and recycling.
Currently present in over 650 cities with 250 exclusive showrooms and 800 dealers, GI is one of the largest businesses of Godrej and Boyce Mfg. Co. Ltd., part of the Godrej Group, one of India's largest engineering and customer product groups.
The brand boasts of noteworthy awards received so far- CII Exim Bank Award for Business Excellence 2016, Superbrands 2017-18, Reader's Digest Most Trusted Brand 2018 Gold (Home Furniture and Modular Kitchen), TRA's India's Most Consumer-focused brand 2019, GreenCo Star Performer Award 2019, National Energy Leader Award at CII National Award for Excellence in Energy Management 2018.
• For further information, please visit https://www.godrejinterio.com/