Sankalp Beautiful World (SBW) Chairman Dr. Latchumanadhas Kalidoss officially released Shri T.N. Seshan's autobiography "Through the Broken Glass". The book release event was held at Delta Auditorium, NCSCM, Anna University, Chennai on 6th September, in the presence of our esteemed Chief Guest T.S. Krishnamurthy, IRS (13th Chief Election Commissioner of India). Mr. Krishnamurthy handed over the first copy of the book to Amaresh Pujari, IPS, DGP, Prisons & Correctional Services.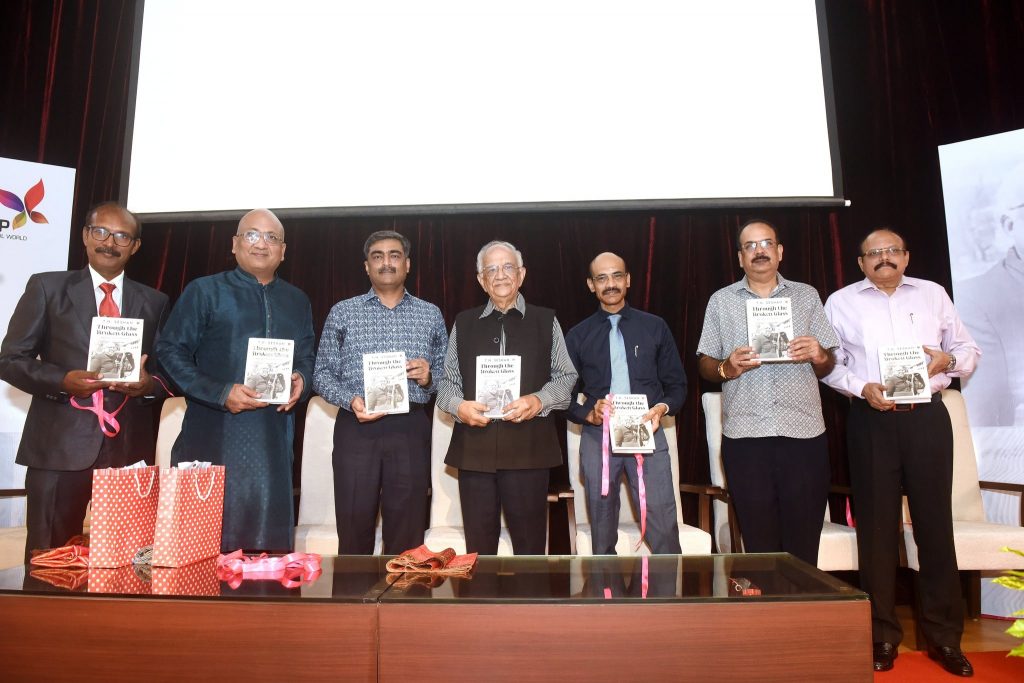 Shri T.N. Seshan, the 10th Chief Election Commissioner of India and Founder Chairman of SBW had a significant impact on the election scene in India during the years 1990 to 1996 when he held office. His autobiography shows that there was a divine hand in getting him to take on the role, and to stay at it. It was as if he was placed there by his spiritual masters to turn around the situation for the Republic of India as far as the conduct of elections was concerned. Such was the impact of what he did that he enjoyed cult status in India with fan clubs being reported from across the country in his name. He had admirers across the world and was the recipient of the prestigious Magsaysay Award.
Former Chief Election Commissioner of India Mr. Krishnamurthy, who held the same office two terms after Mr. Seshan, said that if the history of the Election Commission of India were to be written then it would be categorized into two parts, pre-Seshan and post-Seshan. Such was the magnitude of change he had brought out and all this by just doing his duty, pursuing his mandate diligently and that too without getting even a single additional law from the legislature to help him.
When Mr. Seshan was in his chair, the powerful political lobby had painted a draconian picture of him, (though most of them grudgingly admired him). But such was his impact and popularity that political critiques often said that if India had a presidential form of elections, then TN Seshan would have won hands down. The autobiography tells his side of the story without the colouring provided by the political class and he comes through as a citizen, a son of the soil, brilliant in his own right, righteous to the hilt, gutsy, and committed to upholding the constitution. It can inspire the average student to aim for the distinguished roles available in administration. It can inspire those in positions of authority to attain contentment and satisfaction in life and also gain stature and remembrance by diligently doing their duty.
Special invitees Dr. J Radhakrishnan, IAS, Commissioner of Corporation, Greater Chennai, Rear Admiral Ravi Kumar Dhingra, Flag officer commanding of Tamil Nadu and Puducherry Naval Area (FOTNA), Nawabzada Mohammed Asif Ali, Founder Trustee of Arcot Foundation, Thamaraikannan, IPS, Retd. Commissioner of State Information, Tamil Nadu and Former ADG Law and Order, R.P. Krishnamachari, Chairman, Tex BioSciences Pvt Ltd and Nixon Fernando, RA to T.N. Seshan were all present for the launch event.
The book can be purchased by clicking on the following link: https://www.sankalpbeautifulworld.org/product/through-the-broken-glass-an-autobiography-paperback-5-june-2023/
About Sankalp:
Sankalp Beautiful World was established on 14th December 2015 under the leadership of the former Chief Election Commissioner, late T.N. Seshan. Sankalp Beautiful World is guided by a team of 21 professionals including doctors and academicians dedicated to the mission of eradicating cancer while alleviating the suffering it causes. Goutham Chander witnessed the impact of a close colleague's daughter affected by cancer, it ignited in him a passion to establish an entity that would provide hope for the suffering and one day eradicate the cause. The Board of Trustees include a set of pre-eminent personalities who hold key responsibilities in Government, Healthcare, Education Industry and Social Work. We believe that we can play a compelling part in the journey of a Cancer Patient.
Website: https://www.sankalpbeautifulworld.org/
Cancer Help Line : 7825 888 000