Designer Ashima – Leena Celebrates
'Nazm-e-Mahal' by Leena Singh is the story of a classic royal maharani who values the old world charm and depicts a day of her life in the palace!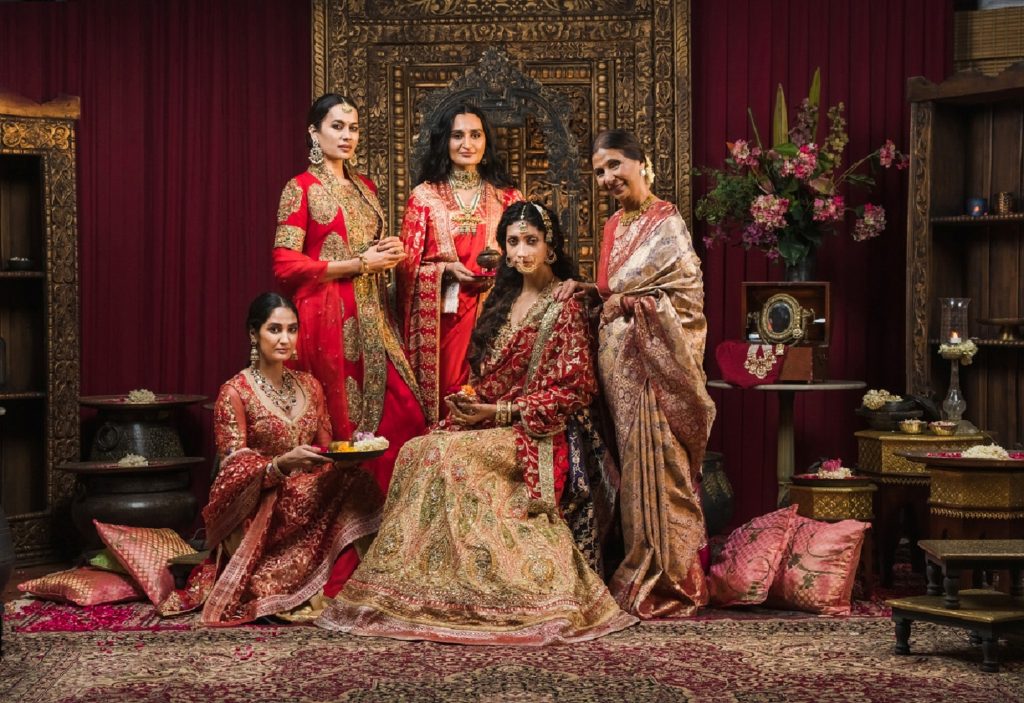 She is sophisticated, elegant, royal, and is empowered in her own demeanor. The poise in her gait portrays the epitome of her purity with timeless radiance and majestic epiphany.
AL couture – 2021 collection is adorned with the magic of royalty yet drenched with simplicity reflecting the pure soul of a princess of the Mughal era.
The collection combines delicate hand embroidery with meticulously curated woven textiles with classic AL royal authentic silhouettes worn by maharanis in palaces in the Mughal era. Through our interpretation, the brand aspires to reflect a poetic flow in volume, layers, and impeccable garment construction which characterizes the unique beauty of 'Nazm-e-Mahal'.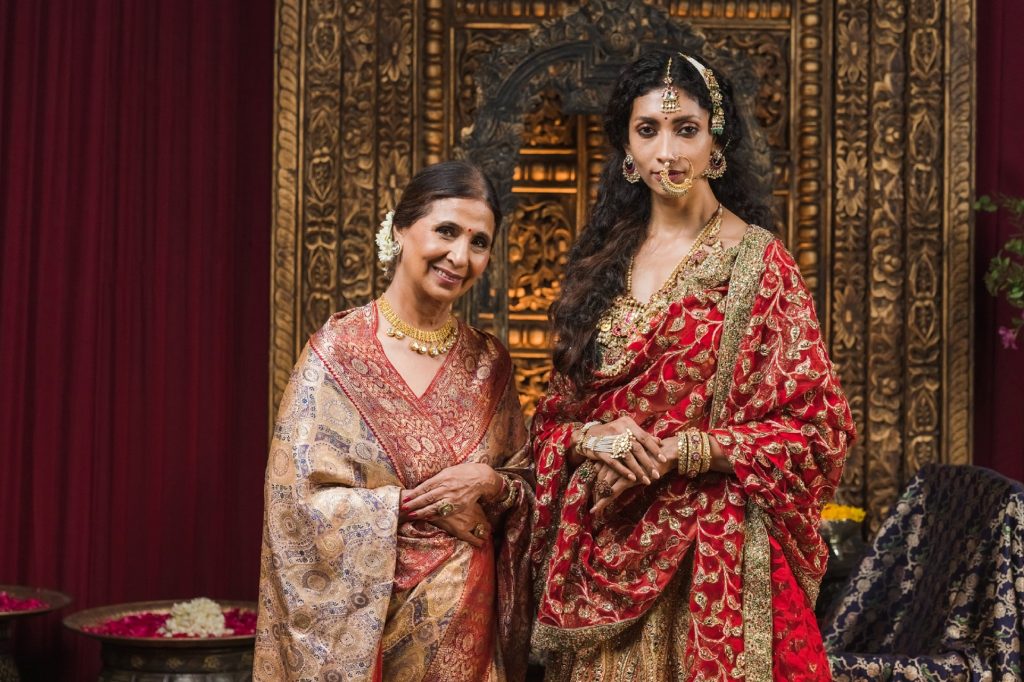 The art of textile crafting is the signature style of AL. It's a unique mix of different kinds of weaves that are put together to create breath-taking patterns.
The high point of this collection is its antique brocade sarees which have been sourced from the original wardrobes of the maharanis from their palaces of Rajasthan, and have been restored by our own weavers from Banaras. The warp and the weft of the weaves are infused with pure gold and pure silver strains the technique, which has become extinct over the years. The subdued beautiful colors of light turquoise, light pink, light peach, and vibrant purple coupled with rich heavy weaves of the beautiful antique sarees. These saris speak of the classic and subdued taste and style of maharanis of that era, who adorned the beauty of their royal life in their palaces.
The collection comprises classic blouses, circular lehengas, antique delicate sarees with jeweled tassels, brocade-woven odhnis with antique gold fabrics, and re-interpreted lengthened jackets that can be worn with various classic silhouettes.
The purity and the simplicity of the maharanis of a bygone era are reflected and authentically portrayed in these most exclusive pieces of art, with special techniques of restoration.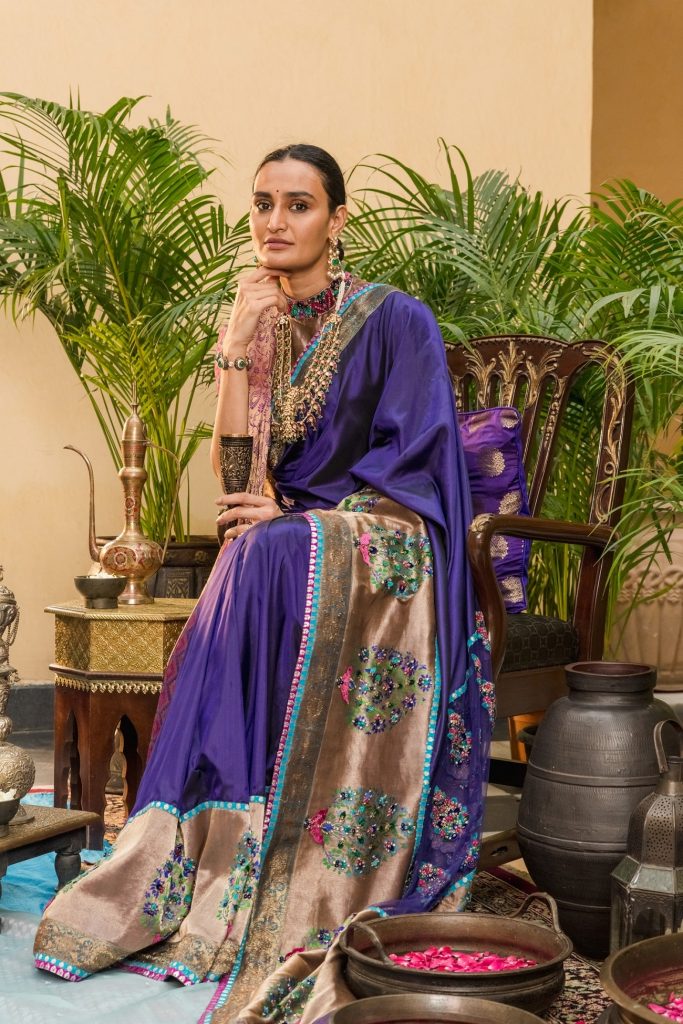 Our brilliant selection of hues transforms textures into a chromatic scale of charming colors exuding an old-world charm. Soft dusky pink, ivory, magenta, aqua, pomegranate red, beaten gold, bold pinks, deep emerald, sand-like beige are some of the shades which come together to create the magical color palette of this diverse collection.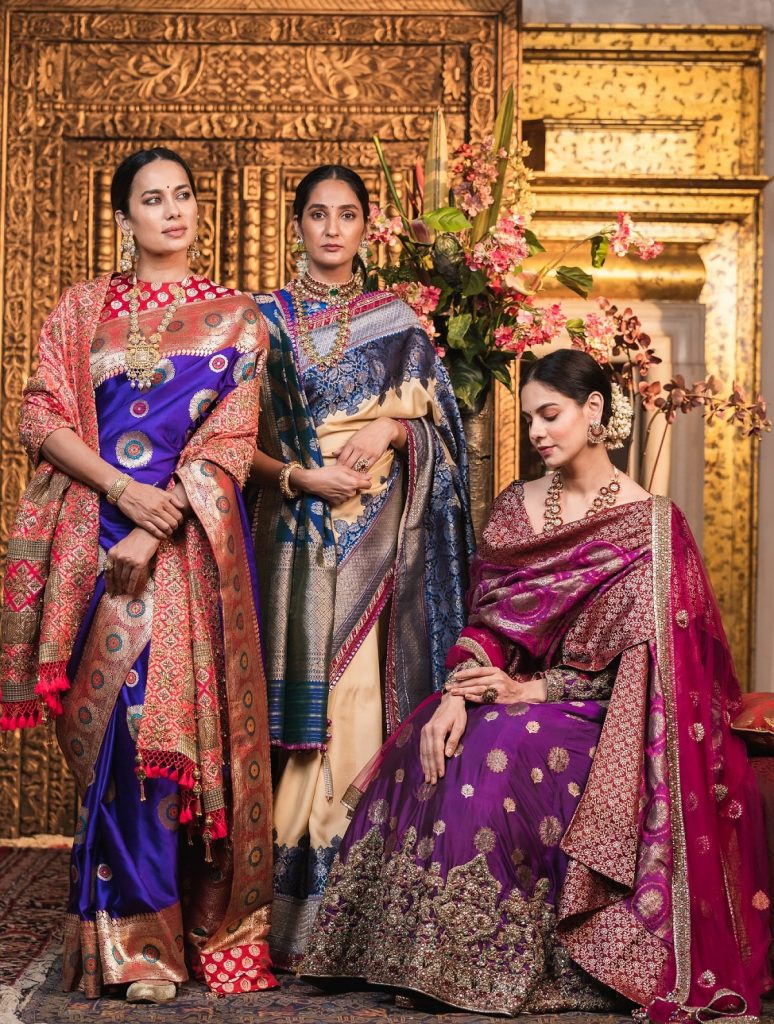 'Nazm-e Mahal' is the story….. woven beautifully with rich textiles and magical restoration a confluence of the exquisite traditional wardrobes of the maharanis with timeless royal silhouettes all this woven into the story of her real life.
Special thanks to….
The AL team – Vanshita Mittal Vasvi Agarwal
The IIAD team – Mahak Khurana Himanshi Khandelwal Md. Ataul Islam
Sponsor – Archana Aggarwal