Chandrayaan-2, India's second moon mission is launched through Geosynchronous Satellite Launch Vehicle Mark III (GSLV Mark III) from Satish Dhawan Space Centre, Sriharikota, Andhra Pradesh today at 2.43pm IST. Chandrayaan-2 is going to explore the south pole region of the moon where no country has reached till now and check the presence of lunar water. It is sent in the space eleven years later to the first successful lunar mission Chandrayaan-1, costing 978 crore INR to Indian Space Research Organization (ISRO).
#ISRO#GSLVMkIII-M1 lifts-off from Sriharikota carrying #Chandrayaan2

Our updates will continue. pic.twitter.com/oNQo3LB38S

— ISRO (@isro) July 22, 2019
#GSLVMkIII-M1 successfully injects #Chandrayaan2 spacecraft into Earth Orbit
Here's the view of #Chandrayaan2 separation#ISRO pic.twitter.com/GG3oDIxduG

— ISRO (@isro) July 22, 2019
Before the launch, it was a tense hour for the scientists of Indian Space Research Organization (ISRO) as the launch has already been aborted on its previously scheduled date due to a technical snag.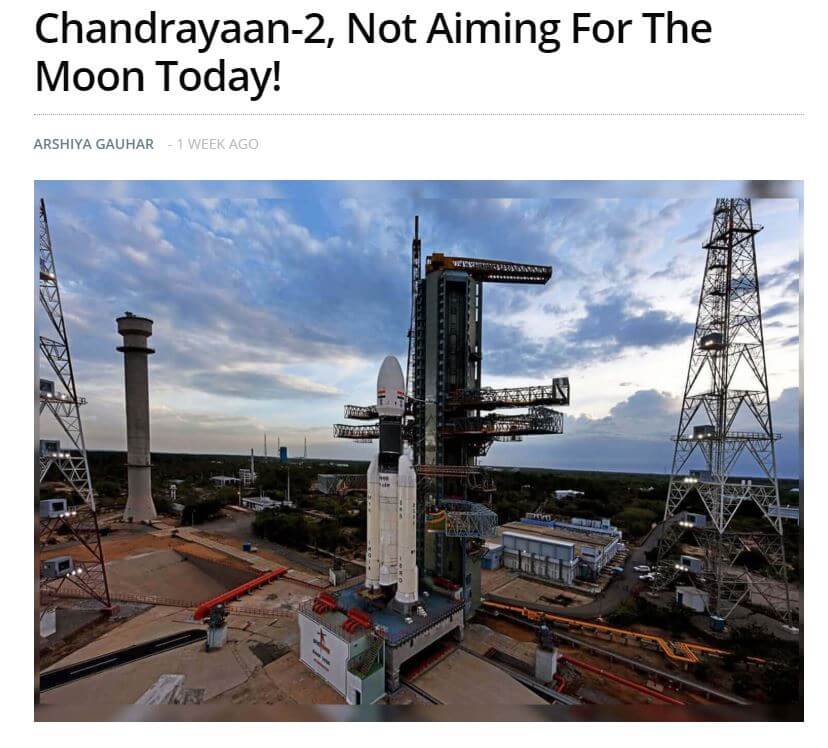 The 43.43m tall three-stage rocket is called 'Baahubali' for its ability to carry heavy loads.
After lift-off, the 3,850 kg Chandrayaan-2, comprising an orbiter, lander, and rover, will undergo fifteen crucial maneuvers before landing on the Moon. The expected landing period of the mission is the first week of September.
After the successful launch, PM Modi congratulated the scientists of ISRO for accomplishing the launch mission, which will create history in the space research department.
भारत के लिए यह एक ऐतिहासिक क्षण है।

चंद्रयान-2 के सफल प्रक्षेपण से आज पूरा देश गौरवान्वित है।

मैंने थोड़ी देर पहले ही इसके लॉन्च में निरंतर तन-मन से जुटे रहे वैज्ञानिकों से बात की और उन्हें पूरे देश की ओर से बधाई दी। #Chandrayaan2 https://t.co/50UodlbH0y

— Narendra Modi (@narendramodi) July 22, 2019
Indian National Congress also congratulated ISRO for achieving another milestone and remembered Jawahar Lal Nehru's and Dr. Manmohan Singh's contribution to the mission.
Congratulations Team @isro for the successful launch of #Chandryaan2 pic.twitter.com/lcswxFfOGK

— Congress (@INCIndia) July 22, 2019