Bollywood actor Abhishek Bachchan recently took to his official social media account, and shared an adorable throwback picture of himself with his grandmother, Teji Bachchan, on her birth anniversary. The sepia toned photo shows junior Abhishek sitting innocently on his grandma's lap. He posted the photo with a sweet caption reminiscing the bedtime stories narrated by her, "To the softest hands and the best teller of bedtime stories… Happy birthday Dadi!
I miss you."
Soon the post received lots of comments including Abhishek's sister, Shweta Nanda Bachchan writing, "You gonna make me cry". Producer-director Farah Khan also commented calling the photo as a precious memory.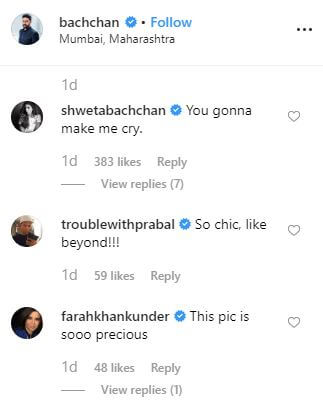 Along with it, Shweta also took to her official Instagram handle remembering her grandmother by sharing fond memories of her. Calling her grandma as a gracious provider of trunks for the six children to use it as stage, she paid tribute to her Daadi for shaping their lives. By sharing a black and white picture in which Abhishek and Teji Bachchan are seen enjoying a chilled glass of thumbs up, she wrote, "We are shaped by the places we travel to, the people we eat with, and the books we read- to my Daadi, the giver of books, teller of bedtime stories, and gracious provider of trunks for her 6 grandchildren to use as a stage to dance on. Thinking of you today x ( pictured with @bachchan a chilled, ice filled, glass of Thumbs Up, and her trademark sunglasses )".
Teji Bachchan was a social activist and was married to poet Harivansh Rai Bachchan. Teji Bachchan has played Lady Macbeth in her husband's Hindi adaptation of William Shakespeare's 'Macbeth'. She also played a cameo in Yash Chopra's 'Kabhi Kabhie' , featuring Amitabh Bachchan.