The ultimate guide to prevent a white cast on your skin after sunscreen application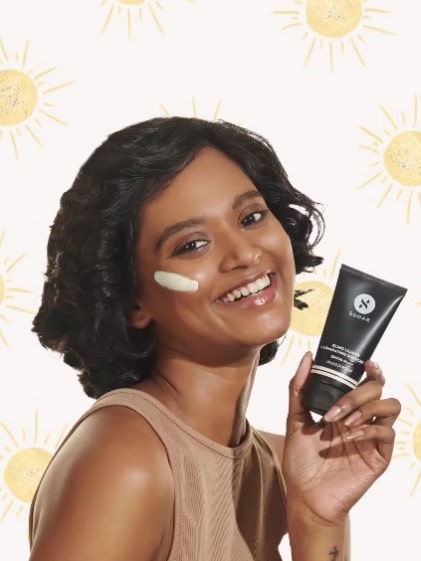 We all know that sunscreens are a non-negotiable step in the skincare routine. But unfortunately, finding one that works seamlessly for Indian skin tones can be a struggle. You need sunscreen regardless of your skin tone or geographical location. If you're in the sun, your sunscreen should be on. It is what it is. Of course, when the sun is beaming and we're spending more time outdoors, it's the perfect reminder to re-apply and refresh your supply.
However, we understand how tedious sunscreen application (and reapplication) can be, considering that the recommended amount of sunscreen to use daily is a lot — the equivalent of two-finger lengths to the face and neck combined. Not to mention, factoring in types of sunscreens, like chemical and physical, and whether it will burn your eyes or not, adds to the difficulty.
Ingredients like zinc oxide and titanium dioxide are great against UVA and UVB rays as they are not absorbed by the skin, however they do tend to leave a residue that appears white or ashy. Although a sunscreen may resemble a moisturizer in terms of consistency, the former is formulated with chemicals that deflect the sun's UV rays by providing a physical barrier against sun damage. Since these sun-protecting chemicals are more difficult to get absorbed into the skin, a white cast occurs. While white casts can be tricky to deal with, it is an indication that the sunscreen is working as intended.
Below are some easy ways to prevent a white cast while applying your sunscreen:
Pat Sunscreen to Your Face
When it comes to applying sunscreen, your initial instinct may be to slather it on your entire body. But never rub the sunscreen, instead, take your time and pat and press it into the skin
Opt For An Anti-inflammatory Sunscreen
From bringing out your inner radiance to ensuring your skin is protected while out and about, SUGAR Cosmetics' Citrus Got Real SPF30 Sunscreen is truly is a multi-tasker. It exudes a citrusy and uplifting scent that's just so perfect to give you and your skin, a fresh and energized feel and reminds you of nothing else but sweet summer. A hero ingredient in this range- orange peel oil is packed with powerful antioxidants and anti-inflammatory benefits, nourishes, and soothes dry, irritated and acne-prone skin, promoting brighter complexion. Striking a fantastic balance between a matte formula that simultaneously rejuvenates and hydrates the skin, this sunscreen does not leave a white cast and works perfectly for all skin types.
Use Tinted Sunscreens
Honestly, brown girls don't have it easy when it comes to the sun care realm. Finding a sunscreen that doesn't turn us into Casper seems like a task and hence we just ghost the SPF altogether. But hey, have you ever tried out versatile multitaskers like a tinted sunscreen that shields your skin against the sun all while providing a subtle hint of sheen or coverage? Enter SUGAR Cosmetics' Bling Leader Illuminating Sunscreen SPF35 PA+++, a skincare-makeup hybrid and summer essential that gives you the best of both worlds! Non-greasy, oil-free and lightweight, this broad-spectrum SPF formula boosts hydration with the blend of skin-loving ingredients and keeps you safe against the harsh UV rays. Plus, it lends a stunning dewy radiance to your skin that makes you look like a glow goddess. Yass to golden hour selfies!
Apply sunscreen immediately after moisturizer.
A little moisture will help you spread the mineral sunscreen seamlessly; applying it on dry skin directly can make your skin look very white. As a rule of thumb, you should apply sunscreen as the final step in your skin care routine. Since products with SPF are specifically formulated with certain protective ingredients, layering one on after your moisturizer will help block out the harsh rays.
About SUGAR Cosmetics (www.sugarcosmetics.com):
SUGAR Cosmetics, a cult-favourite amongst Gen Z and millennials, is one of the fastest-growing premium beauty brands in India. With its clutter-breaking persona, signature low-poly packaging and chart-topping products, SUGAR is the makeup of choice for bold, independent women who refuse to be stereotyped into roles. Crafted in state-of-the-art facilities across Germany, Italy, India, USA and Korea, the brand ships its bestselling products in Lips, Eyes, Face, Nails & Skin categories across the world. With a cruelty-free range that is high on style and higher on performance, the brand is obsessed with crafting products that are a perfect match for every Indian skin tone across seasons and around the calendar. Backed by the trust of marquee investors and the love of millions of makeup enthusiasts, SUGAR Cosmetics is rapidly scaling its physical presence with 45,000+ retail touchpoints across 550+ cities and a mission of reaching the doorstep of every makeup user in the country.
Social Media Page Links:
Instagram: https://www.instagram.com/trysugar/
Youtube: https://www.youtube.com/channelUCKVqnev2idvmUNKc2b91B8g
Facebook: https://www.facebook.com/trySUGAR/
Twitter: https://twitter.com/trysugar
LinkedIn: https://www.linkedin.com/company/sugar-cosmetics