The gentle, healing properties of Azafran's handmade artisanal cleansing bars is sure to make your skin glow from the inside out.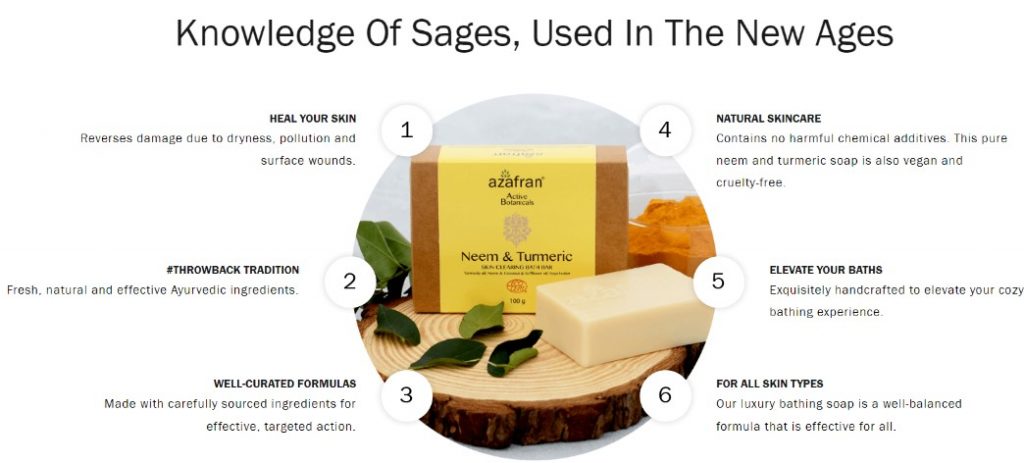 As we all continue to live in an ever-evolving world, where climate change is a primary concern, many environmental factors affect our bodies and skin. Your skin is exposed to pollutants and dust every day when you step out. It is important to be gentle on your skin but it is also necessary to get rid of the toxic pollutants that can cause uneven skin tone, dull skin. Make your skin feel special, cleanse it but also be gentle. Sounds difficult? With Azafran it isn't. Azafran is here to give you the best solutions for beautiful skin in less time and effort.
Azafran offers you a range of beauty and skincare products that are not only clean but also make your skin healthy and glowing. The products are a result of years of research, to tackle problems organically and help deep cleansing of the skin while also providing added benefits.
Azafran presents the 'Neem and turmeric skin cleansing bar' which is a natural and organic soap bar that is antibacterial, anti-acne, and has nourishing properties that will elevate your bathing experience.
This soap bar comprises organic neem and turmeric that have been known to have healing and antibacterial properties. Turmeric in the soap helps heal as well as exfoliate dead cells gently, remove excessive oil, reduces scars and inflammation while neem helps tackle skin problems by combating skin harming bacteria.
It also consists of coconut oil and safflower oil both of which are rich in vitamins, non-greasy and thus provide great nourishment to the body, making it healthy and glowing. The hydrogenated soy butter added to the soap helps you moisturize your skin and make it soft. This soap isn't just an ordinary soap, it's a handmade, organic soap with enriching nutrients and aromas.
While the soap uses traditional ingredients, the formula is well-crafted and designed to act on targeted areas to quickly heal the skin while being super gentle. The formula is suitable for all skin types and the soaps are handcrafted to elevate your bathing experience. The soap is free from parabens, sulphates, phthalates, artificial fragrances and chemicals, making it an ideal choice for your skin.
Get yourself a 'Neem and turmeric skin cleansing bar' and make skincare a priority.