No hurdle could stop Navneet Kaur from joining the Indian women's hockey team.
Chased father's dream and turned it into a reality.
Our parents see dreams for us that they couldn't achieve, hoping that we touch those stars that they just dreamt about with open eyes. Following her father's unfulfilled dream of playing hockey for the nation, Navneet Kaur is representing the Indian flag at 24 and making him proud with every little achievement coming her way. Becoming a part of the women's hockey squad, Kaur is giving her best at each international tournament and the best is yet to come in the Tokyo Olympics.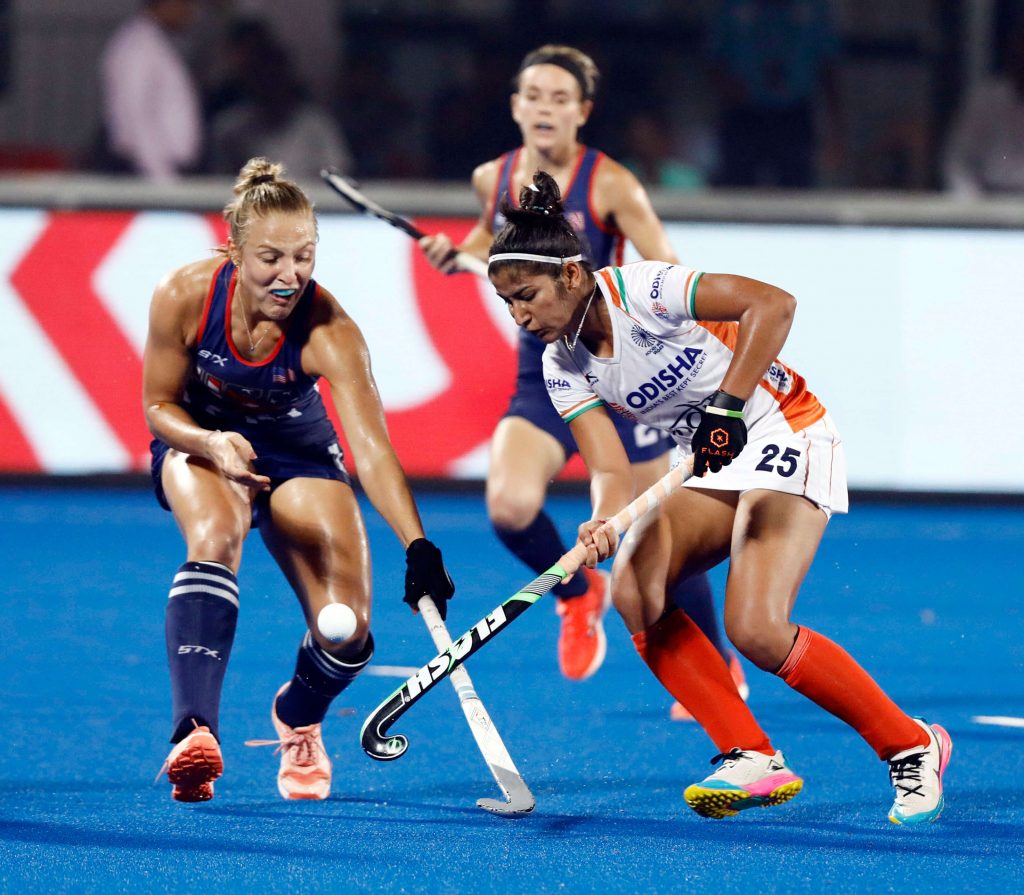 In an exclusive interview with Bold Outline we got to know more about the rising star of hockey, Navneet Kaur and her undying love for the sport:
1.How did hockey enter your life? When did you know that you wanted to take it up as a profession?
I started playing hockey in the fifth grade in 2005. I loved running and in front of my house, we had a hockey ground so I started playing. My father wanted me to become a hockey player, he wanted to become one himself but couldn't. He became my motivation. The seniors who practiced on the ground played at a higher level and they taught us a few things. That's when I knew I wanted to reach there too and decided to take up hockey professionally.
2.Tell us about the ups and downs you went through to achieve a place in the Indian National team.
First, I entered the camp as a junior and then, the senior but couldn't be a part of the team for a long time. I had fitness problems due to which I didn't get selected. But slowly, I worked on it and coaches told me to wait for some time as I was young and concentrate on my fitness. It was demoralizing because then I couldn't give a good performance, but now I am here.
3.Indian Women's hockey team for the third time in the history qualified for the Summer Olympics. How do you feel about it and what range of opportunity will it unlock for the team?
Yes, we have qualified for the Summer Olympics. This is the first time for me and I'm excited. Last time, our performance was not great in the Olympics but this time we have worked very hard on improving our fitness level as a team. I am hoping that we will at least reach the semi-finals.
4.Losing matches is part of the game. How do you cope with it and motivate yourself? What is that one strategy you follow in every match?
Obviously, I do feel bad when we lose but you don't have an option but to move ahead with every game. We review the match to see our mistakes and sit with the coach to rectify it, play better in the next one. In every match, if any of the players makes a mistake, we correct it instead of blaming one another and move ahead to play better while giving our best shot.
5.Everyone has someone they look up to. Who is your inspiration? What significance does hockey have in your life?
For me, it is Rani Rampal Di who is the captain of the Indian women's hockey team. I have always looked up to her and want to learn from her experiences. Till date, I learn from her in each and every match we play. She can score from any corner of the field. She is also a very good team leader. I started playing hockey for my dad and I want to make him proud by playing my best on the field.
6.A winning moment close to your heart? Also, a goal that's clearly etched in your mind?
The winning moment has to be in the 2017 Asia Cup which was my first tournament and we won against Japan in the finals. Also, for the goal, it was against England in the 2018 Commonwealth Games.
7.Take us through your fitness regime.
These days, speed is very important in hockey and for that, the coach makes us do a lot of running and gym workout sessions.
8.Any advice for someone who wants to pursue any sport?
Just one thing, work hard to achieve your goal but one should play smart as well for it.