PORTIA
Dulce Celia RESORT SS'22
Fabric 100% Nylon
A character from Shakespeare's 'Merchant of Venice,' Portia is a beauty that holds for herself. She stands out in a crowd, her ombré frills represent waves of the ocean. Portia of the modern world, she represents grace, poise, gentleness with her structured strength

EFFIE
Dulce Celia COUTURE SS' 22
Fabric 100% Nylon
Effi, with her Greek origins, is dreamy, blushing, yet, fun! She's stunning on bridesmaids, or for that bachelorette evening! She's painstakingly hand embellished with 3D effect embroidery on blush tulle and Swarovski beading with lots of lustour beads with sequence.

ACHELOIS
Fabric 100% Nylon
Pale like the moon, ACHELOIS is summery with the flare making it perfect for your evening party gown. She's short fitted and makes for a stunning evening party gown with structured shoulders and neck. The base is French lace that has beading with beads and sequence.

CIRCE
Fabric 100% Nylon
The fierce Greek goddess who transformed her enemies into beasts, she's a powerful show stopper. Very glam, she's totally for that cocktail night where she unabashedly makes heads turn. Made with black tulle and heavy, gold beading.

CALLIOPE
Dulce Celia COUTURE SS '22
Ostrich feathers carefully embellished on the dress bring out that dramatic, bouncy effect.
That dreamy dry, rose coloured tulle base is ideal to accentuate her geometric artwork!

ISDORE
Dulce Celia COUTURE SS'22
Literally translating into 'The Gift of Isis,' Isadore
comes with exotic draping and style that carries one side off to another making for a dramatic, yet, dream like effect. She's flary, summery, classy and so chic. Handmade from scratch, she's stunning everywhere – from a Sunday brunch to a red carpet evening!

GRETA
Dulce Celia COUTURE SS'22
Fabric 100% Nylon
Greta, meaning 'pearl,' gives that beautiful pearl looks with it's understated nude colour and hand embroidery with 3D effects. Carefully hand embellished glass stones, beads, sequins and appliqué, all of it comes together beautifully with fine silk threads

SABRINA
Dulce Celia COUTURE SS'22
Oh, she's the princess of evening couture!
Her beauty is in the appliqué flowers that are decorated with Swarovski stones giving that 3D look. She's a party magnet with lustrous sequins sprinkled on the base.

VIOLA
Dulce Celia COUTURE SS'22
Viola is one your eyes are glued on! She knows she looks like a million dollars, decorated in frills and sequins. She's perfect for that bachelorette party or even that red carpet evening! She represents an ever evolving global person, confident,yet, rooted.

LAYALA
Dulce Celia COUTURE SS'22
Fabric 100% Nylon
Ethereal and bedazzling, this powder blue short dress is all about the light and the airy! Deftly handcrafted with intricate applique embroidery, her classic silhouette futher elevates the romantic charm of her look with its softness.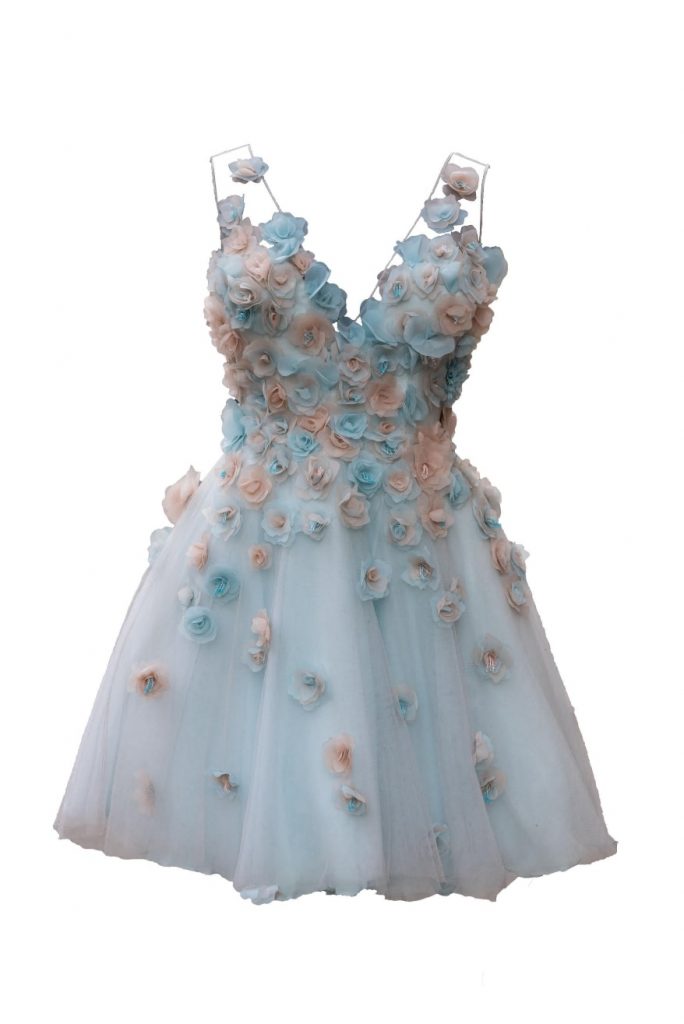 Dulce Celia, a renowned haute couture label founded by Calcutta based Design-preneur Sid Kapoor.
Dulce Celia, meaning 'sweet goddess,' is a fine representation of couture, art, and design. Founded by Calcutta based designpreneur, Sid Kapoor, Dulce Celia, has been custom creating stunning, high quality, hand crafted and richly detailed designer dresses for international boutique buyers. Since the past 14 years, Dulce Celia has worked successfully with fashion thriving international markets like Paris, Rome, Milan, London, Dubai & Melbourne. Sid, now, wants to open his atelier to the Indian audience with Dulce Celia's Spring Summer '22 couture and resort wear collections.
Sid's design philosophy is led by highly specialised dressmaking, custom creating a flawless fit and being in line with global trends. Embodying couture in the literal sense, Sid's Dulce Celia symbolises perfection by handcrafting bespoke occasion and pageant wear outfits with great detail. Sid works with local artisans in Calcutta and each outfit is handmade from scratch using intricate hand embroidery, sequins, swarovski, beads and appliques.
Known and coveted for its haute dresses, Dulce Celia is a brand that believes one size does NOT fit all. Everybody is unique, hence, every dress is distinctive and made to the client's needs. A Dulce Celia outfit is a collectors' dress.. one that would be passed down generations, one that only gets better with time.
The Dulce Celia woman is a woman of the world, the one who is stylish and wants to feel comfortable and confident when she steps out wearing occasion or resort wear.
DC is currently available online through their website and one can set up an e-appointment on their virtual couture salon. The brand aims to open its flagship store soon in Calcutta and meanwhile merchandise at multi designer stores in metro and tier 2 cities.