It is indeed a tough task to stay positive nowadays, with the media brimming with negativity. Scroll the social media feeds or tune into the news channel and you feel like you live in a doomed world. To counter this, journalist and talk show host Dhanya Varma along with creative director Sumesh Lal conceptualized the chat show, The Happiness Project, which airs on Kappa TV. As the show presents their 100th guest, Bold Outline sits for a refreshing conversation with the charming, pleasant, always-positive Dhanya Varma.
The concept behind The Happiness Project
"Life is hard, each day is a challenge for almost every human. Yet for some, it might be unbearably distressing, too much for us to even imagine and fathom; a harsh reality indeed. But there is also a countless number of incidents where people face and eventually, overcome. Negative news is a reality so is positive news. But if only the negative news is being exposed and the positive ones get ignored, that's when the viewers get affected."

"The thread of the show was conceived by Sumesh. I had previously collaborated with him for the show The Talking Point on Rosebowl. The Happiness Project can be perceived as countercurrent against the heavy influx of such information; a personal space where we focus on how humans overcome their limitations and move ahead. I believe every person has some element that can inspire others."
The trick behind inspiring everyone to talk
"If you ask the right kind of questions, you will definitely get an answer. I do a thorough research of my guest on the show, their background, their profession, and their lives as a whole. The show is not just for the sake of a superficial conversation, I am genuinely interested in knowing their story. This interest is contagious and they open up. The ambience of the space also helps a lot; a cosy and intimate setting where one can open up without the fear of being judged."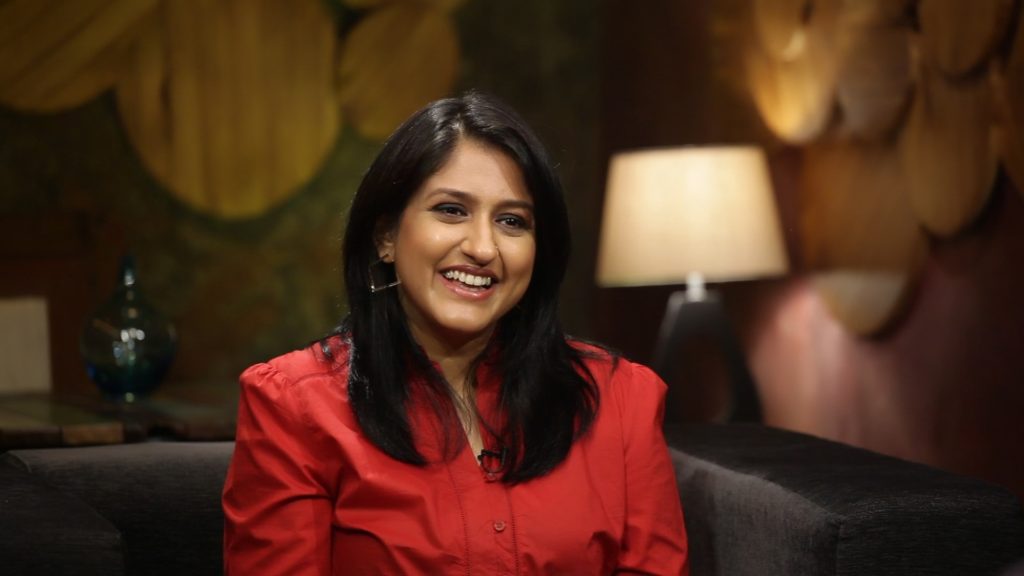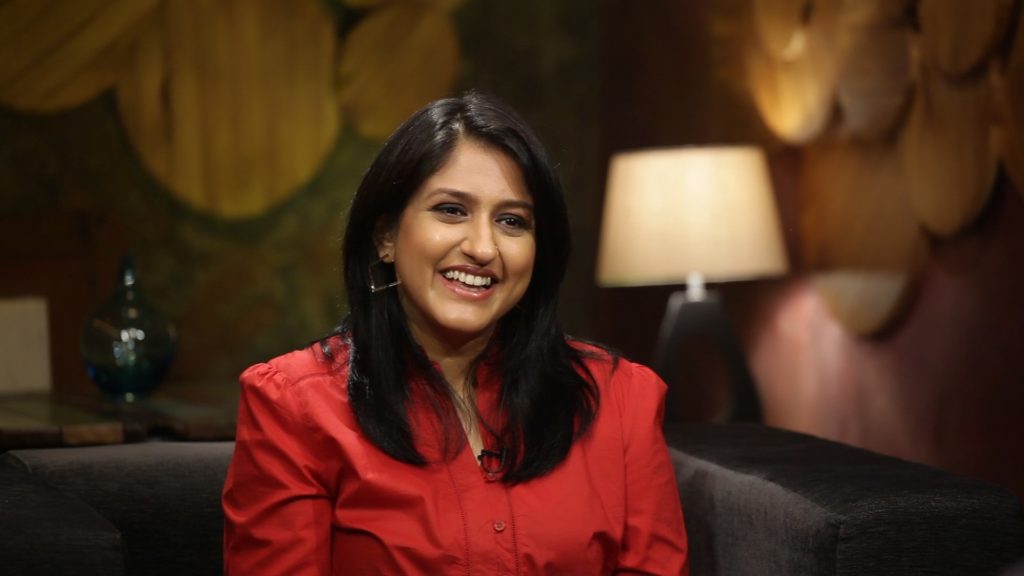 Every face pleasant, every face smiling
"The reason could be an amalgamation of factors, a serene and comfortable setting that is not all intimidating, and my sincere interest in knowing the story of a person. I do not keep a time limit for the guest and encourage them to talk as long as they wish.
But ultimately, it's the respect that I give to a person. You can ask the toughest question you like but that question should not cross the boundary of respect. The Happiness Project is not a platform to prove my calibre, instead, it is a space where both you and I can learn and get inspired by the guest."
"What you see me on the screen is exactly who I am as a person. Through my experience at Star Networks, I learned that an anchor should not act or pretend to be someone while hosting a show. We are not actors, we are anchors who convey information to the audience."
Remarkable stories from the show
"Almost every guest has added value to me, in different ways. Be it,  the boldness and open-heartedness of Kani Kusruti, the pragmatism, discipline and health consciousness of Nadia Moidu, several youth actors who left their IT careers to follow their passion, the life experience of Dr VP Gangadharan. Dhanya Ravi has shaken me to the core, I was amazed by who she could face her challenges, the pain and yet be socially active. (Dhanya Ravi, also nicknamed India's 'Glass Woman' suffers from Osteogenesis Imperfecta a rare, incurable condition known as the brittle bone disease)."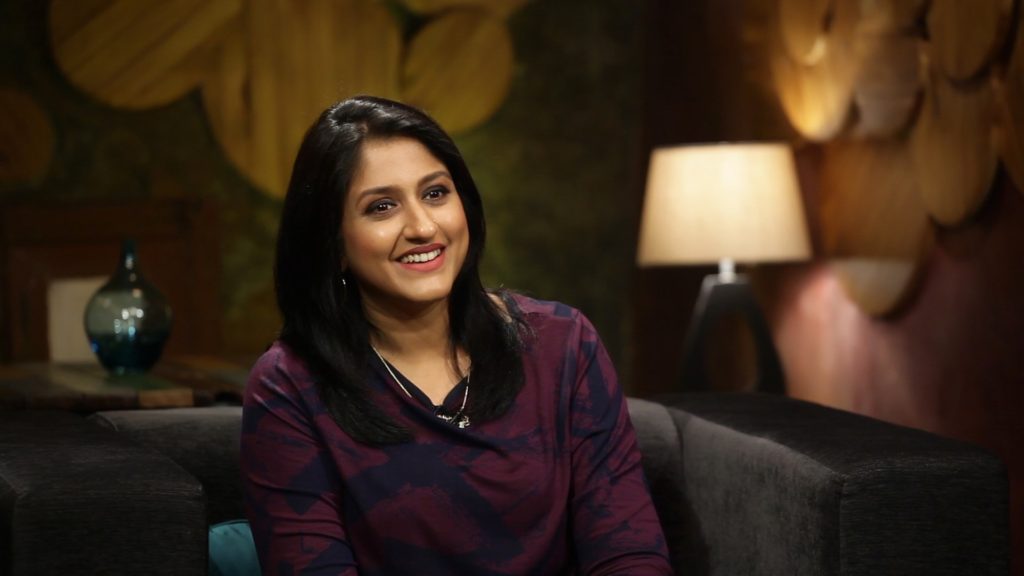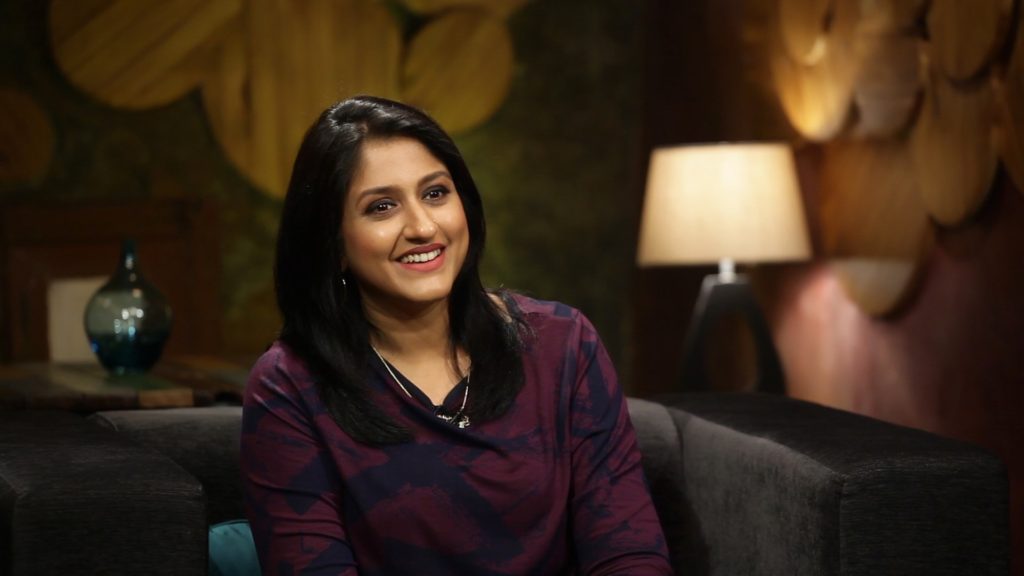 Childhood, its contribution in defining one's character:
"My father's banking job required him to travel and work different parts of the country every 2-3 years and I remember I studied in 9 to 10 schools. I have been a nomad, always on the move and that reflects the way I speak, think and face life. I had to travel to Mumbai and Pune for my higher education. My husband works as the commander of the Indian Navy and this profession, once again required travel."
"When you travel from hometown to a big city, you get to interact with a multi-cultural society. This broadens your view and way of thinking. You stop judging others with your sets of rights and wrongs, you learn to accept them with both their positives and negatives. We realise that every person comes with a unique story, background, family atmosphere, experiences and these define their character. "
Dhanya's Philosophy of Happiness
"Happiness is not a goal, it is a by-product of an action or an event like achieving your goals, living the moment, or loving what you do. I find happiness in small things in life by sending my kids to school or having a cup of tea with my husband. The key to finding happiness starts with self-introspection, lies in discovering oneself and realising what our true desires and dreams are."