Until recently, they were ridiculed, abused, demoralized; and society had imposed on them certain roles- like queer dancers and beggars, associating them with immoral activities. However, matters are changing, transgenders have been legally accepted as the third gender. Several 'sheroes' have challenged and broken the stereotypes, and now we see them as judges, police officers, teachers, television anchors, and entrepreneurs. Though their journey may not have been easy, they have proved that one's sexuality is not a parameter in defining one's character, talents, calibre, and determination.
Renju Renjimar, Kerala's first transgender celebrity bridal make-up artist, started off her career as a make-up artist 22 years ago. Her magical work has beautified the faces of almost all leading female actors in the Malayalam film industry, and several supermodels and actors across the country. Renju Renjimar was awarded the Kerala State Government Social Welfare's most popular Make-up Artist Award in 2016.
In this Bridal Issue, we explore the life of Renju Renjimar, to learn how a five-year-old boy with a sexual identity crisis, transformed into one of the most sought-after celebrity bridal make-up artists in South India.
Here it is, in Renji's own voice. "To start off, I never knew that I was destined to be a make-up artist, nor did I have the ambition to be one. It may have been my upbringing in a common, middle-class family in Kollam district, I never dreamt big, I wasn't taught to. Perhaps another reason was that most of my thoughts during my childhood, teens and youth revolved around the questions, "Who am I, what is my identity?"
I remember, this started at the age of five. when I wanted a frock like my Chechi (elder sister) for Onam, and fought with my parents for that. My parents dismissed it off as one of childhood's whims; they did not scold or insult me for that. I consider myself fortunate because this was not the same with other transgenders. After completing my 10th , I started working in a brick factory; my emphasis at that time was to financially support my family, in whichever way possible. From there on, I just went with the flow, taking up various jobs, from being a house-maid, a labourer at a wood mill, a book salesperson, helper at a restaurant and more.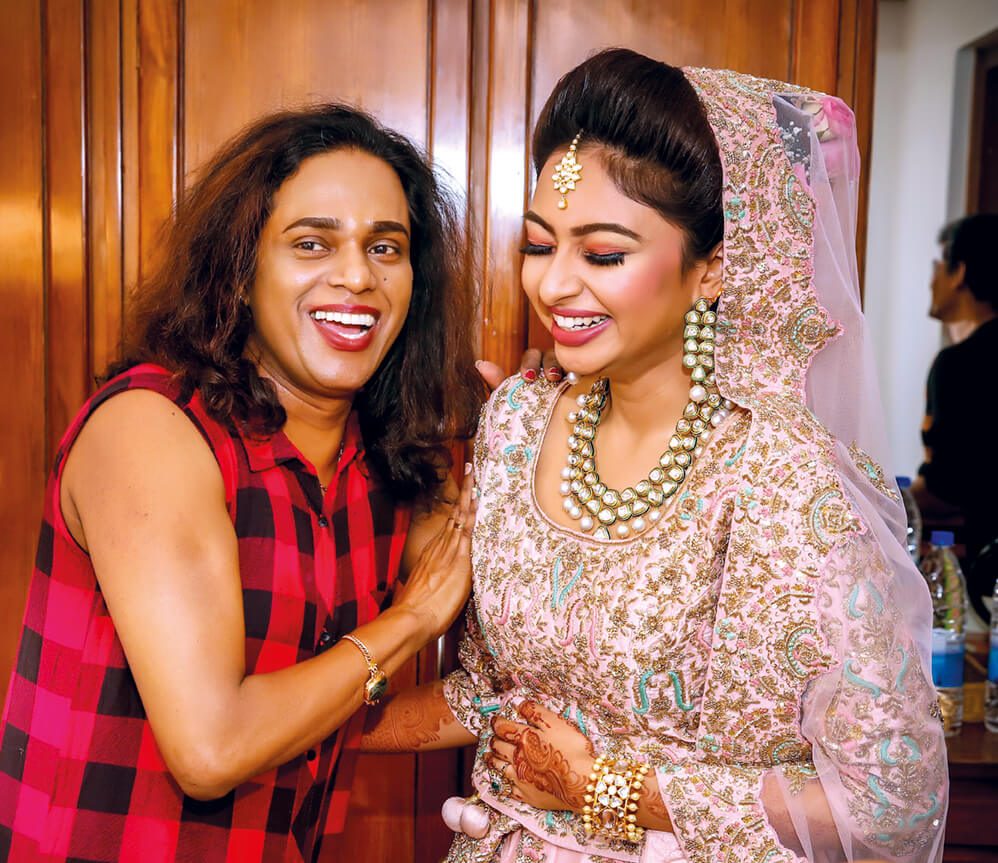 I moved from Kollam to Kochi, to work as office staff for a leading lawyer in the city. He had promised to take responsibility for my higher education. But I ended up working round the clock, not only with office duties, but also his household chores. I was earning Rs 3000,/- per month, and those days, it was in fact, a good amount. That factor alone made me continue there.
I left that job after two years. That was the time I started meeting people in my own community. But as I delved deeper into their lives, I realised some of their activities were against my moral and ethical conscience; I could not imagine myself being a part of that. So I decided to stay away from their gang. I do not blame them however, it was their circumstance that made them end up in such a plight.
One fine morning, I happened to meet Mr Muhammed Rahman from Lukman's Event Management Company. He wanted someone to assist him for a photo-shoot for a shirt brand. I simply helped the make-up artist by dabbing some primer and foundation on the male models. The results were stunning. I thought to myself, why not take this up as a career; and that's how the make-up artist Renji was born.
I started off by taking up small projects like photo-shoots, commercials, weddings, and later, events and even movies. I never had formal training in this art; I learnt it through trial and error and through experience. There might have been a divine power behind that; I never had to face an unsatisfied client. Female actor Jyothirmai was my first client in the film industry. For me, she was not just a client, but also a life coach who helped boost my confidence and shed my fears and inhibitions. Actress Muktha introduced me to the Tamil film industry, which once again boosted my professional reputation. There was no looking back after that.
During my career as a make-up artist, I slowly transformed into a mother for all my female clients, be it be actors Bhavana, Mamtha Mohandas, Rima Kallingal or Priya Mani. The reason could be that I did not limit my job to applying make-up. I cared for them on a holistic level – the hairstyle, the wardrobe to make sure there would not be any malfunctions, their mental wellness, sometimes even as bodyguard, when they had to face mobs, just like a mother would take care of her daughter.
The wedding of Aarathi Pillai, daughter of the business tycoon Ravi Pillai, was the project that gave me a celebrity bridal make-up artist status, a remarkable milestone in my career. To be honest, I never knew who Ravi Pillai was, prior to the event. Nor did I know that it was going to an extravagant event worth Rs. 55 crores. I received a call one day from a lady who introduced herself as Latha, wife of Dr Ravi Pillai. She said that they wanted to do a trial make-up session for their daughter's wedding at their place.
It was only after I crossed the gates of his residence did I learn that he was a billionaire with several ventures across the Middle East and India. I was received by Latha and Aarathi and we proceeded to do the trial make-up.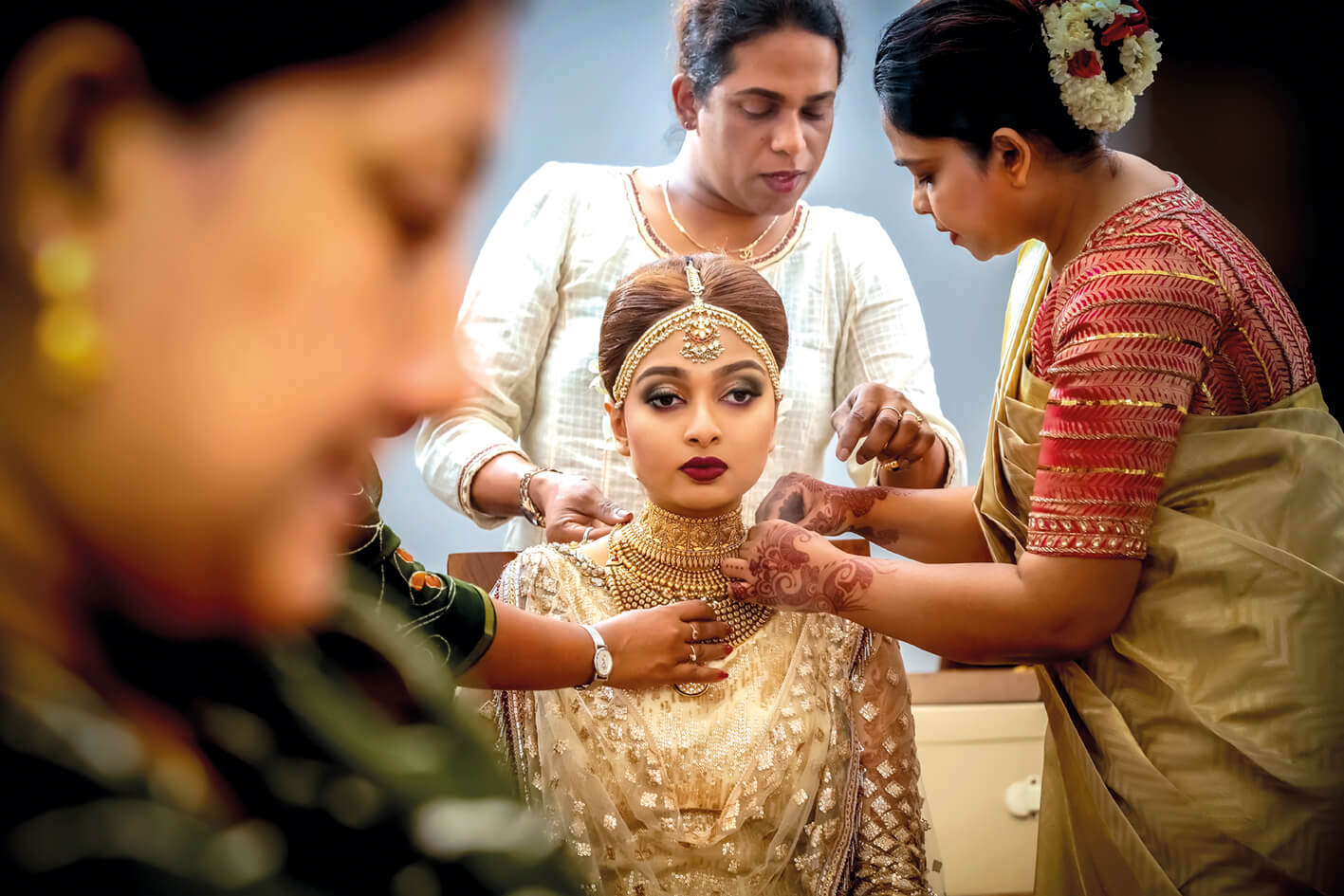 After completing the facial make-up, as I proceeded to do her hair, Aarathi signalled me to stop.
She said, "I give you 11 out of 10 for your talent. We had approached seven well-known stylists and make-up artists across the country for this event. You have wowed me with your calibre. I just wanted a stylist for my engagement. But I now appoint you as my bridal make-up artist for the entire wedding. There are seven events in total, and I want you to be with me for all seven events."
I felt immensely proud of myself at that moment. I understood that if you have real talent, your sexuality will never be an obstacle in your life. That wedding was a life-changing experience –there was media coverage from all parts of the country, which helped me develop my brand as a celebrity bridal make-up artist. At the same time, I wanted society to see and learn how that family treated me with respect and courteousness, regardless of my gender. This was followed by wedding make-up projects for actors Muktha, Priya Mani and Bhavana. I also conducted several workshops across South India, and these workshops have transformed several beauticians to stylists and make-up artists.
Whenever a client approaches me for weddings, I opt for a trial make-up run, try different styles, rather than just experimenting on the big day. I do not follow a set protocol for make-up; instead, I focus on the final result. I don't believe in 'whitewashing' a dark or a dusky face with foundation. Foundation should be used to balance the different colour tones of your face, highlight your striking features and mute the flaws. Your hairstyle plays a very crucial part in your appearance. Go for a hairstyle that suits your face and that you feel comfortable with, rather than imitating a celebrity style. Remember, your hairstyle must beautifully define your forehead, cheekbones and chin.
Speaking of wedding make-up trends, it depends mainly on whether it is a Hindu, Christian or Muslim wedding. Hindu brides' attires usually come in shades of red, golden yellow, and other warm colours. I choose make-up that complements the dress colours and the jewellery. A palette of gold and brown eyeshadows and bronzers bring out the glow in these brides. A Christian wedding is a solemn occasion where the bride wears white, off-white, cream, ivory, and beige gowns or sarees. They wear minimal jewellery and also use diamonds. So the make-up is usually muted down, using pastel and nude tones for both, eyes and lips. But when it comes to Muslim brides; they wear deep as well as bold colours for the event, the jewellery is heavy, and so will be the make-up. Eye make-up plays a key role in their weddings; you can opt for smoky eyes or go for cut-crease make-, matching their costume. Ultimately, I aim to make a bride feel like a princess on her wedding, not only through make-up, but also by an emotional connection.
I love to be known as a good human being rather than being a celebrity. I strive for the empowerment of other people in my community. For this, a group of us have started an academy for beauty and make-up solely for transgenders, in association with the Government of Kerala.
There are several extremely talented singers, actors, artists, designers, sportsmen and academically brilliant people within this community, but they are unable to come up because of societal pressure. The journey was not easy for me either. On one side, you have people like Mammootty, Jayasurya and the Ernakulam District Collector supporting your ventures. On the other, there are still people who mock you, abuse you, or try to control you with moral policing. And the irony is that those are the same people who knock at my door at night. So it is important to learn to stand up for yourself bravely, seek legal support when needed, or you end up being exploited. And this rule applies to every human being, not just transgenders."