Your wedding. It is your day to shine like the queen you are and rejoice in a celebration that marks the start of an exciting journey. That's exactly what Anaar is dedicated to—making you express and celebrate yourself with their unique, innovative range of bridal footwear for the bride, the bride tribe, and wedding goers.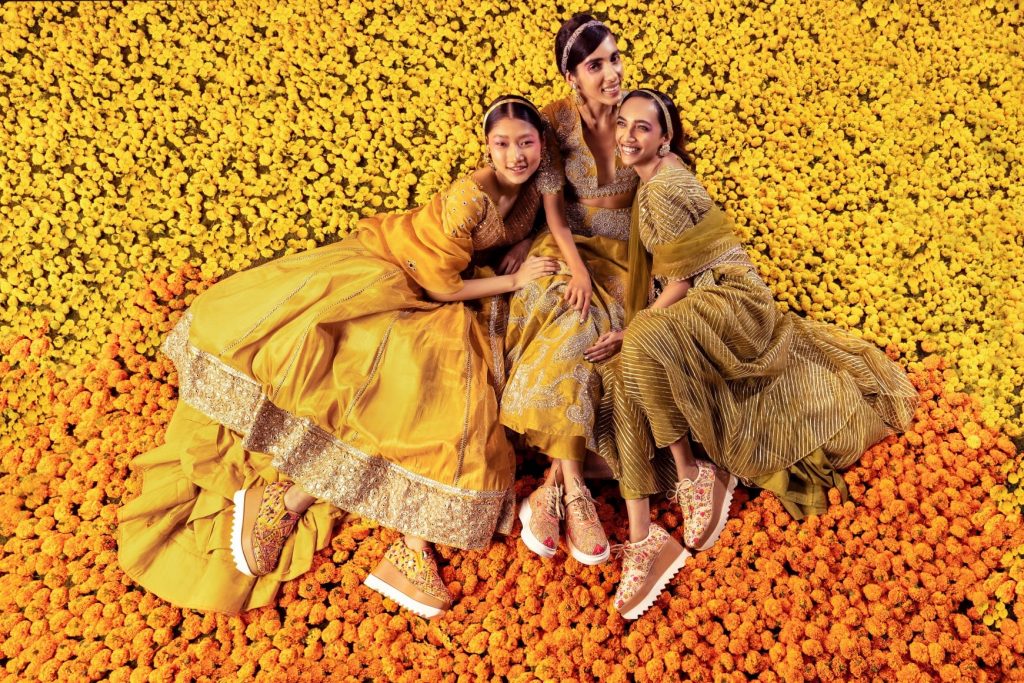 The brand is a modern-day motif adorning women fluent in the language of couture celebrations. It shines the brightest on the ones who wear confidence as their most precious jewel. If you have an appetite for novelty and a penchant for luxury, Anaar products will leave you brimming and beaming. It's a perfect match for women who yearn to add magic to their everyday lives.
Anaar is creating contemporary footwear that is inspired by culture and tradition and the joyous exuberance that is the highlight of every Indian wedding. While planning a wedding, the emphasis is often placed on finding the perfect attire, but the shoes are just as important in completing a bride's look. And Anaar's dynamic footwear does just that!
Anaar is the first and foremost brand exclusively designed around the occasion of weddings. Anaar creatively marries traditional designs with contemporary forms and creates footwear that lets you express your unique identity on every occasion. And aptly so, Anaar commendably transforms the bridal dream into reality. From classy and minimal pumps, elegant platform blocks, and sophisticated wedges and sandals to shiny and stunning heels, Anaar's versatile designs and collections are built for specific occasions such as sangeet, mehndi, weddings, and other celebratory extravaganzas such as proposals, engagements, bachelorette parties, receptions, and honeymoons.
For all the unique romantic hearts and inspired minds out there who believe in being comfortably fashionable, Anaar recently launched its iconic Bridal Sneakers that are all set to make an avant-garde and exuberant statement. Available in exceptionally designed patterns, these vibrant, colourful, and stylish sneakers will surely make heads turn and give you that wow effect. The range of sneakers is intricately hand embroidered and designed to match your Indian wear, western wear, or cocktail wear. So if pop colours or pastels are your thing, there are options for you. If gold and white are your thing, there is an option for you. If sequins or pearls are your jam, there is an intricately handwoven pair of sneaker wedges with sequins and pearls, all set to have you jamming to the wedding tunes till the wee hours of the morning without aching feet. All in all, the sneakers represent the fiery, buoyant energy that flourishes within every woman.
The creative genius behind Anaar is the gifted Tanushri Biyani, who comes with a successful background in the footwear industry. Having launched a brand called CERIZ before Anaar, her expertise in the area lends a natural affinity toward recognising gaps in the footwear market. "With Anaar, you will rekindle your love for Indian culture through contemporary and comfortable shoe designs. They are designed to be shapeshifters that dress for the occasion. They peep from under maximalist festive ensembles and sparkle just enough to match the twinkle in your eye. It's a perfect match for women who yearn to add magic every day," says Biyani."
Instagram: @worldofanaar
Website: https://shopanaar.com/?fbclid=PAAab_p9IYwqlFmOhpYjOK1B2Nzh4ECx2VqNUCqXPzSN76-huDmx1ecXkVKEE