Amit Aggarwal's couture collection is inspired by the invisible connection between plant and the human world. For long, Amit has tried to usher in a new age of Indian bridal couture and create a distinct identity by engineering in innovative designs inspired by nature with our country's rich textile heritage and our commitment to environmental sustainability.
This collection, 'Lumen' is a celebration of that unique light that illuminates us and makes us the individuals that we are. It draws its inspiration from organic structures of the human body that exchange an invisible energy through an overlay of framework, fluidity and form. The framework of the garment is created with layers of our recycled polymer under structures, the fluidity comes through the illusionary movement of textiles creating forms that come to life through the intricate motifs and embroideries.
The collection uses weightless gossamer tulle lace, organzas are meticulously hand-embroidered and rendered with structural frameworks to bio-mimic the details of the human and plant anatomy. A range of hand done three-dimensional embroideries in various organic angular forms and motifs to give the textiles a unique visual and tactile quality.
This collection, blends an opaque color with its metallic tone and its iridescent hue making each shade into a superfluous flow of energy. A vibrant jewel color palette of emerald, petrol, purple and plum moves into neutrals of gold, blush, silver and ivory with an eclectic mix of neon tones. The transparency, opacity and reflection of these colors reveal the reaction and the flow of light through every hue in the collection.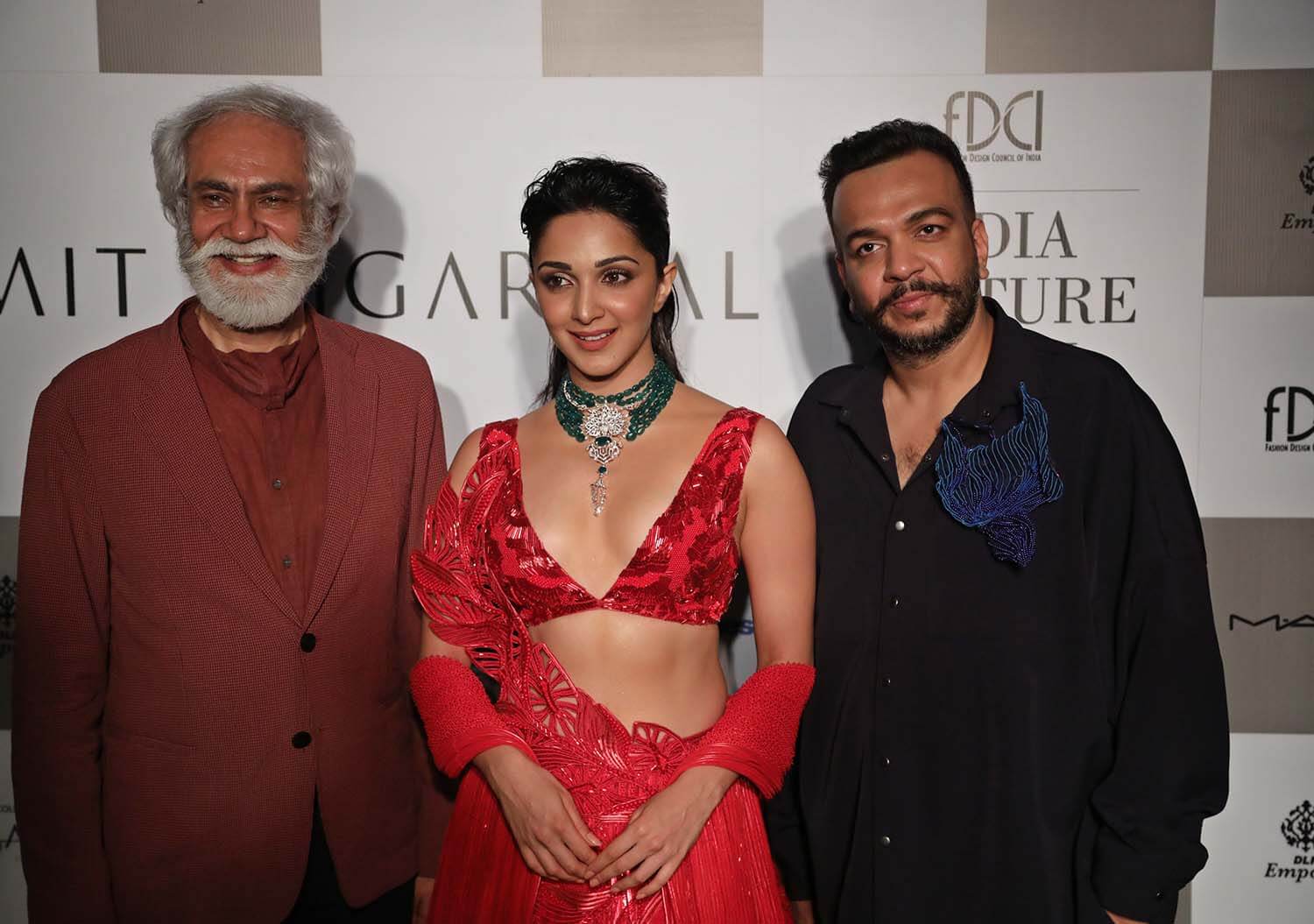 The womenswear collection features traditional Indian silhouettes that blend with western ideologies of couture. Sculpted Edwardian bustles lend an edge to the quintessential bridal lehenga, while the brand's signature sarees are reinvented with dramatically structured trails. The ensembles have been enhanced by sheer drapes and layers creating an illusion of color through a play of light.
The menswear collection brings forth sharp tailoring in classic styles with a touch of layering. Ceremonial Indian silhouettes are revived with modern three-dimensional hand embroidery fabricated in modern industrial materials, as well as Jacquards, silks and handwoven geometric textiles. The garments have been enhanced by draping layers, color blocking through textiles and highlighting it with intricate craftsmanship. This collection is for the traditional Indian man that has evolved and started accepting newer and innovative forms of clothing.
'Lumen' has been brought to life in collaboration with some of the leading designers and artists from across the country such as Taani by Tanira Sethi to create one-of-a-kind traditional textiles.  The textile motifs represent natural life forms, converted into architectural formation.
The installations for the set for the show has been designed by Ankon Mitra.  His work 'The Ocean Within' represents the play of sunlight and ocean waves.
Narayan Jewellers by Ketan and Jatin Chokshi's bridal collection which showcases intricate craftsmanship with a perfect synergy of modernity and tradition added to the beauty of the garments. The collection has been teamed with footwear designed in collaboration with Dyuti Bansal.