Shiva Ravi, a passionate ultra-endurance cyclist, to cycle 1600 km long journey from Chennai to Vizag in support cancer patients
The cycle ride will cover a distance of 200 km a day and will pass through
Nellore, Vijayawada, Kakinada and Vizag
On the occasion of World Cancer Day, Chennai based NGO Sankalp Beautiful World, (formed in 2015 under the leadership of former Chief Election Commissioner, late Shri. T. N. Seshan) and Shiva Ravi, an ultra-endurance cyclist, embarked on a noble mission in support of Cancer patients. Shiva will pedal from Chennai to Vizag covering 1600 km in eight days (Feb 04 to Feb 11) with a single point objective to create awareness, raise funds for cancer cause and encourage people to fight against cancer.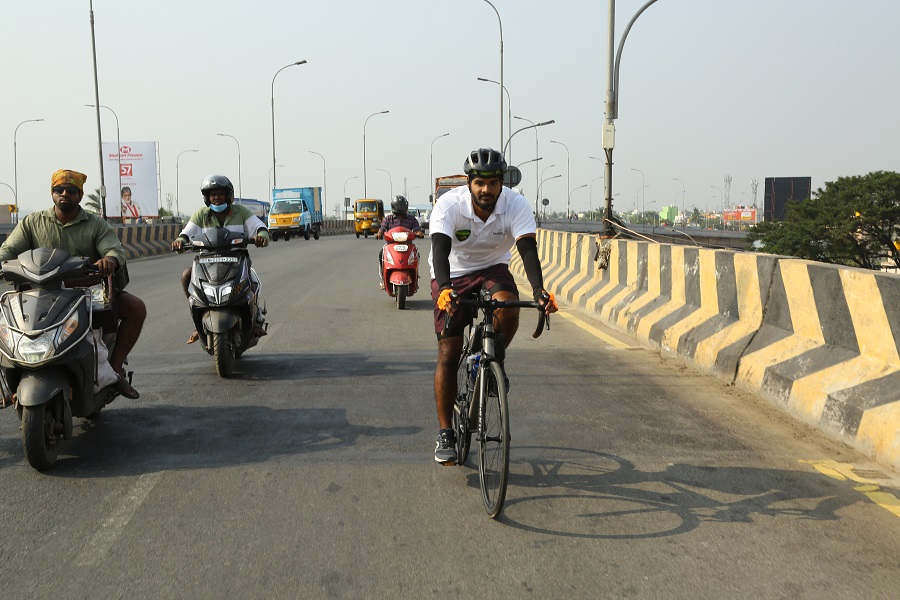 The cycle ride was flagged off today at 9.30am from Chennai, by Dr.Latchumanadhas Kalidoss, Chairman, Sankalp Beautiful World (Sankalp) and Mr. Ajay Rathnam, Indian film and television actor, who has worked predominantly in Tamil films. Present on the occasion were Prof. D. Viswanathan, Vice Chairman, Sankalp (Former VC of Anna University, Chennai) and Mr. AE Jagadeesan, Trustee, Sankalp (Retd Dy Superintendent of Police, Chennai).
On arrival at Nellore, at 18hrs on February 04, 2022, Chief Guests, Shri. Kotamreddy Sridhar Reddy, Rural (MLA), Shri Kakani Govardhan Reddy, Sarvepalli (MLA), Shri Dinesh Kumar, Municipal Corporation Nellore and Shri Kotamreddy Giridhar Reddy, Nellore Rural MLA's Office Incharge, will be present to felicitate Shiva and support Sankalp's mission.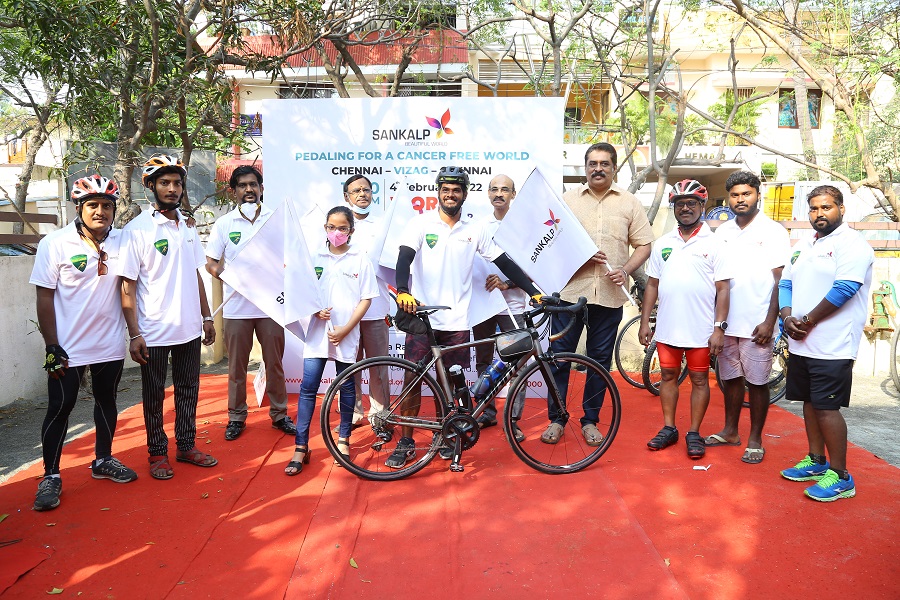 The journey, after covering Nellore, Vijayawada, Kakinada and Vizag, will culminate on 11th February 2022 in Chennai. The cycle ride is spread over eight days, covering a total distance of 1600 km, on an average of 200 km per day.
Embarking on this endeavour, Shiva Ravi, who has completed 200 km, 300 km, 400 km and 600 km Brevet conducted by Audax Club of Parisen (ACP) and has cycled 1100km from Chennai to Coimbatore said, "We all need to come together to fight against cancer by creating awareness and sensitising people. Cancer is curable if detected at an early stage and I have known people who have overcome this successfully". He added, "My grandmother died of cancer 17 years back. Unfortunately it was detected at a very late stage and treatment options were also significantly limited then. She is one of the reasons and motivation because of which I joined Sankalp in this noble cause to create awareness and support in a small way."
Flagging off the ride, Dr.Latchumanadhas Kalidoss said. "We thought of patients who are undergoing the care for cancer. Likeminded people like me and others came up with an idea of creating a supporting system for such patients who are going through grueling exercise of getting treatment for cancer. We created an NGO called Sankalp Beautiful World. This is in existence for the last 6 years and we are doing a great job…. but that is not enough for us we thought. We need more help from other like-minded people to come and help us and together we can achieve to some extent to alleviate the problems which the patients are going through."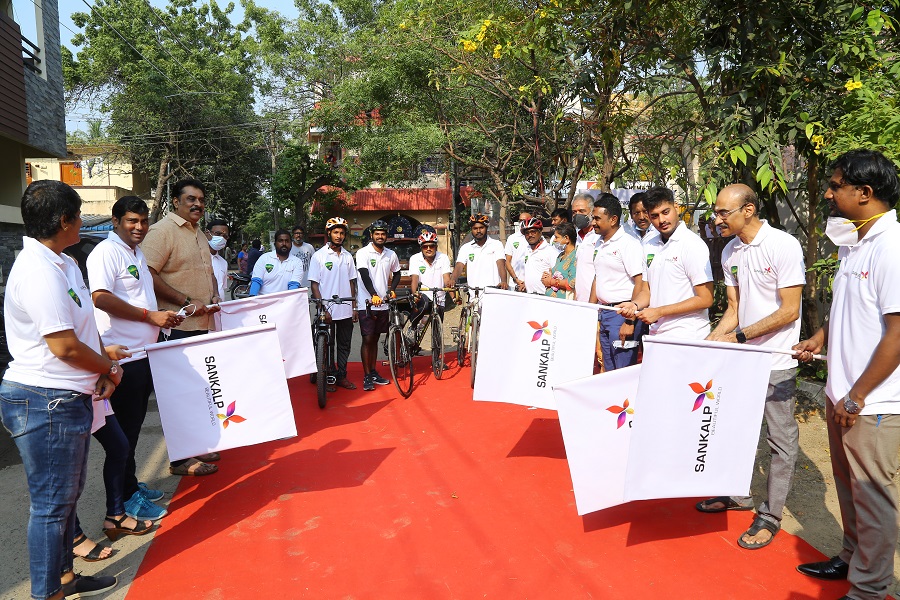 On the occasion, Mr. Ajay Rathnam, said, "This is a very noble cause. Sankalp is doing a great service and I wish Shiva the very best in this 1600km cycle ride to support this wonderful cause. Cycling is very good for health as such. Human body gets serviced by cycling. Cancer doesn't show symptoms. So regular physical activities such as cycling, and regular health check ups, can prevent diseases including cancer.".
Speaking on occasion, Goutham Chander, Founder & CEO of Sankalp Beautiful World, said, "Sankalp has grown today as an organisation that seeks to provide hope and solutions to those suffering from cancer. We are on a mission to eradicate the fear of cancer by joining hands, partnering with eminent professionals from various fields. We may be young, but we have already touched and changed few lives in our mission to create a cancer-free world. We will do even more as we continue to grow our network and partner with dedicated doctors, academicians, and other related professionals".
About Sankalp:
Sankalp Beautiful World was established on 14th December 2015 under the leadership of the former Chief Election Commissioner, late Shri T. N. Seshan. Sankalp Beautiful World is guided by a team of 21 professionals including doctors and academicians dedicated to the mission of eradicating cancer while alleviating the suffering it causes. Goutham Chander witnessed the impact of a close colleague's daughter affected by cancer, it ignited in him a passion to establish an entity that would provide hope for the suffering and one day eradicate the cause. The Board of Trustees include a set of pre-eminent personalities who hold key responsibilities in Government, Healthcare, Education Industry and Social Work. We believe that we can play a compelling part in the journey of a Cancer Patient.
Website: https://www.sankalpbeautifulworld.org/