Victoria's Secret has hired its first open transgender woman for a photoshoot. The 22-year-old Brazilian model Valentina Sampaio will be featured in the Victoria's Secret Pink Campaign set to release this month.
Sampaio previously has made history as the first transgender model to appear on the cover of Vogue magazine. She graced the cover of the March 2017 issue of Vogue Paris. She was also featured in Vogue Brazil issue, Loreal Paris and Elle.
Sharing her excitement on instagram, the model wrote, "Backstage click @vspink💕💕
#bastidores #new #vspink #campaign#representatividade #diversity#beauty #selfie #model #life #fashion#usa #vstorm #valentinasampaio#bomdia."
Brazilian model also shared a video of herself from Victoria's Secret photoshoot. Several celebrities and fellow Victoria's Secret models commented on the Instagram posts. Model Lameka Fox congratulated her writing, "Love this!!!! ✨💓👏🏽 makes me so happy to see, you look gorgeous xx."
American actress and LGBTQ+ advocate, Laverne Cox also reacted to the photo, writing, "Wow finally!".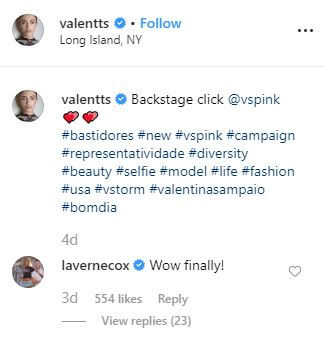 Victoria's Secret came under fire last year when the Company's Chief Marketing Officer, Ed Razek made derogatory comments about plus-sized and transgender models. His comment was condemned by many for which Razek apologized later, making a post on the company's social media handle.
Please read this important message from Ed Razek, Chief Marketing Officer, L Brands (parent company of Victoria's Secret). pic.twitter.com/CW8BztmOaM

— Victoria's Secret (@VictoriasSecret) November 10, 2018