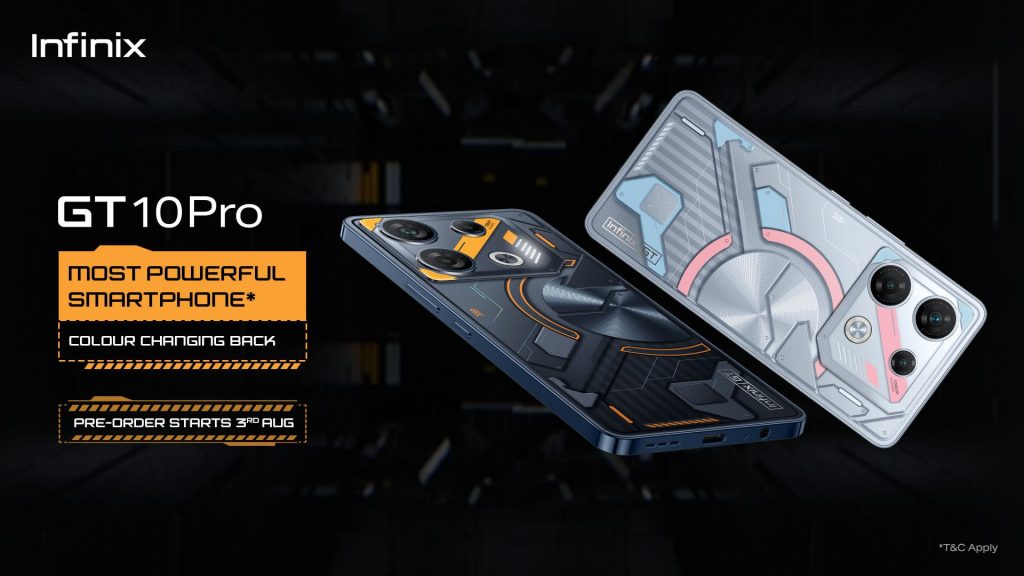 ● Sports eye-catching cyber mecha design and colour-changing rear panel
● Features a 6.67″ 10-bit FHD+ Eye-care AMOLED Display with a 120Hz refresh rate and a 360Hz touch sampling rate
● Offers a spacious 256GB UFS 3.1 storage combined with up to 16GB of RAM (8GB LPDDR4x + 8GB Virtual RAM)
● Powered by the MediaTek Dimensity 8050, an AnTuTu score of approximately 700K, making it the most powerful chipset in its segment
● Dual speakers and DTS technology for a rich and immersive audio experience
● Supports WiFi 6 and Dual 5G SIM for high-speed internet and connectivity
● Backed by a 108MP Ultra Clear Triple Camera and a stunning 32 MP front camera for brighter selfies
● Clean OS, devoid of any bloatware or intrusive advertisements
Infinix is proud to announce the launch of its highly anticipated and most powerful smartphone GT 10 Pro. Pushing the boundaries of innovation, the smartphone has been designed to impress with its blazing-fast memory, cutting-edge chipset, exceptional performance, and groundbreaking camera capabilities, setting a new benchmark in the realm of smartphones. Priced at just INR 17,999*, the GT 10 Pro will be available in 2 colour variants: Cyber Black and Mirage Silver.
Sharing his thoughts around the latest launch, Mr. Anish Kapoor, CEO of Infinix India, said, "At Infinix, we have been at the forefront of delivering groundbreaking advancements across diverse product categories such as televisions, laptops, and smartphones. Within the realm of smartphones, our newly introduced GT series takes a momentous leap forward by ushering in breakthrough innovations to the industry.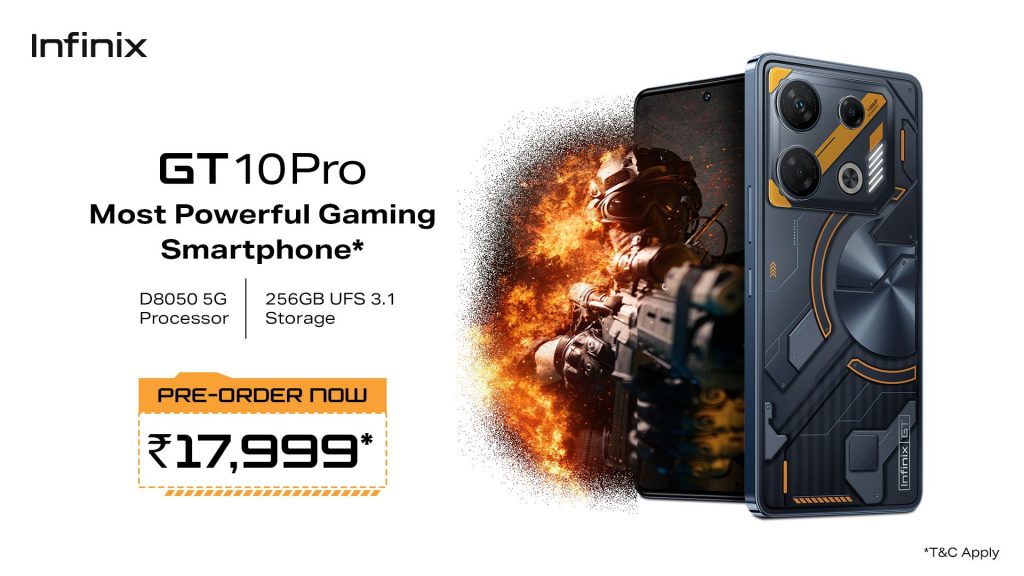 There is a noticeable absence of distinct offerings in terms of both design, innovation and seamless experience in the smartphone gaming arena. This is precisely where GT 10 Pro seamlessly integrates into the ecosystem. The phone's aesthetics through its cyber mecha design, powerful 8050 gaming chipset and pure OS experience, enhances its perceived value as a gaming-oriented device. As we remain steadfast in our commitment to shattering barriers, GT 10 Pro paves the way for exceptional solutions that blend unrivalled performance, style, and innovation for our esteemed users."
Fastest memory and most powerful chipset
The GT 10 Pro highlights the fastest memory in its segment, offering a spacious 256GB UFS 3.1 storage. It ensures lightning-fast data transfer and seamless multitasking. Combined with up to 16GB of RAM (8GB LPDDR4x + 8GB Virtual RAM), the GT 10 Pro delivers unrivalled performance.
Setting a new benchmark for processing power with MediaTek Dimensity 8050 chipset, this cutting-edge device surges ahead of its competition with an impressive AnTuTu score of approximately 700K, validated through rigorous testing conducted in Infinix labs.
A display like no other: 10-bit FHD+ eye-care AMOLED
Make your gaming experience top-notch with brilliant visuals through a 6.67″ 10-bit FHD+ Eye-care AMOLED Display. With an adaptive 120Hz refresh rate and a 360Hz touch sampling rate, enjoy smooth and responsive interactions and seamless gameplay with exceptional clarity. Experience the DCI-P3 100% wide colour gamut, 900 NITS of peak brightness, and a 5,000,000:1 contrast ratio that brings content to life with vibrant colours and exquisite detail.
Dual Speaker DTS and Hi-Res Audio
Experience the pinnacle of audio excellence with the GT 10 Pro's cutting-edge dual speakers and advanced DTS technology, boasting high-resolution certification.
Futuristic cyber mecha design, colour-changing real panel, and mini LEDs
The GT 10 Pro introduces the captivating Cyber Mecha design, a visual masterpiece that exudes sophistication and futuristic allure. Complementing its sleek appearance, the colour-changing rear panel in Mirage silver variant, adds a touch of personalisation, allowing users to express their unique style with every glance.
Besides, the mini LEDs create a unique backlight interface. These LEDs let you flaunt and indicate your highlight moments in games, as well as instantly notify you of incoming calls with an immersive backlight effect. Stay connected and engaged with every moment.
Pure experience: Clean OS and no bloatware
Infinix takes pride in delivering an unparalleled user experience and an effortlessly smooth UI. Unlike other branded smartphones that often burden users with around 15 pre-installed Google Apps and 50 pre-installed apps of their own proprietary OS, GT 10 Pro stands out by offering a more refined selection of just 13 pre-installed apps, all carefully chosen for their high utility and relevance to consumers' needs.
Taking personalization to the next level, GT 10 Pro offers an array of exclusive GT Theme-based live wallpapers and video-based always-on display options. This empowers users to infuse their smartphones with a touch of elegance that reflects their unique style and preferences. But that's not all- GT 10 Pro proudly stands apart with a commitment to zero ads and ensures a distraction-free daily usage experience.
Thermal cooling and Haptic Z-Axis motor
Stay cool during intense gaming sessions with the GT 10 Pro's VC Thermal Cooling system, ensuring optimal performance even under heavy load. Experience precise and realistic touch feedback with the haptic Z-Axis Motor, enhancing your gaming immersion like never before.
Stay connected with high-speed connectivity: WiFi 6 and Dual 5G SIM
With WiFi 6 and Dual 5G SIM capabilities, the GT 10 Pro ensures high-speed internet connectivity wherever you go. Whether streaming, downloading, or video conferencing, you can rely on the GT 10 Pro to keep you connected at all times.
Unleash your photography skills: 108MP ultra clear triple camera
The GT 10 Pro boasts an impressive 108MP Ultra Clear Triple Camera setup and 32 MP front camera, allowing users to capture every moment with exceptional detail and clarity. The device's extraordinary video recording capabilities ensure crystal-clear footage, making every scene come alive. It also packs features like portrait video recording, AI film mode and autofocus technology that enable users to effortlessly take professional-grade portrait-style videos with sharp focus and cinematic filters & effects.
With a strong focus on customer satisfaction, Infinix has established a comprehensive network of 1250 service centres spanning over 1000 towns in India. This network ensures that users have convenient access to responsive after-sales support. To further enhance the customer experience, Infinix devices come equipped with the Carlcare App, empowering users to easily locate their nearest service centre and check the availability of parts at those centres.
*inclusive of ICICI and Kotak bank offers
About Infinix Mobile:
Infinix Mobility is a rapidly emerging technology brand that designs, manufactures and markets an expanding portfolio of SMART devices worldwide under the Infinix brand, founded in 2013. Targeting today's youth with first-in-class technology, Infinix creates trendy, powerful and attainably priced SMART devices that bring the latest technology on the market to users around the world at the time when they need it at a price that they want it.
For more information, please visit:
https://www.infinixmobiles.in/ & http://www.infinixmobility.com/