Human service is the most philanthropic work one can do. Today NGOs have become an integral part of our society, whether it is to provide education to poor children or to bring awareness on various social and economic issues. NGOs have had tremendous impact on human-welfare in every field and have made the world a better place.
On the occasion of World NGO Day, Sheraton Grand Palace Indore in association with NGO located in Vijayanagar – 'Ek Kadam Madad Ki Or' distributed food packets to children in the Basti. The event was organized by the property with the aim of thanking all the NGOs working in the city and promoting their impactful work.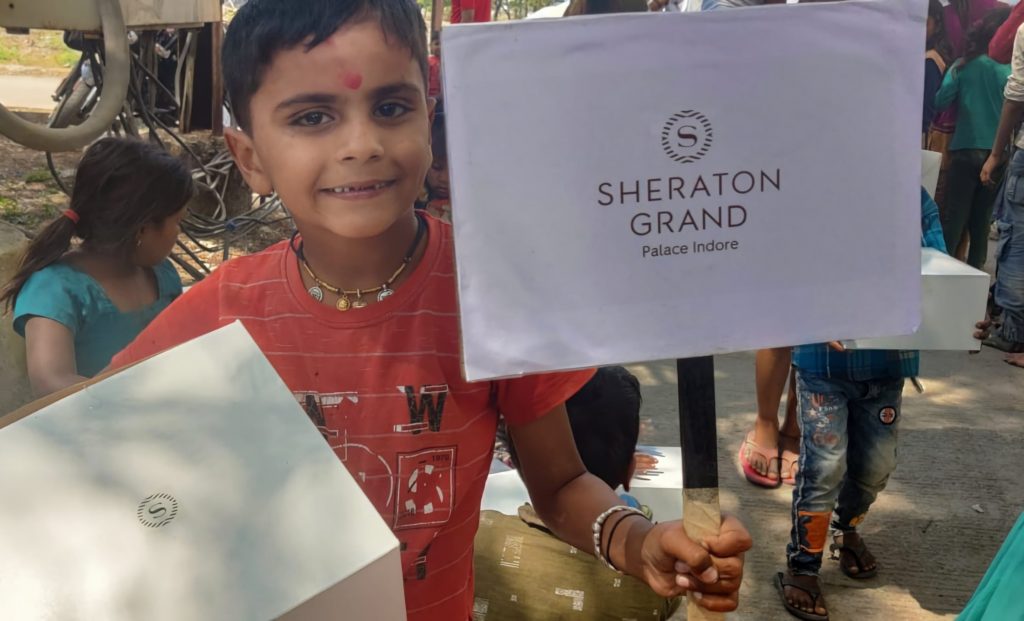 Sports activities were also organized by the members of the NGO to engage the children and spread smiles on their face.
Prashant Tripathi, Director of Sales, Sheraton Grand Palace Indore said, "This is a small effort from our side to appreciate and promote the amazing work being done by the NGOs. We get rewarded with the happiness on the faces of these children. It is our great pleasure and we are proud to have such NGOs functioning in our city which ensure that this happiness remains amongst these children. We look forward to supporting such NGOs in the same way in future."
About Sheraton Grand Palace Indore:
Located across a lush expanse of 8.62 acres with striking gardens, Sheraton Grand Palace Indore houses 115 rooms & suites and is near both the airport and railway station and city's business and commercial centers. Experience the touch of royalty in this palatial hotel which is well-equipped with state-of-the-art conference and meeting venues that span over 1,25,000 square feet.
Additionally, the hotel features 65,000 square feet of outdoor lawn space and makes it perfect for large weddings and social functions. Food and beverage offerings include the 'S Café' – all-day dining offering an extensive menu and an array of international cuisines; 'Araana' – a signature Indian Specialty restaurant; 'Malt' – an upbeat and stylish bar and 'Infuse' – offering freshly baked delicacies and handcrafted cakes.
About Sheraton Hotels and Resorts:
Sheraton Hotels & Resorts, part of Marriott International, Inc., makes it easy for guests to explore, relax and enjoy the possibilities of travel at nearly 450 hotels in over 70 countries and territories around the world. Sheraton continues to enhance the brand through innovative guest experience, differentiating design, multi-channel marketing and a sharp focus on service.
Marriott International, Inc. (NASDAQ: MAR) is based in Bethesda, Maryland, USA, and encompasses a portfolio of more than 7,200 properties under 30 leading brands spanning 134 countries and territories. Marriott operates and franchises hotels and licenses vacation ownership resorts all around the world. The company now offers one travel program, Marriott Bonvoy™, replacing Marriott Rewards®, The Ritz-Carlton Rewards®, and Starwood Preferred Guest®(SPG).