Shanti Banaras' flagship store in Mumbai brings Indian craftsmanship back to a landmark address in Kalaghoda
As you walk through the alleyways of Mumbai's crowded art and financial district, Kalaghoda, you can still catch a fading image of this port area's previous avatar– further down the street were the docks that introduced the world's royalty to Indian craft mastery. This is the pin code that started history as we now know it. Shanti Banaras revives this memory with a gallery-style retail space that houses fine woven craftwork including pure gold and silver zari.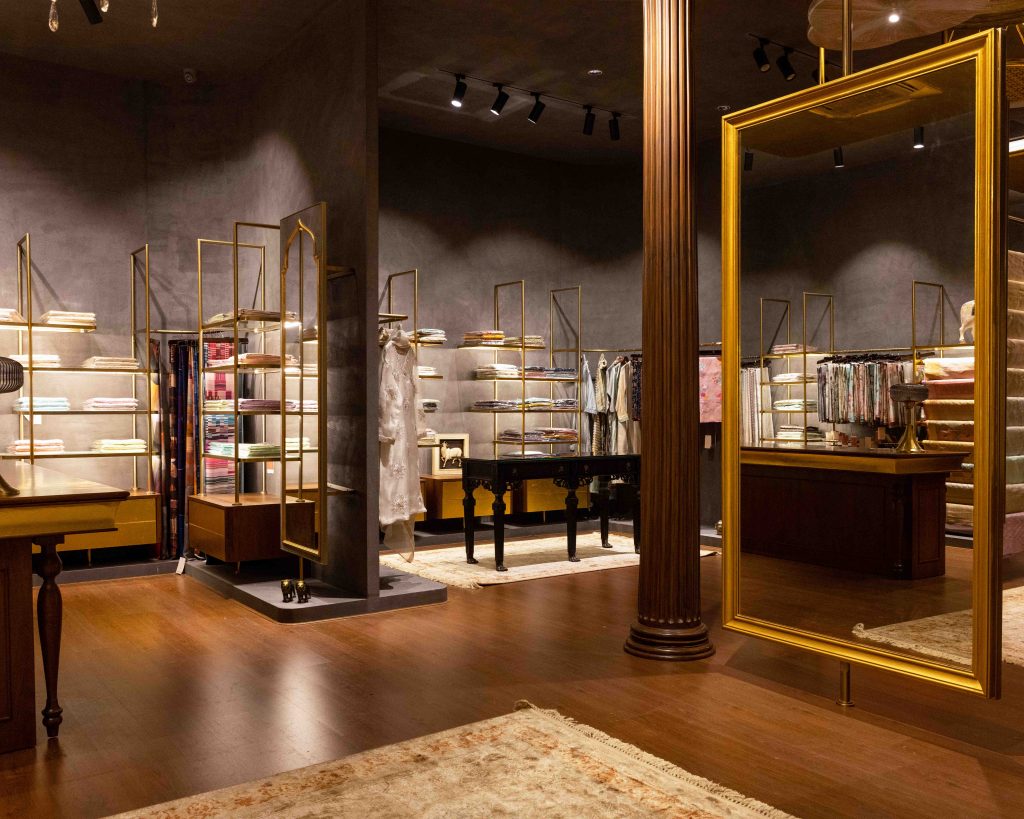 Shanti Banaras' first foray in Mumbai is designed by AND Design Co. an ambidextrous interior design and architecture studio led by Rupesh and Archana Baid. In creating this space, the award-winning duo channeled classic old-world charm blended with cues of progressive modernity and inviting minimalism. Shanti Banaras' signature exquisite taste was magnified with intricate details of Indian motifs in the form of carvings and elements that are reminiscent of a place rooted in traditions, heritage, and luxurious craftsmanship. The result is a picturesque setting that feels both like a home from the 18th century and a modern store that makes exquisite fabrics accessible in 2023.
The 3800-square-foot store begins with an entrance that opens into an art gallery featuring high ceilings and a grandstand play of Pichwai Embroidered Art on grey stucco walls. The brand's intricate and elegant logomark finds play as signature golden grills on the main door and cabinets. The main principle of this architecture was to express the delicate beauty, precision, and character of Shanti Banaras' story revealed in the nostalgia of an iconic building of Kala Ghoda.
Says Khushi, "Set in a heritage building, the store takes the vision of Shanti forward by celebrating some of the finest weaves from Banaras. We were born from the vision of exhibiting authentic Indian artisanship and the richness of hand-woven Banarasi silk and this store is our way of being a piece of that heritage back to Bombay." Archana Baid adds, "Similarly, it was important that the architectural principles were inspired by the form of the classical era, emotions of romanticism and the charms of tradition which were actualized by the harmonious amalgamation of richly muted colours, opulent textures, delicate compositions, and earthy material palette."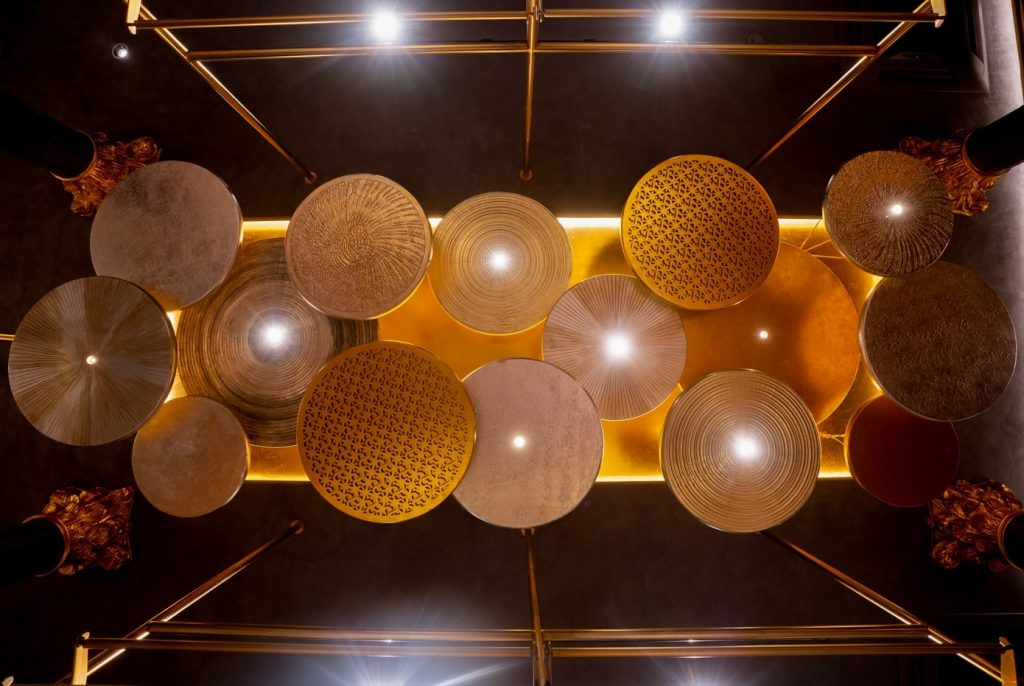 The store creates a cohesive design language that seamlessly blends multiple elements, from contemporary glass and metal shelving to Corinthian classical pillars, decorative accent pieces, and artistically detailed gold-leafed ceilings. Full-length arched mirrors reflect the brand's refined eclecticism while the traditional carvings add a sense of history, culture, and sophistication. This is all spotlighted by the warm glow of vintage crystal chandeliers, wooden flooring, and grey stucco walls.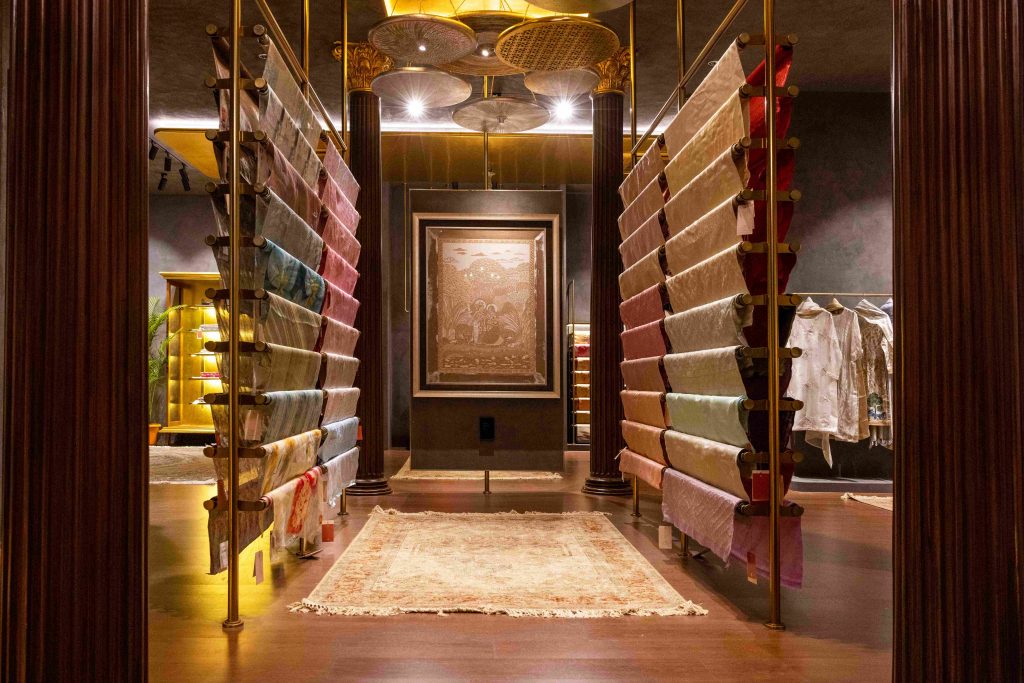 With this store, Shanti Banaras brings the ageless beauty of Indian zari work to Bombay. The launch of this store features an all-new menswear and ready-to-wear collection, in addition to the brand's signature hand-embroidered weaves that resemble works of art.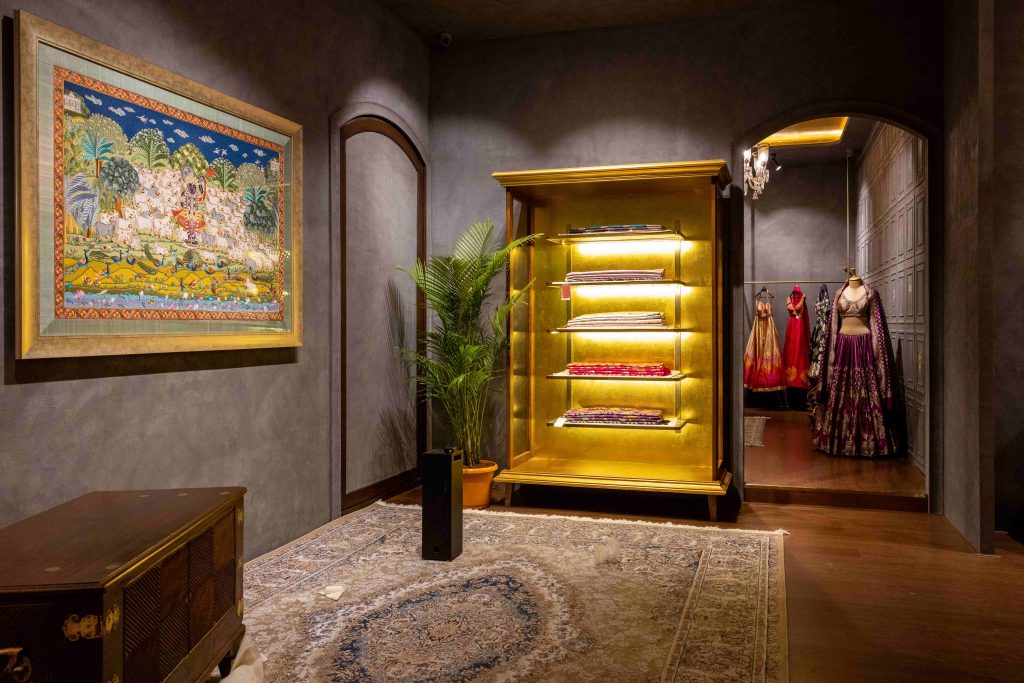 Store Address: Shanti Banaras
First Floor, Premises Number 4126, 30 Kala Ghoda Society,
30, K Dubash Marg, Kala Ghoda Fort, Mumbai
Below are the links to the website, Instagram, and store images:
Website: https://shantibanaras.com/
Instagram: https://instagram.com/shantibanaras