In a cute red hoodie with innocent smile, shining doe shaped eyes and giving a thumbs up for the camera, Bollywood star Ranveer Singh has taken the internet in aww. The Throwback Thursday trend, done right by the actor as he shares his childhood photo, receiving over four lakhs 'likes' within an hour. Captioning it, "👍🏽 all good in the hood 🙂" Ranveer treated his fans with his goofy childhood memory.
Apart from attracting comments from his fans, Padmaavat actor also received appreciation from B-town actor Varun Dhawan who wrote "Baller 🤙🏼" oh his photo.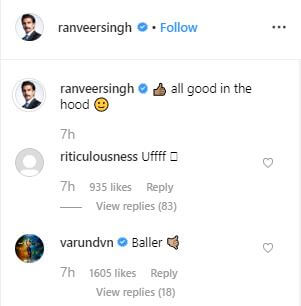 The post became more entertaining when Ranveer's sister Ritika wrote "Uffff 🥰" on the picture which received an immediate reply from the actor saying "hey you! photo bombing me?!". The picture which features Ritika's photo in the background and the adorable conversation of siblings went viral soon.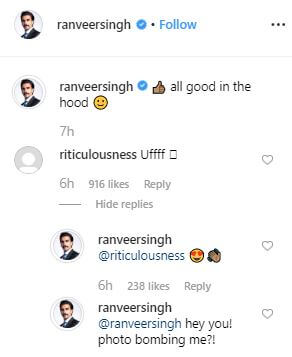 Earlier, on the occasion of Raksha Bandhan, Ranveer had shared an adorable post with his sister which he captioned as, "My Bestie, My Protector, My Angel 👼🏼 💕 love you दीदी 🌈 #happyrakshabandhan@riticulousness".
Known for his infectious energy and impromptu acts, Ranveer Singh's Instagram handle mostly boasts of his good looks and washboard abs. The actor always keeps his fans entertained with his outlandish style and quirky remarks.
Recently Ranveer treated his fans with a shirtless picture of himself which set the internet ablaze, captioning the post as "Extra gluten, please," Ranveer is looking ravishing in the picture. Soon the post received over ten thousand comments, including the note of actress, Dia Mirza who wrote " Stop it" on it.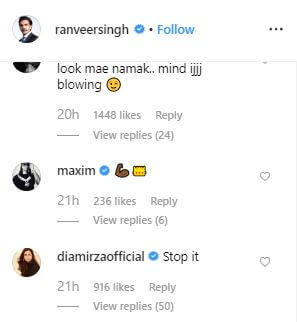 Well, yes, please stop it Ranveer!