There is nothing as stunning as heritage weaves for the Indian bride. Anjul Bhandari. Who is Lucknow-based designer showcased her stunning bridal line for A/W'19 is featuring her signature use of Chikankari. The ensuing collection is replete with timeless designs that promise to become cherished wardrobe treasures.
The inspiration stems from the origin of Chikankari itself. The traditional Mughal art originated in the Nawabi city of Lucknow, and Anjul has used motifs from the city's architecture, art and literature to capture its essence through her pieces. This has then been elevated with her signature use of mukaish work to create never-seen-before jaals in unique patterns. The intricate ek and do taar technique on flowy pure fabrics is at the heart of the collection. This is further complemented by signature pearl, sequin and baby mirror embroidery in a palette of ivory, white, hydro, blush pink, old rose, baby blue, mint and sage green to create timeless ensembles that will stand the test of time. The collection is replete with Anjul's signature silhouettes such as Jama, Peshwa, Gharara and Dagla alongside lehenga sets, saris and anarkalis that are generously dipped in old-world elegance and vintage charm.
"Our signature ek taar work takes around 17,500 hours i.e. two years to make owing to the high level of skill and complex embroidery involved. Our 1,500 artisans are fourth-generation master craftsmen belonging to families that enjoyed the patronage of the royal court of the last Nawab of Lucknow; hence promising absolute authenticity. For us, each bridal couture piece is one-of-its-kind, and can never be replicated," says the designer.
Though painstakingly intricate, special care has been taken to ensure that the collection is also incredibly lightweight. "We want the bride to be able to move around freely and enjoy her festivities when she's wearing an Anjul Bhandari creation. She should feel beautiful, not weighed down."
The bridal collection is an extension of Pure, her latest foray into what will now be a mainstay of the brand where Bhandari will further reinstate and educate fashion connoisseurs on the craft of Chikankari. Creations from PURE focus on luxurious Chikankari at its finest and most intricate. All the classic designs are mindfully highlighted with luxurious pearls and sequins on a soft pastel palette.  The brand makes clothing for women and men that resonate with understated glamour only a true connoisseur of hand craftsmanship would cherish upon seeing and instantly fall in love with.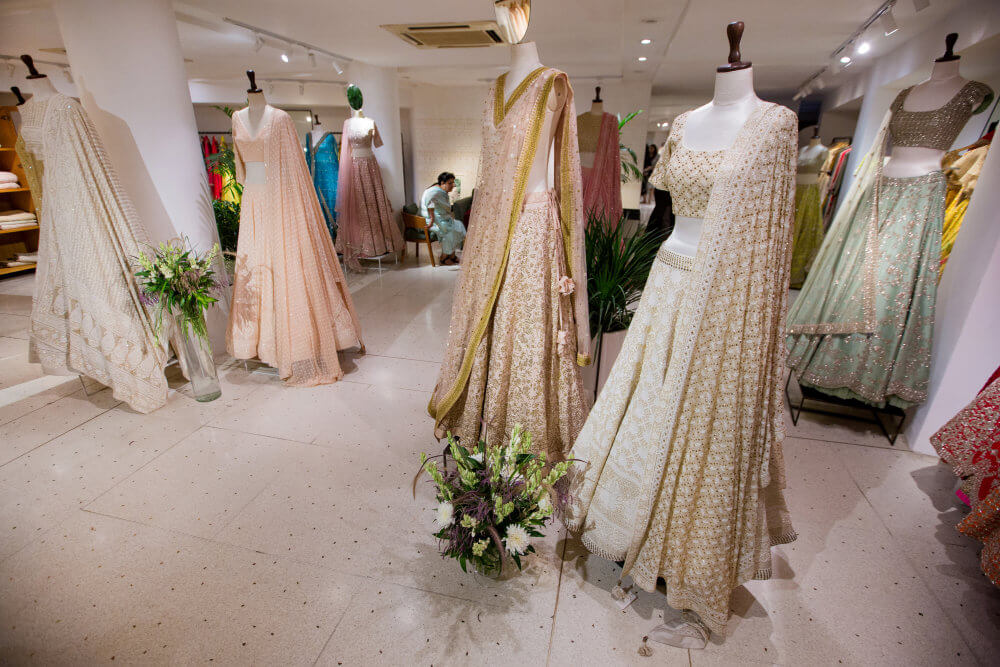 Anjul Bhandari signatures
The Anjul Bhandari Label has staged the comeback of key styles from the Mughal era with their signature silhouettes such as Peshwa, Jama, Gharara and Dagla.
The Peshwa is a voluminous floor-length Anarkali enhanced with delicate Chikankari work to exude the regality of old Awadh. The Mughal Jama is an angarakha-style jacket creating an overall lengthening look. The Dagla is a traditional Nawabi silhouette of an overlap jacket in muslin, fine cotton or Chanderi. The Garara is a short kurta with flared bottom and 3.5-metre chadar or dupatta from the Mughal era, a must-have joda for a traditional Muslim bride. The signature pastel palette revolves around hydro — a dark ivory shade especially developed and created by the designer.
The Chikankari in every Anjul Bhandari collection is further enhanced with Kamdaani, Badla, Mukaish, Aari and Zardozi. Applique, daraz and cutwork are used in combination with Chikankari from GI-tagged regions.
Anjul Bhandari is known for the elegant & graceful Lucknowi hand embroideries, Chikankari & Mukaish. She is the only designer to revive Ek Taar Chikankari the finest of Chikankari, embroidered only by Master Craftsman from the Awadh region and taking upto 2 years to complete. The art has gotten a face lift through her impeccable creativity and has brought the desire to invest in this heritage Mughal craft to the forefront.
Anjul Bhandari's designs are available at:
Ogaan, Hauz Khas village, New Delhi
Ogaan Online
Ensemble, Mumbai
Good Earth, Hyderabad, Mumbai & New Delhi
Aashni & Co, LondonOnline
Aashni & Co, Online
Ave, New York
Anjul Bhandari Studio, Hauz Khas, New Delhi (By appointments only)