Deepika Padukone and Ranveer Singh are a fun couple and since the lockdown Deepika has been sharing with us how she is making her time productive.
Recently Deepika in the episode seven of season one of her 'Productivity in the time of COVID-19', teased her hubby by posting a picture of him. In the photo Ranveer can be seen sleeping with the 'Husband' tag stick on him.
Take a look:
Soon, Ranveer commented on it by writing, "Hmmmm. Marie Kondo ki bacchi, you have taken it too far indeed. Dekh lunga main tujhe …."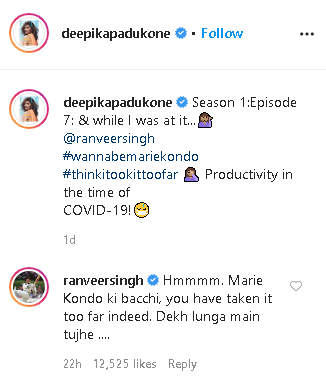 Well, it seems Ranveer took his revenge quite soon. The actor shared a picture of Deepika on his social media with the caption, "In the dead of the night, she devoured Khilji ! Revenge is sweet indeed ! 😆 #sneakysneaky #caughtintheact @deepikapadukone" where Deepika can be seen sneakingly finishing the nutella jar of Ranveer Singh.